All You Need to Know on Imprinted Concrete & Blocked Concrete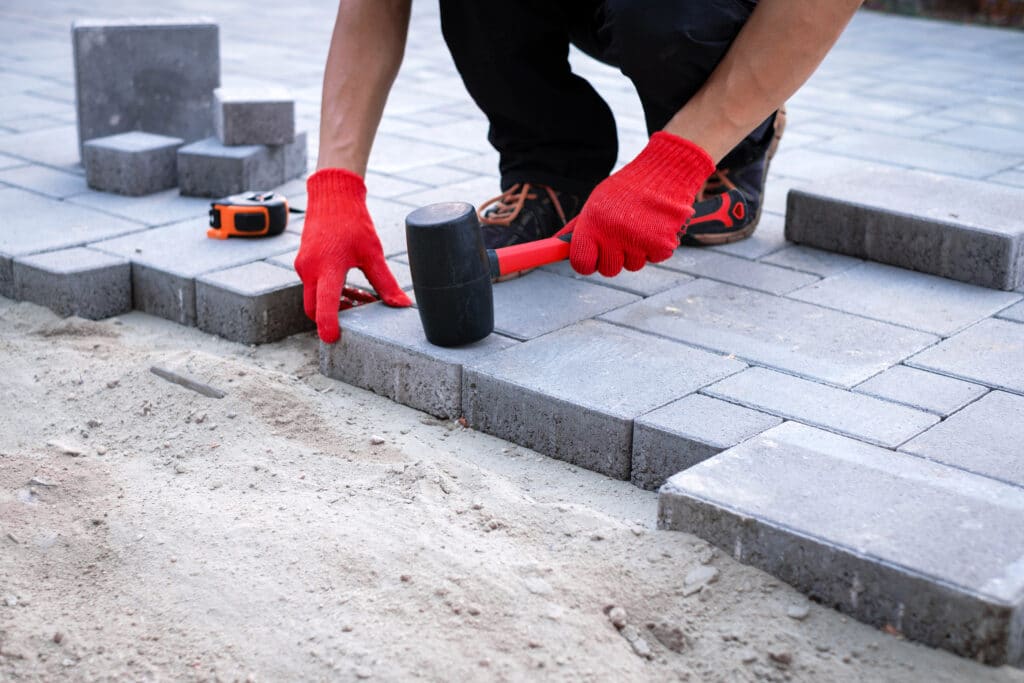 We are going to be discussing the major benefits that come with imprinted concrete. We have selected five of the most popular reasons why you should consider installing imprinted concrete.
What is Pattern Imprinted Concrete?
To put it simply, patterned concrete (also known as stamped concrete) involves pouring concrete on a sub-base, then a colour is applied followed by a hardener. This is unlike traditional concreting, which typically involved using blocks to create your finish.
Once the concrete is wet, this is when the pattern is applied. You can choose from a variety of prints, the most common being brickwork, textured stone and ashlar stone. Patterned concrete is a popular choice for domestic properties, specifically lining driveways as they add curb appeal to your property.
1. Good quality print
The most important thing to consider is the quality of the printed concrete. Fresh concrete requires extreme care, dedication and patience to lay properly, less its form becomes inconsistent and you end up with a incomplete and structurally poor concrete floor.
In most cases, a contractor would use 6 – 8 rigid printing matsa and one flexible mat in a set. Around six mats are required to span the narrowest section of the driveway, whereas the flexible mats, as you might have guessed, are used to access and print areas where the rigid mats won't fit. You can expect most printing mats to come in at 600mm by 600mm but there is flexibility regarding matt size, you just need to know how big you want the mats and then research the best prices.
2. Colour consistency
Colour consistency is something you will need to consider when installing imprinted concrete to ensure your flooring achieves the colour you're looking for. The main components of patterned concrete include colour surface hardener and antique release agents.
If the colour surface hardener is not applied properly or there isn't enough of it, it will result in a poor final appearance. This is especially noticeable on larger commercial jobs, such as retail shop flooring.
For big commercial jobs, it will take several concrete deliveries and this will result in slight colour differences in each concrete mix. What the surface hardener does is match the colours together when applied. This is ideal for larger jobs that take more than a few days to complete.
For each square metre of patterned concrete, you will need approximately 2.5kg of colour surface hardener. When applying it to high traffic areas, such as driveways, parking spaces and steps, we'd advise you apply more hardener to bear the extra traffic.
Note: if you're buying concrete that has already been coloured, you cannot strengthen it further with hardener as this will impact its appearance. Additionally, ensure that the concrete is mixed properly if you are buying it pre-coloured. Otherwise, again, this will lead to a poor quality, patchy finish.
Also, be aware that before the release agent is washed off, your floor will appear darker than the colour you selected. This is normal and can be fixed when you wash off the release agent.
It is essential that you remove all the antique release agent, otherwise it will not bond to the concrete. Again, this will result in a patchy appearance, but it can be fixed by removing the sealant and repeating the cleaning/sealing process.
3. Ensuring Long-Term Durability
The material used for the sub-stone base merged with the subgrade (the ground below the base, it could be soil, stone etc) is essential to ensure durability of the concrete floor above. In addition, the concrete mix applied also plays a huge part in assuring the structural integrity remains strong for years to come.
This is especially important in high traffic areas, such as driveways, multi-storey car parks and warehouses operating machinery daily.
4. Reduce the Chance of the Concrete Cracking
If you are using patterned concrete for driveways, be sure to have at least 300kgs of cement per cubic metre when applying. In colder weather, you will need more, 350-380kgs as an estimate.
You can also choose to add an air entertaining agent to help enhance the floor's durability and resistance to cracking from heavy traffic and weather.
Note: It is absolutely essential that the concrete is the correct mix. When the concrete is professionally mixed, it drastically reduces the likelihood of it cracking. This is very important for driveways and carparks; they should be at least 100mm thick to handle the weight of vehicles. For domestic paved areas, the concrete thickness should fall between 150-175mm.
On highly trafficked areas or where, for whatever reason, crack control joints cannot be cut in, the concrete should be thicker; 150 mm for domestic paved areas.
Using a slip membrane where required
There is some controversy regarding when and whether to use slip membranes. Some companies may use a slip membrane to allow the concrete to move independently, which reduces the build-up of stress and essentially lessens the likelihood of the concrete cracking golf wedge sets for sale. On the other hand, others may choose not to use them as they prefer to allow the concrete to bleed into the stone naturally.
The decision whether to use or not use a slip membrane is up to the concrete contractor, it is not compulsory.
Position contraction joints correctly
Contraction joints and movement points are another factor that spark controversy, this time between contractor and customer. As their name suggests, contraction and movement joints are positioned in areas where the concrete is assumed to crack; or alternatively, are placed so that the concrete cracks in this place to ensure it doesn't crack somewhere more awkward.
These joints are usually cut in high stress areas, such as external corners of buildings. Maximum slab size within the paved area should also be restricted to 20m2, with a maximum length to weight ratio of 2:1.
Timing when you cut the contraction joints
Cutting the joints sooner rather than later is strongly advised to ensure the cracks don't appear before it's too late. Cutting the joints is relatively straightforward, they must be made on the same day as the pour and need to be cut about a quarter of the depth of the concrete. Later, you need to utilise a diamond saw cut around half of the concrete's depth. Do not make a cut immediately through the concrete slab.
5. Reducing Maintenance & Maximising Results
Using a solvent-based acrylic sealant on patterned concrete (only once dry) will enhance its overall appearance. Water-based acrylics are more problematic, so stay away from these regarding patterned concrete. It's also worth applying the sealant every four years or so to keep up the appearance of your patterned concrete. This is not compulsory but it will keep your driveway (or wherever our patterned concrete is installed) looking great for years to come.
Filling the contraction joints
Fortunately, pattern imprinted concrete requires little to no maintenance once installed (aside from cleaning to keep up appearances). While it still may require re-sealing every couple of years, this is not a labour-intensive job and in the long run, will save you money as it is far less likely to become damaged or tarnished.
Additionally, to alleviate the threat of weeds and undergrowth breaking through, it's important you use silicone sealant to fill the joints. Silicone fillers come in several colours, so find one that best suits your patterned concrete (silicone actually improves the appearance of your concrete).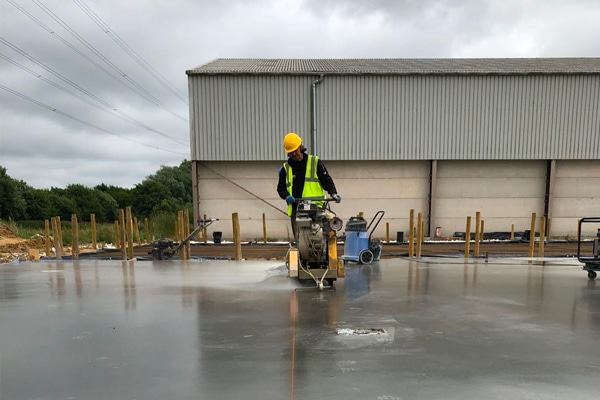 Get an Instant Quote
Get an easy quote with our price calculator:
Concrete block paving or pattern imprinted concrete for your driveway?
We've spoken a lot of patterned imprinted concrete and briefly mentioned its popularity regarding installation in driveways. However, block paving is also a viable alternative and is another concrete alternative that can add curb appeal to your property.
Block or Imprinted Concrete?
Concrete block paving has been around since early 1970, but it's customisation options were minimal, only coming in a few colours. Since then, the demand for block paving has risen exponentially, now there is far more choice regarding how you line your driveway.
Whether you're looking for a modern, traditional or contemporary design, you're spoilt for choice thanks to the innovations of modern technology and experienced concrete contractors.
What's Better: Concrete Block Paving or Patterned/Imprinted Concrete?
In short, none is better than the other as it depends on what result you're looking for. However, we have labelled some pros and cons of each below:
Block paving advantages
It's attractive – an obvious once, but block paving is popular due to its aesthetic advantages. With a variety of colours available, you can customise your property whichever way you want.
Durable and long-lasting – being concrete, it provides any home with durable flooring options that requires little to no maintenance even in harsh weather and high traffic areas. It's unlikely that you will ever need to maintain, let alone replace your blocked pavement.
Versatile and adaptable – if for whatever reason you need to rip up your blocked pavement, this can be done easily with no major tools required. The blocked concrete is easily accessible and you simply remove and reinstate the blocks once you have fixed whatever was needed beneath it.
Permeable – some blocked pavements are designed to let water rise and drain away safely without causing cracks or structural damage.
Block paving disadvantages
Sinking/movement – when it's poorly installed, blocked concrete can move and shift out of position. Not only does this look aesthetically poor but it can create safety problems, especially if vehicles are operating within the area. 
Cost – this disadvantage varies depending on whether you're attempting a DIY job or you're going through a contractor. 
Degradation – this depends on how the blocked concrete has been installed. If installed professionally, you should encounter no problems, but if gaps are left or cracks form, this can cause the concrete to degrade and become unstable.
Advantages of patterned/imprinted concrete
Efficiency – in most cases, imprinted concrete takes less time to install than blocked pavement. This is because imprinted concrete is able to be installed in greater masses.
Weed and moss – it is highly unlikely that imprinted concrete will encounter the threat of dirt or weeds erupting through to the surface. This is because the silicone used to fill the cracks can repel the growth of weeds and dirt more efficiently than blocked concrete. 
Strength/Integrity – because imprinted concrete is based on a reinforced (usually fibre-mesh) base that is then placed on top of a sub-base, it provides two levels of protection. This also lessens the chance of any movement or sinking.
Disadvantages of patterned/imprinted concrete
Cracking – while it is not likely, cracks can appear in imprinted concrete driveways. If cracks do appear, it is usually a case of resurfacing both the affected area and the surrounding area to ensure the rest of the base is not affected. 
Drainage – unlike blocked concrete, imprinted concrete is not permeable, meaning it wont allow surface water to drain without having a drainage solution installed.
The price of blocked concrete driveways
In the UK, the average cost of a blocked concrete driveway can fall anywhere between £40 and £80 per square metre. Your price will also differ depending on the concrete contractor you elect. If you decide to take it on as a DIY project, you will obviously avoid labour costs but you will have to sacrifice time and money for tools.
For example, if you're paving a driveway that's 50m2 you can expect to pay between £2,000 and £3,500.
How much does an imprinted driveway cost?
For imprinted driveways, the price differs somewhat. In most cases, it is cheaper than blocked concrete, with it being priced at roughly £20 to £50. However, depending on the design, this can extend to upwards of £100 per square metre.
Undertaking a Larger Project?
If you're looking for a professional concrete company to undertake larger jobs that you do not have the time or experience to perform yourself, then we can help. We have over 40 years of experience in the concrete industry and have paved hundreds of domestic and commercial properties across the UK, including Southampton Solent University.
We take the time and stress of our concrete flooring and work hard to ensure your exact demands are met. We will handle your project with care and deciaton, ensuring you get the best return on investment.
We operate across the UK and specialise in polished, industrial concrete flooring and composite metal decking.
Whatever the job, our team has you covered.