Warehouse Resin Flooring Systems using Epoxy Resin Installation Techniques
We are one of the leading resin flooring contractors in the UK. We will deliver an accurate quote, efficient installation and long-lasting resin floor. We have over 30 years of experience and will provide exceptional service during your installation.
Resin flooring is ideal for warehouses and many other industrial or commercial settings. We will efficiently install warehouse resin flooring usually using epoxy-based resins for a smooth and even finish with a high build quality. Our team can guide you through design choices suitable for a range of budgets.
Warehouse flooring has to be able to withstand consistent use from vehicle and foot traffic. Many operations in warehouses will also benefit from the anti-slip qualities of resin flooring, which improves safety levels and reduces the danger of any workplace accidents.
We are experts in installing warehouse resin flooring in a range of settings quickly and efficiently, leaving you able to resume full functionality of your warehouse in the fastest possible time. We provide fast quotes, so please make sure you contact us for further information and to get your installation underway.
Why Choose Our Warehouse Resin Flooring Services
We are providers of efficient, budget-conscious, long-lasting and high-quality flooring installations. You will receive the same excellent level of service, professionalism and expertise no matter what type of floor we install.
Aside from our great levels of service and final results, warehouse resin flooring has some excellent qualities that are ideal for warehouses. Characteristics of resin flooring include:
Heavy duty: The durable nature of resin makes it ideal for heavy foot traffic and warehouse vehicle use such as pallet trucks.
Anti-slip: You can reduce the chances of accidents with the anti-slip functionality of resin flooring.
Anti-static: Working with electronic equipment? We can install anti-static resin flooring to control static discharge and prevent electrical interference.
Low-maintenance: Clean your floor easily using machine-based cleaning tools or hand clean with the resin's wipe-cleanable finish.
Floor painting and colours: Epoxy resin is available in a wide range of colours, and you can paint out line markings and tracks on the floor easily.
Warehouse resin flooring systems pair well with the daily needs of such a setting. The durable design will last a long time and any accidental damage is easily repairable. A resin flooring system greatly helps enhance your ability to operate in a warehouse more efficiently and safely.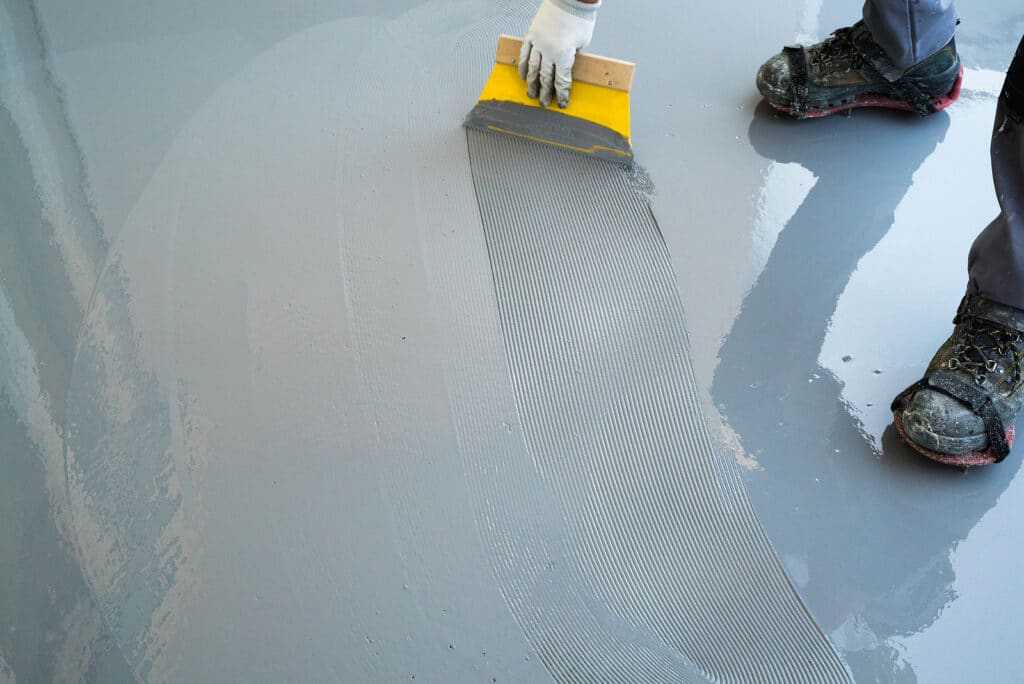 How Much Will My Warehouse Resin Flooring System Cost?
The wonderful thing about choosing resin flooring for your warehouse floor installation is that it is a cost-effective material. We are experts in our field and our talented team will guide you through decisions on materials and other aspects of your installation to arrive at a suitable cost for many budgets.
The following factors may influence the overall cost of your warehouse resin flooring installation:
Surface area: Larger spaces require more materials and take longer to complete, so the larger the surface area of your floor the higher the price.
Finishing and painting: You may require different or more complex finishing or paint for your floor, which can also affect prices.
Preparation and clearing: The floor needs preparation and debris removal, which can influence costs depending on the floor's current state.
We understand that it can be frustrating to not have an estimate for your floor before starting. To help this you can use our handy quote tool for resin flooring to get an instant quote. Alternatively, you can get in touch for more information and to discuss your warehouse resin flooring installation in more detail.
Our Customer Service and Quality Commitments
As a company with over 30 years of experience, we are industry leaders. The recognition we receive is evident through our happy clients, so please see our testimonials for an idea of the service you will receive.
We are a member of The Association of Concrete Industrial Flooring Contractors (ACIFC). This membership shows that CFS has recognition for its expertise and professional delivery of projects.
We also operate using comprehensive health and safety practices. We have the following health and safety accreditations and training standards:
A full commitment to the Construction Skills Certification Scheme (CSCS).
100% compliance via National Vocational Qualification (NVQ) assessment.
Supervisors trained in the Site Supervisor Safety Training Scheme (SSSTS) or higher.
Plant operator training and assessment following the Construction Plant Competence Scheme (CPCS) and the ACIFC standard.
Overall we are an expert team that pride themselves on being able to deliver your floor on budget and quickly, with a long-lasting result. We integrate and review best practices regularly for the best possible outcomes. Our installation team is friendly, professional and courteous throughout the service. To get started on your new warehouse resin flooring installation project please contact us today.