Polymer Screed Flooring
A resilient Polymer Modified Cement based Screed – durable, resilient, quick, cost-effective industrial floor. Rapid Cure, from 10mm nominal thickness (at only 10mm thick – as strong as 100mm of steel reinforced concrete – quick cost-effective industrial floor solution.
What is Polymer Screed Flooring?
Polymer screed flooring is a great type of resilient flooring, a type of flooring derived from elastic materials. Polymer screed flooring can provide many benefits to your project, such as:
Same day curing 

Extreme durability

Imperviousness to water

Non-slip alterations

Chemical resistance alterations

Multiple stylish options
When polymer screed floors are installed, they are poured as liquids and spread out across surfaces to harden and cure. Different types of polymer screed that we offer have different curing times, from being rendered usable within a day or taking a few days to fully harden and cure. They can also be altered with self-smoothing properties which will bring you the ultimate in terms of a level floor. 
These properties allow our flooring installers to create a finished floor to any of your specific needs, to make your floor suitable for domestic, industrial, and commercial applications.
If a polymer screed floor sounds like a great fit for your next big project, why not contact our expert team for a free online quote? To see how we can get you the best resin flooring in the UK, please use our contact form.
What Polymer Screed Flooring can we Offer?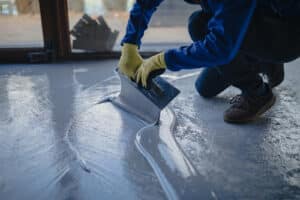 Here at Concrete Flooring Solutions we offer a wide range of polymer screed flooring. Have you been looking for a new floor but laminate, tiles, and concrete just aren't cutting it? Our polymer screed flooring options can be fully customised to suit your needs. Our 100% accredited flooring professionals can install your brand new screed floor in any domestic, industrial, or commercial settings. 
Our expert screed flooring contractors, and our great customer services team, can help you choose, out of our wide range of resin and screed floors, which type best suits your plans. Take a look below, where we explain the different types of resin flooring systems, their benefits, and how each option could work for your project.
All of our polymer flooring designs and floor finishes are in accordance with the industry standard Concrete society's technical report 34.
Epoxy Resin Flooring:
Epoxy flooring, solid resin flooring, and terrazzo floors are all combinations of polymer resins. These resins harden and form a single cohesive material that is at least 2mm thick. If the layer of hardened and cured resin is less than two millimeters thick, it is known as a resin floor coating. Epoxy resin flooring is not only renowned for its extremely high durability, perfect for any situation, but can also cope with the harsh usage you would find in a commercial setting, with constant footfall. Epoxy resin floors also increase the strength and durability of concrete and can protect the floor from harsh chemicals. Epoxy floors can also increase the light reflectivity of the floor and bond easily with cement or concrete, completely adhering to the pre-existing subfloor.
Terrazzo Flooring:
Traditional Terrazzo flooring is constructed with chips of your choice from marble, quartz, glass, granite set in a surface of concrete or epoxy resin. Your Terrazzo may include metal strips to divide sections. After curing, a uniformly textured surface is achieved using a grinder, with slight depressions filled with a matching grout material, hand-troweled before the whole surface is cleaned, polished and sealed.
Thin-set epoxy terrazzo has the advantage of allowing a wider selection of colours, and being much thinner, lighter and stronger. However, it is generally only used for interior applications as it tends to lose its colour outside. Terrazzo is often used for its extremely long-lasting qualities and its ability to be refinished when required. Terrazzo is impervious to water and staining, and is resistant to chipping. You can also change the properties of the material to make it more slip-resistant, making a safer floor overall.
Methyl Methacrylate Flooring:
Methyl methacrylate resin flooring is a dual system polymer able to withstand weak acids and other solvents. Epoxy has a gentler cure rate as compared to Methyl methacrylate floors, and it requires more than one coat to remove the porosity of the concrete. However, if you Have a project on the go that needs a new resin floor as soon as possible? Or have a new project that needs to be completed within a very tight timeframe? This resin flooring will be the best for you. Methyl Methacrylate is a great choice for any high turnaround projects with its fast cure rate, or any projects needing new floors in quick succession such as commercial flooring needing to be used next day. 
Polyurethane Flooring:
Polyurethane flooring boasts a few extra features over epoxy resin flooring. Polyurethane resin is great for industrial flooring as it boasts enhanced durability compared to epoxy resin, as well as an extremely high chemical resistance, temperature resistance, and abrasion and slip resistance. If you've been needing to upgrade your old and worn floors in your scientific labs, your engineering workshop, or your warehouse floor with a new heavy-duty resin coating; now is the time. These floors can also be fitted with line markings for use in your warehouse to keep colleagues safe, or we can complete a floor painting to section different areas for your convenience. 
Do these options sound like a great fit for any of your ongoing projects? Our team of Constructionline Gold members here at Concrete Flooring Solutions will be more than happy to meet any of your requests when fitting your new resin floor. Our team of experts can have your new resin flooring laid and completed efficiently; and in a COVID secure way. 
Contact our experts today for a free quote, and to see how we can get you the best resin flooring in the UK, through our contact form.