Anti-slip, easy to clean laboratory flooring
We are one of the leading resin flooring contractors in the UK. We will deliver an accurate quote, efficient installation and long-lasting resin floor. We have over 30 years of experience and will provide exceptional service during your installation.
We provide flooring solutions that are perfect for a laboratory. There are many features of these floors that are useful in the science and medical sector and offer the perfect option in a laboratory setting, such as being anti-slip, chemical resistant and electrostatic dissipative.
Our service will provide a solution for laboratory floors at a competitive price and offer a long-lasting result. We pride ourselves on completing installations quickly and efficiently, so your laboratory space will be ready for use as soon as possible.
As a company with over 30 years of experience, we are capable of completing projects quickly and at a low cost, with an exceptional build quality. We can provide you a quote for your laboratory flooring, contact us today.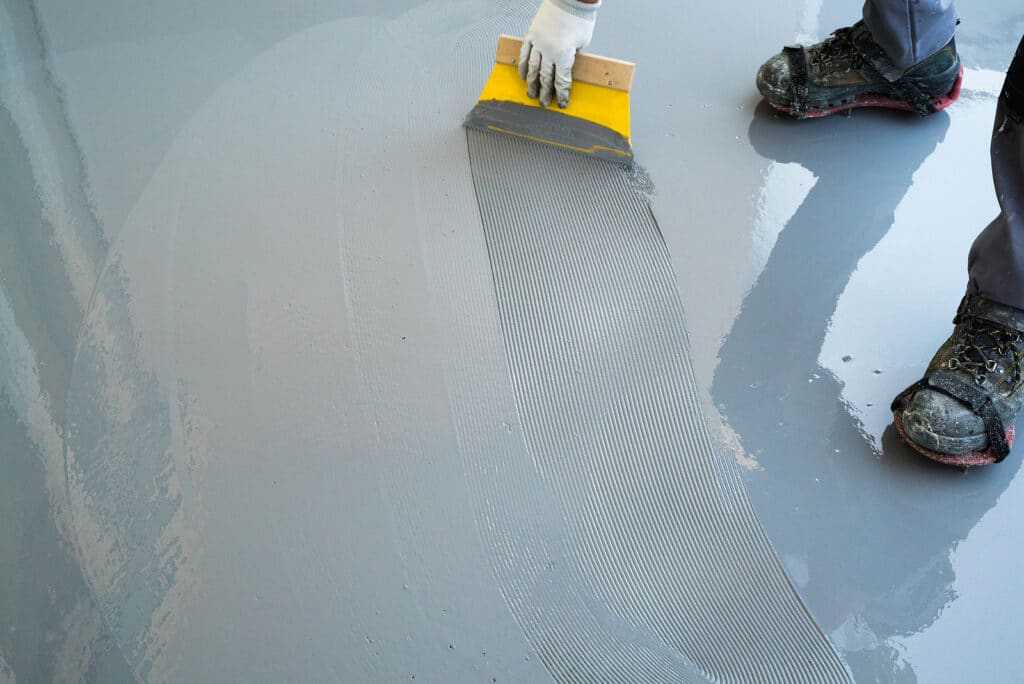 How our floors will benefit your laboratory
The best option for most laboratory flooring solutions is a resin floor. Resin is essentially a finish to a concrete base that commonly uses epoxy materials.
The resin floors we provide have a range of functions that make them ideal for a laboratory. These include the following:
Hygiene: Resin flooring is easily cleanable, the smooth surface can handle many strong cleaning products so it is good for laboratories where extremely high levels of hygiene are necessary.
Anti-slip: Having anti-slip features on your floor ensures better safety. In laboratory settings where potentially harmful substances are in use this is essential and also reduces any risk of slipping from accidental spills.
Chemical resistance: A laboratory floor needs proper protection from chemicals and strong cleaning products. The resin floors we provide will resist chemicals and are completely non-absorbent.
Anti-corrosion: Floors in a laboratory have consistent exposure to many substances, which can deplete the quality of the finish over time. However, a resin floor does not have this issue as it will resist corrosion.
Hard-wearing: It's not just chemicals and cleaning products that harm a laboratory floor, regular use and foot traffic is another concern. Our resin flooring is extremely hard-wearing and will last a long time.
Anti-static: When working with electrical components static electricity may interfere with equipment, but our laboratory flooring systems are electrostatic dissipative
Overall a resin floor is one of the best laboratory flooring solutions you can choose. They are both functional and aesthetically pleasing. A resin floor has a seamless appearance that makes for a clean look, which is also available in many colours.
Why choose us
We use the highest quality materials in all of our floors and guarantee a high level of quality in our installations. You will also receive the advantage of our considerable experience and skill.
Our company is a member of the Association of Concrete Industrial Flooring Contractors (ACIFC), which demonstrates our recognition and commitment to delivering high-quality flooring solutions.
We install more than 180,000m2 of concrete flooring per year. All of our talented team are industry-leaders in terms of innovation in design, materials and construction techniques.
Get a quote for laboratory flooring today
Our high-quality resin flooring solutions are perfect for laboratory settings. Their cleanliness and resistance to various substances make them a wise choice that will last a long time.
We are confident that the results of your floor will exceed your expectations. For a free and accurate quote on our laboratory flooring solutions please feel free to contact us.
FAQs and useful information
The following are some frequently asked questions about laboratory flooring and the service we provide:
What is the toughest floor?
Concrete is a tougher floor material than wood or vinyl. The toughest floors resist damage and provide a great level of durability. Concrete is very strong and will not damage easily, and a resin floor finish will provide extra toughness and damage resistance even after consistent use by people or vehicles.
What is a resin floor?
A resin floor is an epoxy-based finish to the concrete base of your floor. It works by pouring a liquid resin over the floor space. It's possible to use multiple layers for extra strength and there is a range of sealant choices to prevent moisture absorption. The resin then hardens and provides a level and seamless appearance that is bright and reflective.
What type of flooring is easiest to maintain?
Many types of floor including vinyl, tile and hardwood are easy to maintain. Resin concrete flooring is also easy to maintain as it has a similar wipe-cleanable surface to vinyl.
What type of flooring lasts the longest?
Flooring lasts longer depending on the materials used and the type of environment the floor will have. Long-lasting flooring materials include concrete, vinyl, resin and tiles.
How much will my laboratory flooring cost?
The overall price of your installation will depend on the scale of your project and the materials you choose. It is possible to find suitable materials for many budgets. Spaces that require extensive preparation can prolong the installation time and therefore influence costs. Difficult to access worksites that are in remote locations or high floors can make transporting materials and equipment harder and may also raise the overall installation cost.