Workshop epoxy flooring options for garages and industrial spaces
We are one of the leading resin flooring contractors in the UK. We will deliver an accurate quote, efficient installation and long-lasting resin floor. We have over 30 years of experience and will provide exceptional service during your installation.
Workshop flooring needs to be able to handle the demands of the activities that take place in them. What this means is that they commonly require heavy-duty designs, easy-to-clean surfaces and anti-slip features to make workshops safer and a more straightforward place to work. Epoxy resin flooring has these features, as well as several others.
Resin is a versatile material that will withstand heavy use from foot traffic and vehicles. Epoxy resin is a substance that is poured over the concrete, coating the surface of a floor space, which then hardens. Resin flooring solutions offer cheap options for workshops, garages and tool sheds that fulfil the needs of most businesses.
Our team can match your workshop floor requirements to your specifications and provide a swift installation, so you can get back to using your space in the fastest possible time. We install long-lasting floors with exceptional workmanship and quality results. Get in touch today for a free and accurate quote.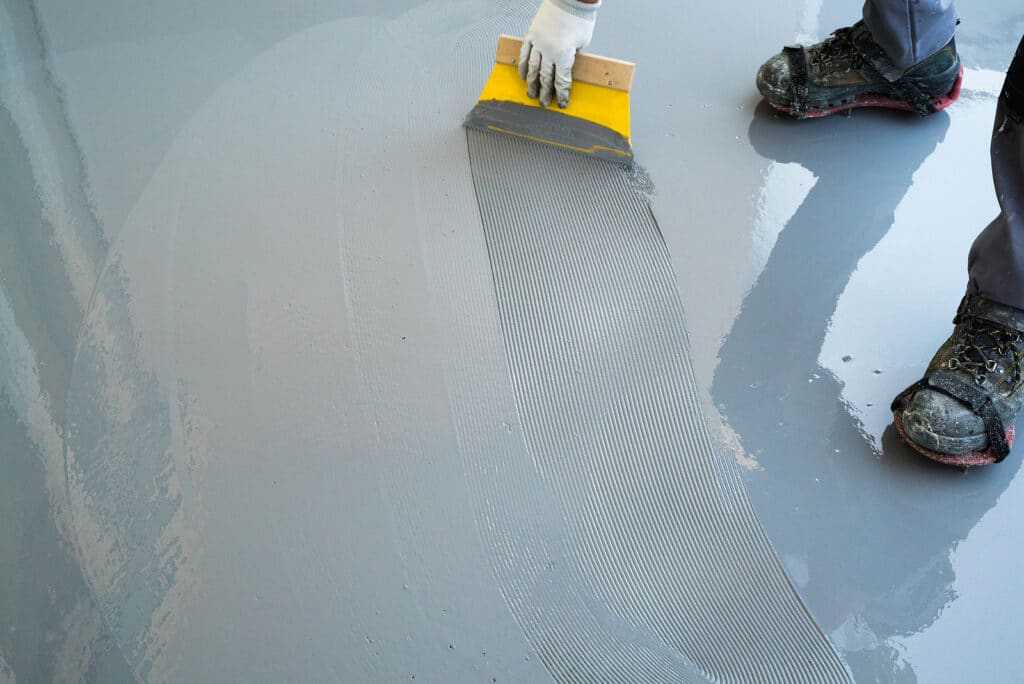 Benefits of epoxy flooring for workshops
There are many benefits of epoxy flooring in a workshop setting, notably the durability and hard-wearing properties the resin offers. Workshops have a variety of uses, and depending on your needs you may also find the following features of epoxy resin useful:
Chemical resistant: Garages and workshops commonly require protection from harsh chemicals such as oil or corrosive substances. An epoxy resin floor will withstand spillages and the effects of harsh cleaning products.
Wipe-cleanable: Not only is epoxy resin resistant to dirt, but it is also as simple and easy to clean as any type of vinyl or tile floor. Epoxy flooring can also handle use by industrial cleaning equipment in larger spaces.
Anti-static: Electrical workshops can benefit from the anti-static qualities of epoxy resin, which dissipates electrostatic discharge and prevents static interference with any equipment.
Non-absorbent: A wet vehicle in a garage or an accidental spill can cause a workshop floor to absorb moisture, which undermines the safety and integrity of the concrete. Epoxy resin is non-absorbent so avoids this issue.
Anti-slip: People need to be able to move freely around a workshop space, which means anti-slip features are an essential feature. Epoxy resin provides perfect traction for vehicles and foot traffic.
Paintable: It is simple to apply floor paint to an epoxy resin surface, which makes the possibility of organising a workshop much simpler. Floor paint can help mark out lines for vehicles lanes or walkways.
Overall, epoxy resin is an ideal material for flooring systems in workshops, garages and many other types of industrial space. Resin is one of the best options for any space that requires a durable, heavy-duty material that can handle extensive use. An additional benefit is that resin is relatively cheap.
Why choose us for your workshop epoxy flooring solution?
Our experience spans over 30 years and our team members maintain a steadfast commitment to their trade and are at the forefront of design, innovation and installation. We aim to maximise productivity and minimise waste, with an unparalleled level of efficiency during the installation.
CFS is a member of the Association of Concrete Industrial Flooring Contractors (ACIFC). This prestigious membership demonstrates our recognition as industry leaders in delivering projects successfully. Our annual installation covers more than 180,000m2 of flooring. We also commit to using only the best materials.
To help showcase our projects and the quality of our installations we create and contribute to a variety of case studies. Please feel free to browse them for more details on the calibre of work we deliver.
Long-lasting workshop epoxy flooring installations
Your workshop will benefit from the strength and additional features of epoxy resin. It is one of the cheaper flooring materials that offers a simple option for many industrial spaces.
Our team can provide a quick and precise quote for your workshop floor and install it with a fast turnaround time, and with a high-quality final result. Contact us today for more information.
FAQs and useful information
The following are some frequently asked questions and information about concrete floors, industrial floor painting and the services we provide:
What does epoxy resin flooring look like?
The aesthetics of an epoxy resin floor are bright and light, depending on the colouring choices you go for. Generally speaking, they create a seamless looking surface, almost like a still liquid. Finishes including floor paint will alter the regular appearance of an epoxy resin floor.
How much will my floor cost?
While resin floors are comparatively cheaper than other types of floor, several things can influence the cost of your project. The size of your installation is the main factor, as larger surface areas require more materials and take longer to complete. If the existing floor requires expensive preparation this can further influence installation time and overall costs.
How do epoxy flooring solutions work?
First of all, we will prepare the floor for the resin. This involves extensive cleaning and removal of debris, which is important as proper preparation means the floor will be more durable and less likely to receive damage. We then prepare the resin and pour it over the surface of the floor. Once it hardens we add various layers of sealant to further secure the floor. After this, there is a short wait for hardening, usually 12 to 24 hours.

Contact us today for more information.