Industrial Flooring Experts
We are a company of designers, surveyors & craftsmen based in the South with four decades of experience constructing concrete floors to the highest specifications & tolerance.
High Quality and Cost Effective Flooring for Industrial Buildings
We like to keep things simple and keep our clients informed and updated on their projects. We find ways to minimise waste and maximise our work ethic, all for the betterment of our customers and staff. Throughout the project, our team will always be on-hand to answer any questions or concerns you may have.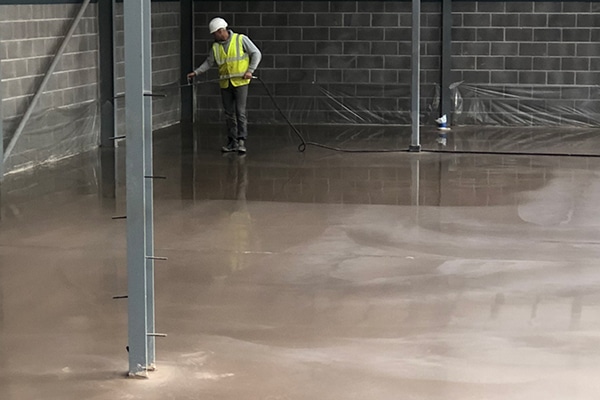 Why Choose Concrete Flooring Solutions?
Over 40 Years' Experience
100% Accredited
Competitive Rates
Lifelong Results
Constructionline Gold Member
High Quality and Cost Effective Flooring for Industrial Buildings
All of our designs are made in accordance with the guidelines set by The Concrete Society's Technical Report 34, as this is the industry standard for concrete industrial ground floors.
We are Industrial Flooring Specialists
Everything we sell, from our industrial floors and floor coverings to our floor coatings and finishes, is designed and created by one of our highly trained and qualified members of staff. We understand that when you are working for a busy industry sector, it is important to have what you need as soon as possible. That is why we aim to get your flooring laid and ready for use as swiftly and efficiently as we can, not only to the standards we expect, but to the standards that you deserve and that will work best for your site.
Our Industrial Flooring Planning Process
When we receive a contract to supply an industrial floor, the project will first go through a process of thorough checks and planning to ensure that your requirements are being met and that our standards are being upheld. Our aim is to make sure you are getting the floor you asked for, so we take great care to see to it that you get nothing less.
We also aim to use only the newest design technology available to us, so that our floors are made exactly the way you need them.
The Types of Industrial Flooring We Offer
At CFS, we offer two types of heavy duty flooring for industrial buildings and sites. The type that will suit your project's needs the most will differ, depending on what you are looking to use it for, what kind of foot traffic or vehicles will be present and what type of site or building you are planning on using it in.
Industrial Concrete Flooring
We are proud to be able to rank ourselves among the best industrial concrete flooring contractors in the country, and this is because we know we offer the most durable and hard wearing concrete floors on the market. It is a popular product when it comes to commercial and industrial flooring ideas, owing to the fact that it is easy to clean and maintain, is not easily worn, it can withstand heavy machinery and it comes in a range of design options so you can have your floor the way you want it.
For more information about our industrial polished concrete floor, industrial screed flooring and all the other services we offer for our concrete flooring, please go to our page or contact us.
Composite Metal Decking
We also offer a bespoke service in composite metal industrial floor tiles for customers who would prefer this. Metal flooring is now considered the industry standard for new office builds and retail sites, and is comprised of metal beams and concrete slabs in an interlocking system, which offers a greater level of strength and stability. They are also very easy for us to deliver and slot into place, making them a fast, easy solution to get your work project moving on to the next stage of completion. 
To find out more about our composite metal decking, please visit our page, or get in touch with us. Our staff will be happy to answer your questions and offer advice on the flooring you want to purchase.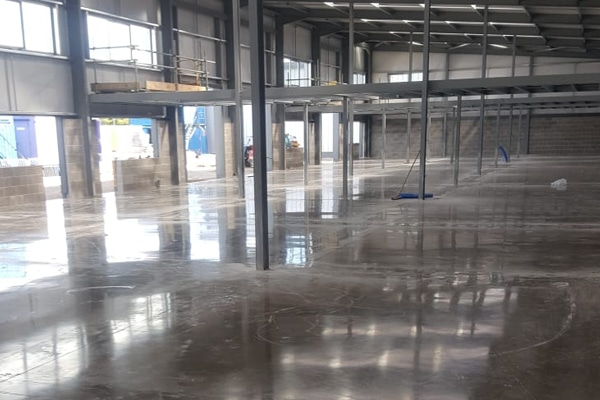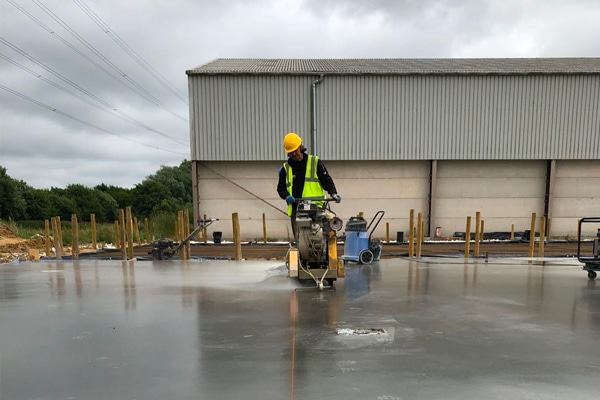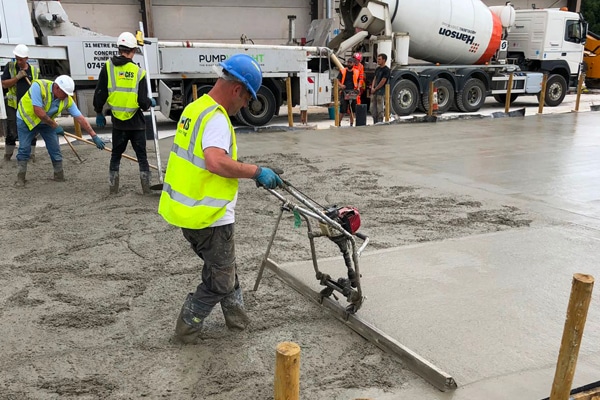 We Guarantee High Quality
A floor laid by a contractor without any experience has the potential for a number of mistakes in the process, which can prove costly when the time comes for them to be fixed. In order to avoid this, we always highly recommend that you call a professional to install your industrial concrete flooring. You will save yourself and your firm time and money in the long term, and have the concrete or composite metal flooring you need ready as soon as you need it.
At CFS, we guarantee all our customers the highest quality service we can provide for your floor. No matter if you need a smooth, polished concrete surface for a warehouse floor, a brushed finish for a concrete pathway, or even composite metal for a completely new building, we can be there in no time to lay it for you. We will even use premised powders for abrasion resistance in our concrete floors, and all our composite metal floors incorporate steel beams for the strong hold your project needs.
Get In Touch Today
If you have been looking for a new industrial floor for your retail store, factory or other place of business, call Concrete Flooring Solutions today. We are experts in this industry with over four decades' worth of experience, so we know that we will be able to help you find the floor your site needs.
Our staff are always on hand to take your call and offer advice when needed, so if you have any questions before you begin your flooring project, get in touch and we will be able to answer them and get you set to work.