Industrial food grade flooring installations
We are one of the leading resin flooring contractors in the UK. We will deliver an accurate quote, efficient installation and long-lasting resin floor. We have over 30 years of experience and will provide exceptional service during your installation.
If you have a kitchen or commercial food preparation area, you can benefit from our food-grade commercial flooring solutions. Food production and preparation spaces can benefit from the hygienic qualities of these floors, which are normally made from epoxy resin.
Food grade flooring makes commercial kitchens and food production spaces safer and more hygienic. It is a functional type of flooring that will enhance a commercial kitchen space.
We install industrial food grade flooring for many price ranges and can provide efficient final results that last a long time. Contact us today to get a free quote for your food-grade flooring project.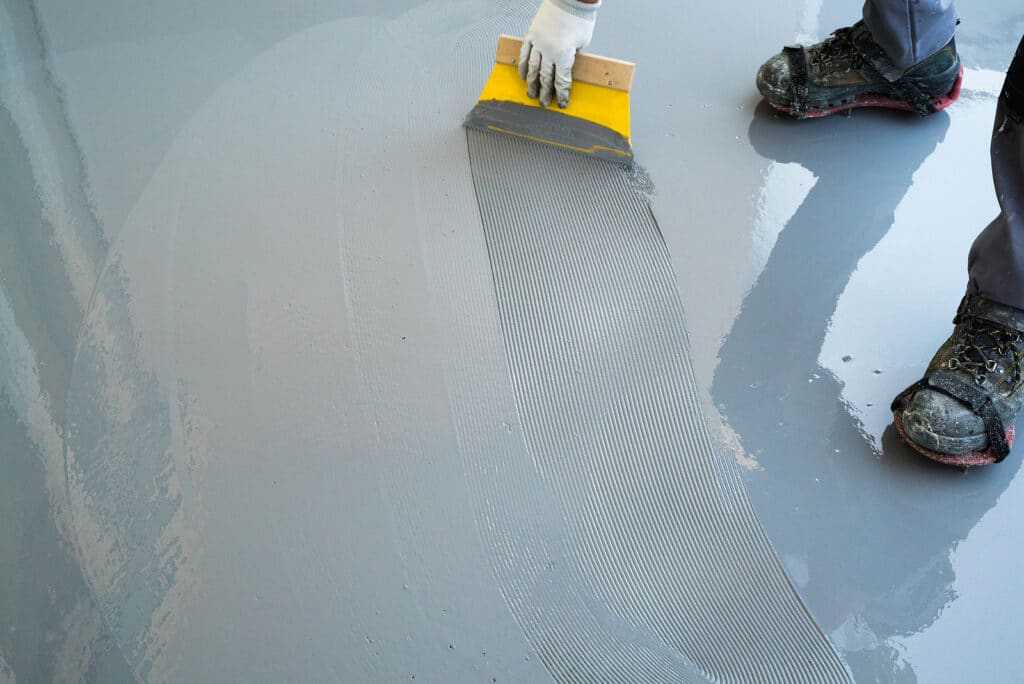 Benefits of industrial food grade flooring
Epoxy resin flooring works by coating a concrete floor with resin, which then hardens and forms a strong protective layer – making it much stronger than vinyl flooring. This layer then has sealants applied to add extra strength and protection.
The benefits of epoxy resin flooring in food production spaces include the following:
Anti-slip: A commercial kitchen space typically has many people moving within it, and there is the potential for slipping on liquids. Our industrial food grade flooring solutions feature anti-slip functionality, which helps to increase safety levels overall.
Easy-clean: Epoxy resin flooring is easily wipe-cleanable, similar to vinyl flooring. This means that inevitable spills are easy to remove, and it also makes practising good hygiene easier. Better health standards are simpler to maintain with industrial-grade flooring.
Chemical-resistant: Commercial spaces require intensive and deep cleaning alongside their daily clean, and deep cleaning may use harsh industrial chemicals. Epoxy resin flooring in commercial kitchens will resist chemicals in even very strong cleaning products.
Paintable: Commercial kitchens and industrial food production areas can benefit from the easy paintability of our food grade flooring. It is simple to add floor paint to mark out paths and sections in a space, which can help with organisation and workflow.
Temperature resistant: Unlike a vinyl floor, a food-grade floor can withstand very high temperatures. This is important for places where cooking is necessary, such as bakeries, as opposed to food production spaces and factories where the temperature is less of an issue.
Overall epoxy resin is an excellent choice for commercial kitchens and anywhere food production takes place. It is a hygienic and durable surface that can withstand a large amount of use.
Why choose us to install your industrial food grade flooring?
We have the benefit of over 45 years of experience. Our expert engineers have a great dedication to their trade and can provide very efficient installations. Your commercial food production space will be complete as soon as possible.
Our company is a member of the Association of Concrete Industrial Flooring Contractors (ACIFC), which shows our recognition as industry leaders. Each year we successfully install over 180,000m2 of concrete flooring.
We are at the cutting edge of the industry and offer only the best design, highest-quality materials and most innovative construction techniques. We love to share our knowledge to show our abilities, so please check out our blog.
Case studies and our portfolio
To demonstrate the quality and durability of our floors we develop and contribute to a range of case studies. Please take a look for some detail on the kind of projects we deliver.
We work in a range of locations across the UK and have a diverse experience of completing projects for agriculture, aviation, commercial and public properties and the transportation sector.
Low-cost, high-quality industrial food grade flooring
Our team will provide commercial or industrial food grade flooring for kitchen and food production spaces at a cost to suit most budgets. We use the best quality materials and efficiently install all of our floors.
To get a quote for your industrial food grade flooring project please contact us for more information. One of our friendly team members will get back to you as soon as possible.
FAQs and useful information
The following are some frequently asked questions and further information about industrial food grade flooring and the services we provide:
What does it mean to be food grade?
If something is food grade this means that materials in the item or piece of equipment are safe for human consumption and are non-toxic. Food grades are necessary when something is likely to have direct contact with food preparation, production and manufacturing spaces.
Where is food grade flooring useful?
The most obvious area food-grade flooring is useful is in commercial kitchens or food production factories. It is a sensible choice for many businesses related to this area including slaughterhouses, bakers, brewers, dairy manufacturers and meatpacking suppliers.
How much will my flooring cost?
The cost of your installation will depend on the surface area of the floor space, the choice of materials and any finish you select.

Contact us now for a free quote.