Anti-static resin flooring solutions
We are one of the leading resin flooring contractors in the UK. We will deliver an accurate quote, efficient installation and long-lasting resin floor. We have over 30 years of experience and will provide exceptional service during your installation.
When working with sensitive electronic components it is important to control electrostatic discharge (ESD). Static can cause damage to sensitive electrical equipment, so it is important to use appropriate flooring, notably resin flooring.
Resin is an anti-static epoxy-based substance that is poured over the surface area of the floor. Several layers and sealants also strengthen and protect the resin as well as the concrete surface below.
Industries that can benefit from anti-static flooring include healthcare and electrical engineering. For a low-cost, efficient installation with durable results please feel free to contact us.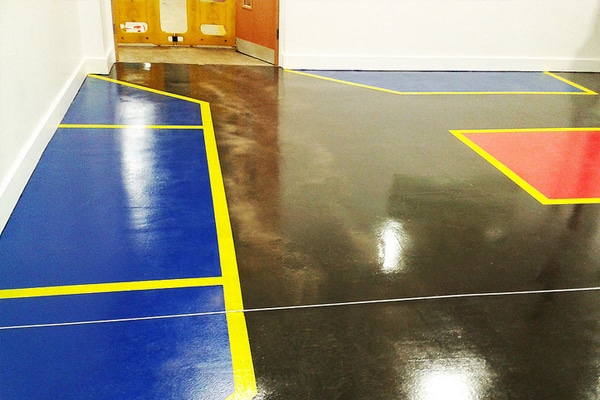 Benefits of anti-static resin flooring
Arguably the core benefit of anti-static flooring is being able to control ESD events. This prevents electrical interference with equipment and components. It is also possible for ESD to cause harm to staff, so it is important to take this into account.
Other benefits of anti-static resin flooring include:
Durable: Resin is a tough substance that is suitable for consistent use from vehicles and foot traffic and can resist damage from any heavy drops or spills.
Anti-slip: Resin flooring can prevent ESD and also provides a safe anti-slip surface. The smooth resin floor offers enough traction for people and vehicles to safely use without slipping.
Easy-clean: Resin flooring is incredibly hygienic, which is useful as many settings require frequent cleaning. Resin is wipe-cleanable and will resist chemicals, making it a perfect choice for medical or manufacturing sectors.
Overall resin flooring is a durable surface that has uses in many industries. Resin is available in numerous colours and finishes, it is also possible to paint the surface with line markings for better organisation or to delineate walkways and vehicle tracks.
Why choose us?
It can be difficult to find a flooring solution that fits your budget, but we can provide choices for many price ranges. Our low-cost options are installed by our experienced team, with a combined knowledge spanning over 30 years.
We work quickly and efficiently to deliver your anti-static resin flooring installation as soon as possible. The long-lasting and high-quality final results are the product of our workmanship and use of only the best materials.
As industry leaders, we have recognition from the Association of Concrete Industrial Flooring Contractors (ACIFC) as experts in delivering projects. The total area of flooring we annually install exceeds 180,000m2.
Start your anti-static resin flooring project today
Anti-static flooring provides safe control of ESD, which helps prevent the possibility of injury and interference with electrical equipment. We will provide a high-quality resin flooring installation to suit your budget, with a lasting result.
We are experts in flooring projects and can provide an efficient installation. Our professional and friendly team use the best quality and equipment. Contact us today for a quote.
FAQs and useful information
The following are some frequently asked questions about anti-static resin flooring and the services we provide:
What is anti-static flooring?
Anti-static flooring refers to floors that control static discharge. The flooring will not generate any static electricity. Anti-static floors help to reduce and remove the static charge.
Is epoxy anti-static?
Epoxy resin flooring is anti-static and provides an even, seamless appearance. It also resists chemicals and will withstand harsh cleaning products. There are many colour and design options.
How much does anti-static resin flooring cost?
The cost of your anti-static flooring solution depends on the scale of your project. Larger surface areas require more resin to complete so this will influence costs. The timescale of your installation also affects overall costs.
How long does it take to install resin flooring?
We install all floors quickly and efficiently. If the existing floor requires extensive preparation this may increase installation time and overall budget. Difficult to access sites or remote locations may make it harder to transport materials and equipment, which can also increase installation time.
Is a concrete-floor anti-static?
A bare concrete floor is not anti-static. While concrete will not usually build up with ESD as other types of floor do, it does not dissipate any charge or remove it.
Who are Concrete Flooring Solutions?
Concrete Flooring Solutions (CFS) is a company that delivers commercial, residential and industrial flooring across the UK. CFS is a company comprising craftsmen, designers and surveyors based in the South of the country with extensive experience in installing concrete floors to high tolerance and specification.

Contact us today for a quote.