Low-cost And Efficient White Resin Flooring Installations
We are one of the leading resin flooring contractors in the UK. We will deliver an accurate quote, efficient installation and long-lasting resin floor. We have over 30 years of experience and will provide exceptional service during your installation.
We are the best solution for high-quality, white poured resin floor installations in commercial and industrial settings. Our installations have a quick turnaround time, so your space will be available for use again in the fastest possible time. Our quality of workmanship produces long-lasting and durable results.
A poured white resin floor uses an epoxy floor coating that creates a seamless look, which is suitable for various commercial and industrial spaces. The process works by pouring resin over the surface of the concrete before it hardens, or 'cures'. Poured resin floors can have anti-slip and chemically resistant features, which makes them useful for areas such as garages, warehouses or laboratories.
Our services provide hard-wearing and extremely easy to clean surfaces that can withstand heavy use from both vehicles and foot traffic. The expert installation team uses the latest construction innovations and equipment for the best results. Contact us to get a quote for your white resin floor today.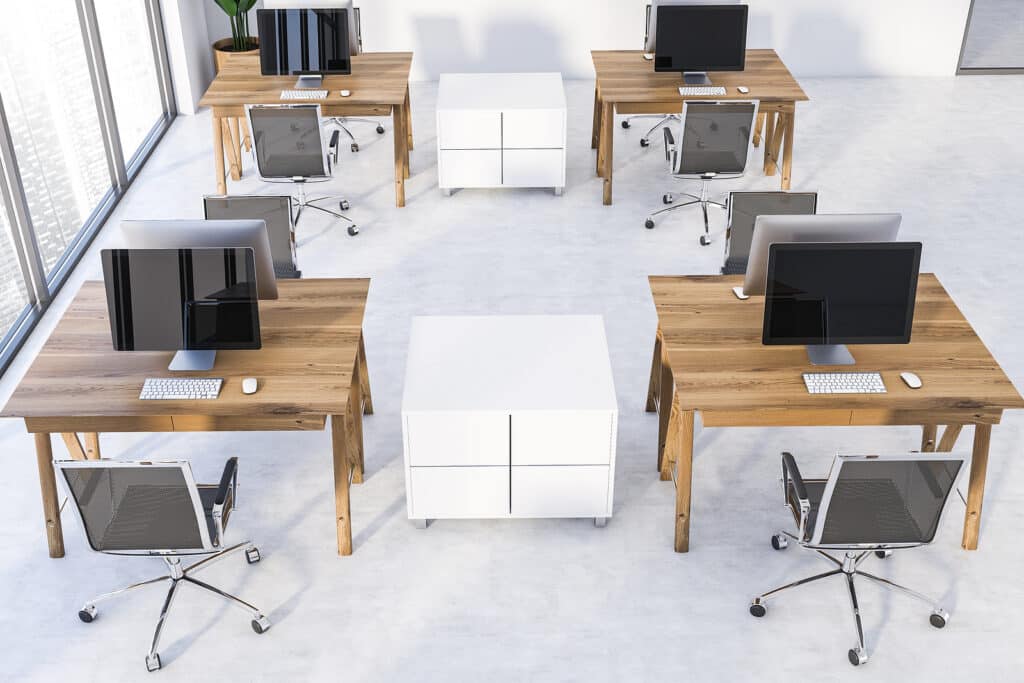 Benefits of a White Resin Floor
Any flooring area can benefit from the high-gloss look of white resin floor coatings in an aesthetic sense, with a seamless shimmering appearance. However, there are many different functional benefits, which are the main source of their appeal in commercial and industrial settings.
White resin floors are suitable for the following settings:
laboratories
schools
universities
commercial kitchens and food preparation areas
garages
workshops
commercial office and corporate areas
warehouses
The advantages of a poured white resin floor include the following:
Strong: The key benefit of a white epoxy resin floor, and resin floors as a whole, is the durability they provide. Epoxy floor coatings are extremely tough and can withstand extensive wear, meaning any damage is minimal despite heavy use.
Easy to clean: Poured resin hardens into a solid surface that is smooth and has a high-gloss look that is very easy to clean. Epoxy resin is wipe-cleanable and will prevent the absorption of moisture into the concrete substrate below. It is also easier to spot dirt on the white resin.
Chemical resistance: By choosing special epoxy resins that have chemical resistance, it is possible to avoid issues from harsh substances coming into contact with the surface, such as fuel or oil. This makes a white resin floor suitable for settings such as garages and workshops.
Anti-slip: Certain resins can add anti-slip functionality to a floor, which is brilliant for spaces with heavy foot traffic and vehicle use. Schools and universities, where many people walk all day, can benefit from this. Warehouses are another place that can benefit from the extra safety.
Paintable: Whether you want to outline paths for vehicles and walkways or simply delineate areas for a specific use, resin floors are easily paintable so you can add any markings you wish. Epoxy resin paint will resist wear and can stand out very well on a white resin floor.
Cost: The wonderful thing about epoxy resin is it is one of the most cost-effective materials you can choose for a floor. Very large flooring areas such as warehouses, hangars or any other big installations can benefit from a lower cost even across a large surface area.
A white resin floor will give you one of the most practical resin floor coatings, which reflects light and provides a bright appearance. These benefits are apparent in all resin floors, regardless of colour, but white resin floors have a distinct appeal.
Why Choose Us For Your White Resin Floor Installation?
Our expert team has over 40 years of combined experience. We are highly responsive to your needs and can come up with clever solutions to make sure we meet all of your requirements. We also use only the best materials.
We always maximise the efficiency of our projects, with minimal waste. Materials are accurately allocated and we keep all labour costs down by making sure we have the right amount of people on site for a safe but fast installation.
The fact that we are prominent members of the Association of Concrete Industrial Flooring Contractors (ACIFC) demonstrates our commitment to quality, and we install more than 180,000m2 of concrete flooring each year.
Get A Quote For Your High-quality White Resin Floor Installation
The expertise we provide, the quality materials we use and the innovative techniques we employ make us the best solution for a long-lasting and cost-effective white resin floor installation. It can be difficult to find a reliable contractor, but we are an established and trustworthy company with a reputation for excellence.
Our team delivers quality throughout all of our installations and can adapt to the needs of your space. To get a free quote or to discuss your white resin floor installation in more detail, please get in touch.
FAQs and Useful Information
The following are some commonly asked questions and helpful details on white resin floors and the installation services we provide:
How much is a resin floor?
A resin floor will usually be relatively cheap, as epoxy resin is very cost-effective. Different types of resin such as polyurethane (PU) and polymethyl methacrylate (PMMA) will cost more because they have shorter curing times and are more expensive to manufacture. A key factor in the cost of a resin floor, epoxy or otherwise, is the surface area you wish to cover – the larger the area the more resin is necessary and therefore the higher the cost. Floors that have damage or that require extensive preparation will increase installation costs. Additionally, places where it is difficult to transport materials and equipment to, such as remote areas or higher floors, can increase the installation time and overall costs.
How long do resin floors last?
Resin is a very tough material that can withstand heavy use, but resin floors will probably require replacing every 5 to 10 years in commercial or industrial settings. Excessive damage can shorten this lifespan, but it is a general rule of thumb. In spaces that are subject to less wear, such as areas with foot traffic only or residential settings, a resin floor can last much longer.
Is epoxy flooring good for homes?
Resin flooring can be good for homes. Most applications of resin take place in a commercial space, due to the need for higher levels of durability, but some people enjoy the high-gloss and seamless look in a residential setting. Seamless resin floor coatings in various colours can benefit kitchens, bathrooms and residential garages. Resin floors in residential settings can provide the same anti-slip, easy-clean and chemical resistance properties as commercial floors.
Contact us today for a free quote.