Synthetic Resin Floor
Lifelong results
Expert flooring contractors with over 40 years of industry experience
Highly competitive rates
100% accreditation by professionals
Constructionline Gold member contractors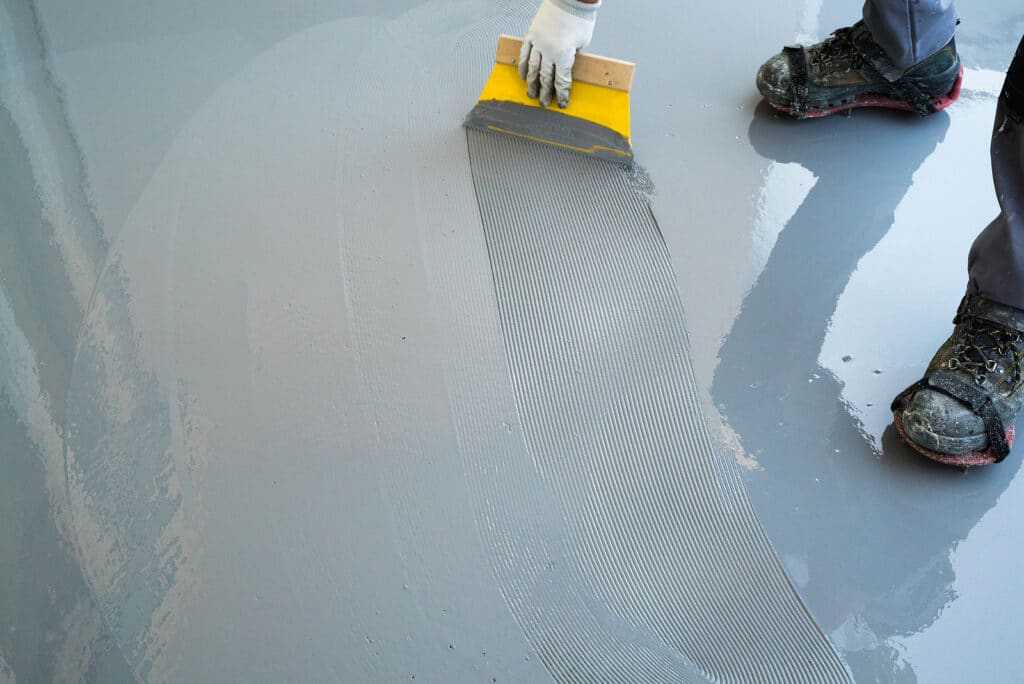 Synthetic Resin Floor – High-Quality Flooring Systems
Synthetic resin flooring provides multiple benefits to the properties that utilise them on their floors. From being highly durable compared to traditional flooring methods to being safer and longer-lasting, synthetic resin flooring is a great choice for almost any flooring situation. Industrial applications can include food production, and scientific labs, as well as commercial needs for a durable highly used floor and vehicular use – you can even utilise synthetic resin floors domestically to create a personalised and stylish finish for your floor at home.
Not only are they easy to clean, resistant to wear and damage, and provide excellent hygienic properties, installing a synthetic resin floor can also reduce common health and safety risks, such as slipping, whilst providing a floor that can be adapted in style to suit the situation.
Are you interested in having a highly durable, slip-resistant, and completely customisable synthetic resin floor installed on your property? Get in touch with our synthetic resin flooring experts today.
Types of Synthetic Resin Flooring
There are three main types of synthetic resin flooring available at Concrete Flooring Solutions. These include PMMA, polyurethane, and epoxy. Whilst it is a fact that all resin floors are more hygienic and durable than traditional flooring surfaces, the differences between each type can provide advantages and even disadvantages depending on where you plan to implement them. These flooring options include:
PMMA Resin Flooring
Standing for polymethyl methacrylate, this is a synthetic resin that is also known as acrylic or acrylic glass. It is used to make products like perspex and is classed as a thermoplastic type of resin. PMMA resin flooring can be altered for its primary use in industrial settings – customisation options include anti-slip, chemical resistance, and electrical resistance.
Possibly the most attractive feature of PMMA resin is its extremely fast curing times and incredibly fast application. Even at temperatures below 0°C, this super-fast curing time allows PMMA resin to be fully installed and cured over just a weekend. This results in minimal disruption for industrial properties and production facilities. PMMA also features an interlayer chemical bond, meaning that it is easier to repair and upgrade if you do accidentally damage the floor.
In terms of pricing, PMMA does typically cost that bit more, however, we believe that the price is worth it for the specially developed shorter curing times, long-lasting life, as well as less of a need for frequent maintenance.
Interested in installing PMMA resin flooring for your property? Get in touch with our synthetic resin flooring experts today.
Polyurethane Resin Flooring
Similarly to PMMA flooring, polyurethane also boasts significant resistance to impacts, abrasion, and most chemicals. However, its high temperature resistance and resistance to direct heat exposure are where polyurethane resin flooring shines the most. Ideal for food production facilities, polyurethane resin flooring is a great option to install in front of ovens where bursts of high heat will meet the floor, and where food cooling trolleys are placed. Polyurethane is also available in a wide range of finishes to suit the aesthetic of the area, and its flexibility provides a high impact absorption – meaning it is unlikely to get damaged by accidentally dropping a heavy object.
The only downfall of this resin is its curing time. Because polyurethane resin flooring is a thermoset resin, it takes significantly longer to cure than PMMA options – meaning slightly more downtime during installation and repair periods.
If you're interested in having thermally resistant flooring installed on your property, polyurethane resin flooring may be the option for you. Get in touch with our synthetic resin flooring experts today, and we can discuss any details you need. Contact us today.
Epoxy Resin Flooring
Epoxy resin is potentially the most well known and widely used type of synthetic resin flooring. Ideal for most situations and placements, epoxy resin is, similarly to polyurethane resin flooring, a thermoset material; offering a high level of durability and performance qualities – it also offers the highest resistance with electricity, making it an ideal option for electrical conductive flooring.
In terms of customisation, there are several types of epoxy resin flooring available here at Concrete Flooring Solutions, each offering its own various advantages over the other – depending on its use.
All epoxy resin floorings available are very hard and highly durable, binding fully to the concrete subfloor – creating a high level of protection against impacts, wear and tear, abrasion, water ingress, oil spillages, and a wide range of chemicals.
If you do accidentally damage an epoxy resin floor, it must be fully replaced as it could lead to structural weaknesses within the floor itself if it is only partially repaired. Though it is extremely difficult to damage epoxy resin flooring, with the longest curing time of all the resin flooring options we have available at Concrete Flooring Solutions, the event of accidental damage can pose a costly interruption to a business.
If you're interested in the installation of highly customisable and durable synthetic resin flooring for your property, epoxy resin flooring may be the choice for you. Get in touch with our synthetic resin flooring experts today, and we can discuss the details with you. Contact us here.
Contact us Today for High-Quality Synthetic Resin Flooring
If you're interested in the synthetic resin flooring options above and want to get in touch with our flooring experts to discuss the installation of a brand new synthetic resin floor for your property, our friendly and knowledgeable experts are available to discuss your designs and requirements for your next flooring project. If you don't see an option above that you're particularly interested in, but still love the idea of installing a synthetic resin floor on your property, still get in touch. We'll be more than happy to discuss your needs and discover an option in our range that suits you best.
Throughout the UK, Concrete Resin Flooring is the number one supplier and installer of high-quality synthetic resin flooring. For a free no-obligation quote, get in touch with our experts today.