Anti-slip industrial floor painting services at a low cost
We are one of the leading resin flooring contractors in the UK. We will deliver an accurate quote, efficient installation and long-lasting resin floor. We have over 30 years of experience and will provide exceptional service during your installation.
A polyurethane resin floor provides a perfect surface for regular foot traffic. Polyurethane is a resin option that differs from epoxy-based resin, it is slightly softer, more malleable and has some unique features.
To install this type of floor, a polyurethane resin coating is poured onto a concrete substrate, covering the entire floor. This resin then hardens, and we apply various layers of sealants to further strengthen and secure the surface.
We can install polyurethane resin flooring at a price to suit most budgets. Our efficient and reliable team will provide quick installations that have high-quality workmanship for long-lasting results. Get in touch for a free quote today.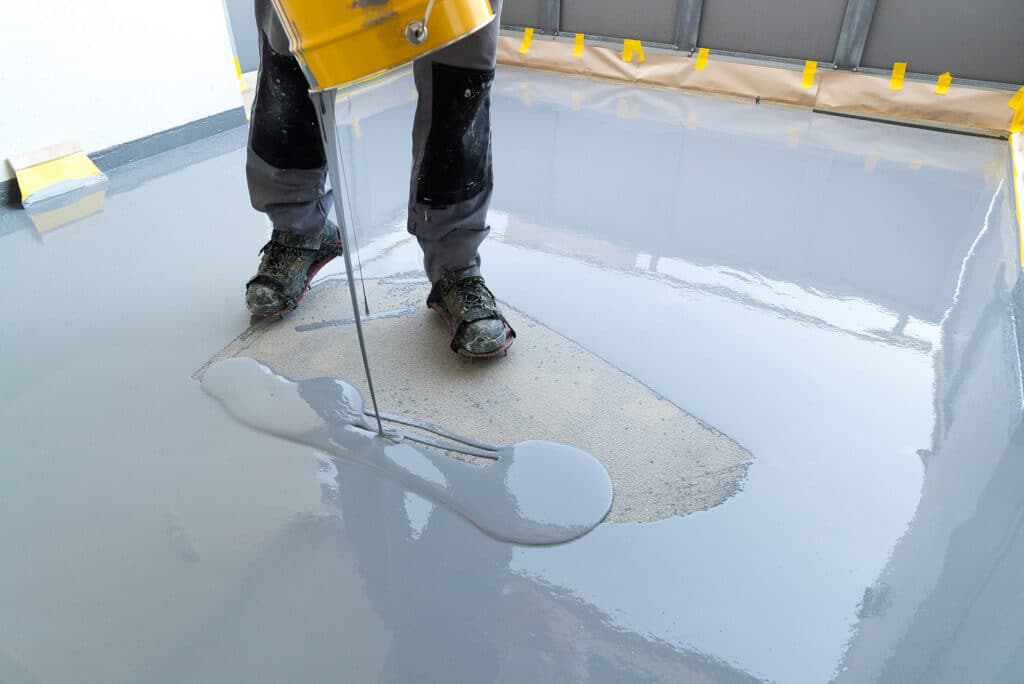 Why you need our industrial floor painting services
You can gain a lot of advantages with an effective paint job in your industrial space. Not only can you help structure the area more efficiently for better levels of use, but there are also other benefits including safety and aesthetics.
We can deliver a floor painting project that has the following qualities:
easy to clean
anti-slip
anti-corrosion
chemical resistance
hard-wearing
These features are perfect for industrial operations and can also suit a range of other settings. Potential areas where floor painting can be useful include the following:
garages
warehouses
breweries
factories
commercial kitchens
office canteens
hospitals
schools and universities
sports facilities
You can also paint floors in other spaces but these are the most common areas where painting a floor is useful. For schools, universities and sports facilities it is possible to incorporate school or team colour schemes. It is also possible to incorporate colours that reflect company branding in an industrial or commercial space.
Why choose us
It can be difficult to choose materials or effective paint options and our expert personnel can guide you in picking what will work best. Our team has over 30 years of experience and can adapt to any challenges that may arise during your floor installation or when painting.
We have a reputation for excellence and quality. The durable designs we deliver use only the highest quality materials. We are proud members of the Association of Concrete Industrial Flooring Contractors (ACIFC), which shows our position as industry leaders. The area of our annual installations covers more than 180,000m2.
Get a quote for your industrial floor painting project
Our installation and painting services for concrete floors keep our clients very happy with their low-cost, efficiency and long-lasting results. We can provide floor painting services to suit most budgets.
For more information on costs and to get your installation underway please feel free to contact us.
FAQs and useful information
The following are some frequently asked questions and information about concrete floors, industrial floor painting and the services we provide:
What is the best industrial floor paint?
There are many options for industrial floor paint and the best choice depends on your specific operation. However, overall an epoxy-based floor paint is the best option for a hard-wearing surface that is suitable for industrial use. Epoxy paint is very durable and resists wear effectively, which makes it a good choice of paint in an industrial setting.
How much does industrial floor painting cost?
It depends on the surface area, the materials you choose and whether you are installing a new floor at the same time. Large warehouses and factories tend to have a surface area that is much larger than most garages or commercial kitchens, so those types of spaces can cost more to paint. However, with clever material choices, it is possible to find solutions to suit most budgets.
Can you install or paint your floor in my area?
Yes. We operate nationwide providing concrete floor installations across the whole of the UK. Major regions where we operate include London, the South East and the South West.
How do you keep paint from peeling off concrete?
To stop paint from coming off the surface of the concrete we apply various primers and prepare the area. After applying the paint we add levels of sealant that coat the entire surface of the floor. This forms a protective layer above the paint that will resist any wear or damage. 

Contact us today for an accurate quote.