Durable Self-levelling Resin Flooring Solutions For Many Spaces
We are one of the leading resin flooring contractors in the UK. We will deliver an accurate quote, efficient installation and long-lasting resin floor. We have over 30 years of experience and will provide exceptional service during your installation.
We provide cost-effective, self-levelling flooring systems for commercial and industrial settings. With heavy-duty and long-lasting designs, we can provide seamless flooring that uses high-quality epoxy resin materials at cost-effective prices. Our installation services are the best option for fast and efficient results that can handle the requirements of your space.
Resin flooring provides a self-levelling surface that creates a seamless flooring system, with a glossy shimmering look. With an epoxy resin floor, you can add certain features that are very beneficial to commercial and industrial spaces, notably easy to clean and slip resistance functionality. Self-levelling resin flooring installations are available in many colours, as well as clear varieties.
The level of quality that we deliver and the experience we bring to a project makes us an ideal choice for industry-leading self-levelling flooring installations, as well as a variety of other floor systems. To get a free quote for your flooring project today please feel free to contact us.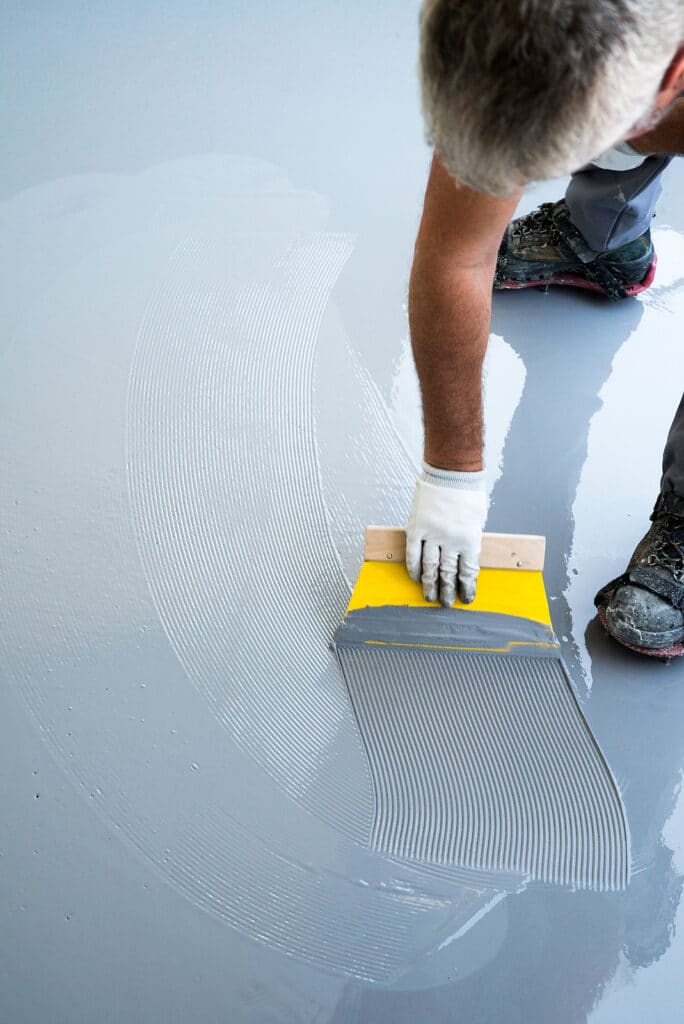 What Are The Benefits Of Self-levelling Resin Flooring?
Epoxy resin flooring has an interesting look that comes with a lot of beneficial properties for commercial and industrial spaces, but it can be useful in residential settings too. Many educational, medical and scientific institutions can also benefit from epoxy resin floor systems.
The advantages of self-levelling epoxy resin floors include the following:
Appearance: The still and calm look of seamless flooring is a key part of its appeal, it is very clean and reflects light because the epoxy resin is a derivative of plastic and so it has a natural shimmer.
Chemical resistance: Many operations use harsh chemicals, such as in laboratories and garages. It is possible to install self-levelling floor systems with chemically resistant epoxy resin, which helps to avoid corrosion.
Cost: A big pain point for industrial settings is the high cost an installation of a larger scale can reach. Epoxy resin is one of the cheapest forms of flooring, which makes it a viable option for even large surface areas.
Customisable: You can choose from many colour options and finishes. Solid surfaces are available in clear and colour varieties, and it is possible to add marbled or metallic finishes for office lobbies and bathrooms.
Easy to clean: Resin flooring is smooth and seamless, which makes it easily wipe cleanable. Chemical resistant resin can also withstand very strong cleaning products, so it can be suitable for medical and scientific settings.
Heavy-duty: A key benefit of self-levelling resin flooring is the durability it offers. Epoxy resin can handle drops, knocks and wear from foot and vehicle traffic with ease. Most industrial floors last around 5 to 10 years.
Slip-resistance: You can install epoxy resin that has anti-slip functionality, which greatly increases safety. Areas with a lot of foot traffic will benefit from this feature, but it can help with a vehicle's wheel traction as well.
As epoxy resin is so durable and has many additional benefits, it is a wise choice for commercial and industrial settings, but it has appeal in residential spaces too. The floor screed with self-levelling resin is much simpler than it is with concrete.
Why Choose Us For Your Self-levelling Flooring Installation?
We occupy a leading position in the trade and have a reputation for trustworthiness and excellence in our installations, which come in on budget and on time. Our many projects see us install over 180,000m2 of flooring each year.
The level of quality we offer is the primary reason to choose us. Your self-levelling floor system will make use of only the best materials and we have over 40 years experience in the industry.
Our knowledgeable team can respond to the needs of your project and adapt to any challenges using the latest construction techniques and innovations. We also use the highest quality equipment in all of our installations.
Get A Quote For Your Self-levelling Resin Flooring Project
If you are ready to get an epoxy resin floor installation with the highest level of quality at a cost-effective price, with a long-lasting result, then we are the best choice. We are a reliable and reputable firm with a focus on excellence.
You can get a free quote for your self-levelling resin flooring project today by contacting us. One of our friendly team members will get back to you as soon as possible. For more information and details of our work, please feel free to view our blog.
FAQs and Useful Information
The following are some more details and common questions about self-levelling epoxy resin flooring and the services we offer:
What is self-levelling resin?
A self-levelling epoxy resin is a type of floor system that requires little to no screed. It spreads out evenly by itself without any additional finishing necessary. However, self-levelling resin does require the proper preparation of the concrete floors on top of which they are poured. Without effective preparation, it is possible for the surface to be uneven, or have certain areas that are less durable than others – this may result in damage or cracking.
Can you do epoxy flooring yourself?
Competent DIY-ers can do their own epoxy flooring. However, in many cases, the surface preparation equipment involved can be cumbersome, expensive to use and also require a considerable amount of skill. Small residential areas, such as a workshop, are much easier to do yourself than larger spaces or areas where vehicles are in use. For maximum safety and the best outcome, a professional approach is necessary to ensure all standards are met.
What are the disadvantages of epoxy flooring?
There are a couple of disadvantages to an epoxy resin floor, which result from its hardness and durability. One example is that it is quite noisy to walk on, so it can be less desirable in some spaces. Due to the concrete floors underneath the resin, it can also be a very cold surface – so it may not be a good choice for residential settings. Without adding the proper sealants, it is also possible for the epoxy resin to react to ultraviolet light and change colour.
Contact us for a free self-levelling resin floor quote.