High-Performance Commercial Gym Flooring
We are a leading provider of commercial gym flooring in the UK, offering fast installations of high-quality flooring systems. If you're looking for flooring that is exceptionally strong, hygienic, and long-lasting, epoxy resin provides one of the best solutions.
With over 30 years of experience in flooring solutions, our team of highly trained professionals offer efficient installations of high-quality resin floors. Our superior standards mean the commercial gym flooring we supply is safe, strong, and looks the part, too.
Contact us today to discuss your commercial gym flooring project and get a free, no-obligation quote on an efficient installation from experts.
Why Choose an Epoxy Floor for Your Gym?
We specialise in professional installations of epoxy resin flooring for a range of commercial and industrial spaces.
What is Epoxy Resin?
Epoxy resin is a type of floor coating which is similar to plastic. It is poured onto a concrete surface to provide an extra protective layer that is smooth, durable, and customisable.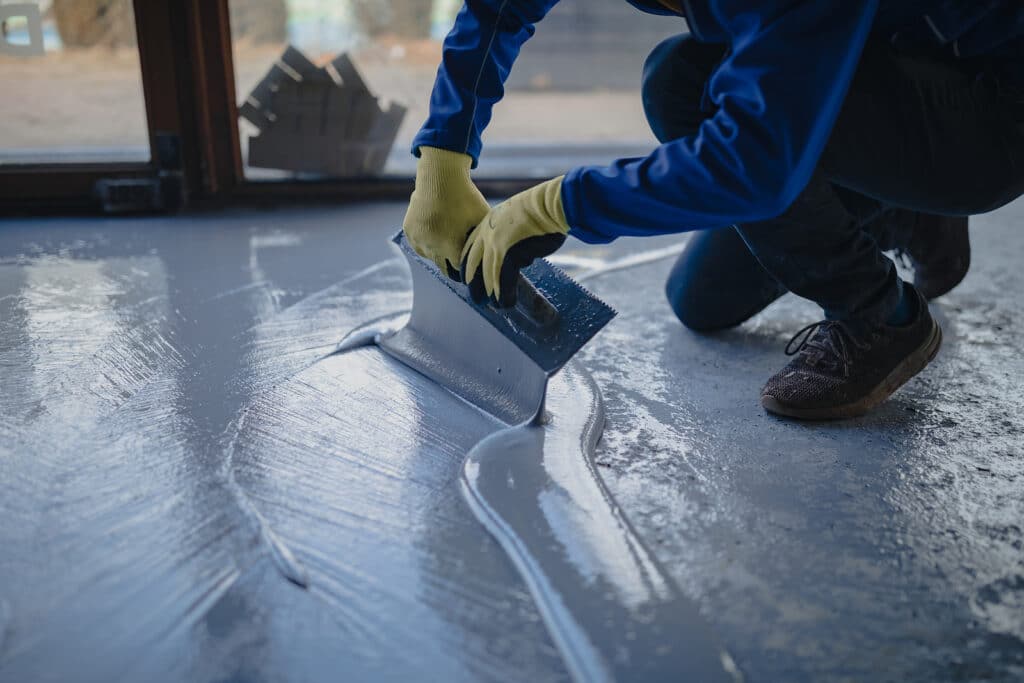 What are the Benefits of Epoxy Resin?
An epoxy gym floor comes with a range of unbeatable benefits that make it perfect for a commercial gym space:
Shock Absorption: Shock absorption is important throughout a commercial gym but especially in free weight zones. An epoxy resin floor is malleable and can withstand drops from a height of heavy objects without cracking. This impact resistance is vital for a gym flooring system that lasts.
Durable: Epoxy resin is suited to any area with constant foot traffic. Heavy usage like this is no problem for this durable finishing, and you'll find that general wear and tear with an epoxy resin coating is less than it is with other flooring types.
Easy to Clean: Because epoxy resin is a self-levelling solution, it provides a seamless finish. This not only means it looks good, but it also provides a surface that is very easy to clean. Constant usage of chemicals found in cleaning products will not damage your epoxy resin gym flooring either, allowing for high health and safety standards to be maintained.
Safe: An epoxy resin flooring is anti-slip, which is a vital component of safety in a commercial gym.
Cost-Effective: The resin manufacturing method is low-cost and very simple, as it is a derivative of plastic. This makes it an affordable material and especially good for large spaces. This, coupled with the excellent benefits above, makes epoxy resin flooring a valuable long-term investment for a commercial gym.
Can You Customise Epoxy Resin?
It's very easy to add extra sealants to your commercial gym flooring. In this way, you can add a wide variety of practical additions:
Skid protection
Dust resistance
Anti-static
UV protection – great for outdoor gym flooring
There is also excellent design potential in epoxy gym flooring. Your resin coating can come in any number of colours and patterns so that you can match it to your branding and create an aesthetically pleasing environment. We offer a range of gym flooring finishes – just talk to our creative design team to discuss your ideas or get any advice.
If you are happy with the existing design of your commercial gym flooring, you can get clear epoxy resin to harness all the benefits of the finish without losing your aesthetics.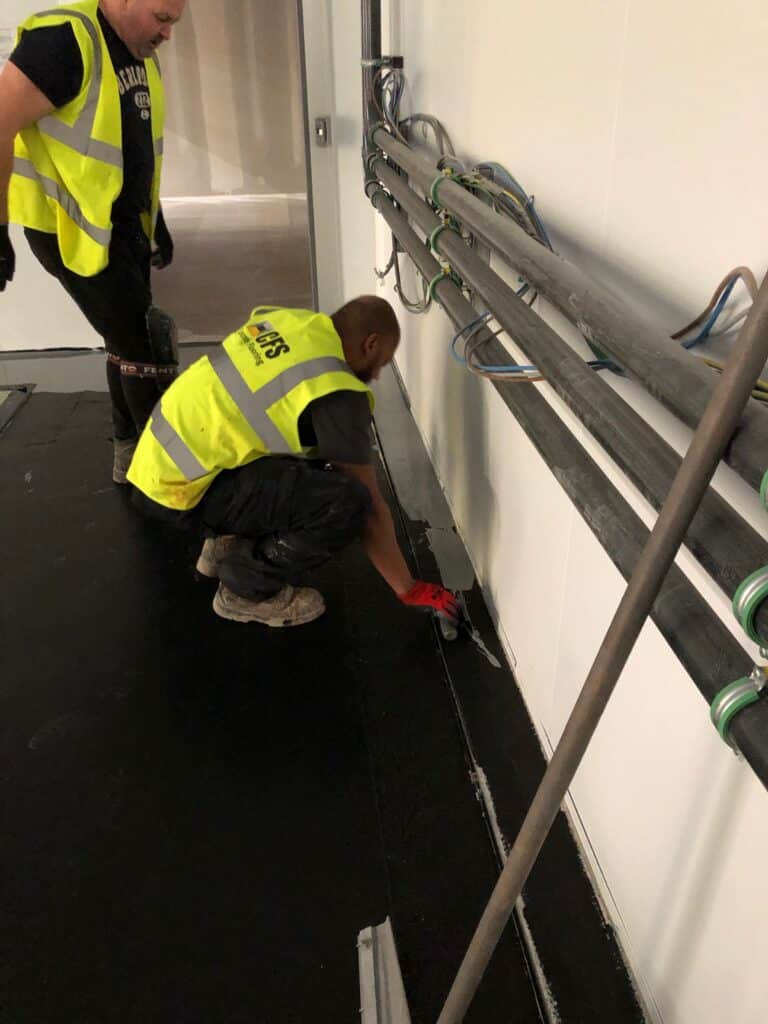 Why Choose Us for Your Commercial Gym Flooring?
Our exceptionally capable team have the combined knowledge and experience of 30 years, making us one of the leading flooring system professionals in the UK. We are dedicated to working with you within your budget to meet the unique needs of your space, installing commercial gym flooring with impeccable results.
In fact, our manufacturing methods and the results they get have been consistently recognised by The Association of Concrete Industrial Flooring Contractors, the highest of industry standards. When you get an installation of a high-quality commercial gym flooring from Concrete Flooring Solutions, you get outstanding customer service and an outstanding flooring system to boot.
How Do We Work?
We work collaboratively with all our clients to ensure their needs are met. Before we install your commercial gym flooring, we work to prepare the surface. To remove any dirt and debris, we use either diamond grinding or shot blasting, both of which involve advanced technology that ensures a completely seamless installation.
Our installers are committed to working quickly so that you have as little downtime and disruption to your business as possible. In fact, we are experts in lean construction.
What does this mean for you? It means:
More efficient installations
Fewer materials wasted
Lower prices without compromising on quality
Get a Quote on a Quality Installation of Epoxy Resin Gym Floor
When you're looking for a commercial gym flooring option that lasts, that meets all the needs of your space, look no further than the professionals at Concrete Flooring Solutions. We will work efficiently and collaboratively to deliver exceptional results every time.
Whatever scale your commercial flooring project is, we can help you.
Get a no-obligation quote on a commercial gym flooring installation