What To Know About Resin Floor Thickness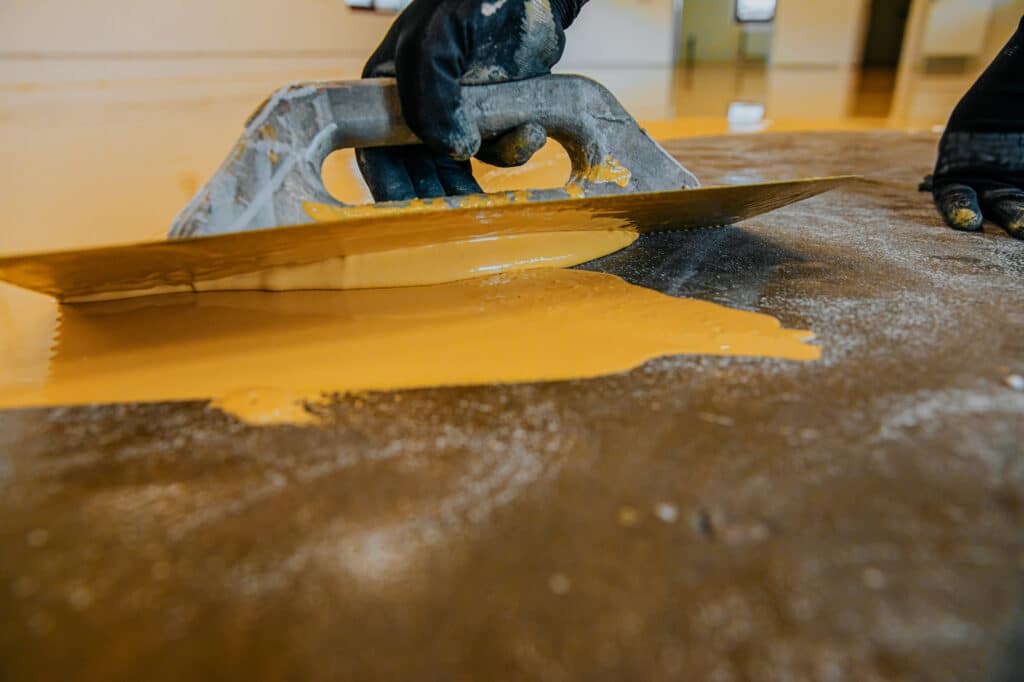 The thickness of a resin floor depends on different factors, such as intended use and the type of epoxy. Thicker resin floors will have a stronger surface to absorb shock and impacts, which can prevent damage to the concrete substrate below.
When determining resin floor thickness, it is important to make sure only high-quality materials are used. Using the best quality materials will prolong the life of the floor, improve safety and guarantee that the floor will be able to withstand regular use.
As experts in installing resin floors and reliably determining the adequate thickness, we understand that questions can arise about what the best options are. To help understand the reasons behind the thickness of a resin floor, we will provide a handy guide here. To start your resin floor project please contact us.
How Thick Is Epoxy Usually?
The important thing to remember about resin is that it is a coating system, not strictly a floor per se. Epoxy coatings are poured onto a concrete base, which will then harden and produce an even looking floor.
Usually, there are varying thicknesses in resin floors, between 0.1 of an inch to around 0.5 of an inch – or 5 millimetres (mm). There are classifications of a floor that determine the thickness. These include the following:
Light use
If you have a space that will only need to handle light foot traffic then a thickness of less than 1 mm is all that is necessary. Typical places where this is the best choice include smaller warehouses or packing locations and storage spaces.
Light use can potentially mean that a vehicle, such as a forklift, will be necessary. This level of thickness is sufficient for such use, but larger and heavier vehicles like cars will have too much weight for this type of floor.
Medium use
If there is a space that has more regular foot traffic then a higher thickness for medium levels of use will be the appropriate option. This thickness is around 2 to 4 mm.
This floor thickness is tougher and will be able to take the pressure of forklifts regularly, so it is good for warehouses and industrial spaces where vehicles may be in use. Very heavy vehicles are not suitable for such a surface.
Heavy use
A floor that has heavy use will usually be around 4 to 6 mm in thickness. It is a substantial coating that may have several layers. This type of resin floor is suitable for places with nearly constant use.
Garages and public spaces with a lot of consistent traffic can benefit from this type of floor, as it will comfortably manage the pressure of substantial weight. As resin is easy to clean and anti-slip, this thickness is useful in airports.
Very heavy use
The final level of thickness is only for the most substantial use, which can handle extremely large loads and constant use. Vehicles with larger cargo can navigate the floor without a problem, which means outdoor use is possible.
The thickness of this type of floor will be over 6 mm. The substrate, the concrete underneath the epoxy, will require extensive preparation for this floor to function properly.
Resin Floor Thickness For Many Settings
Epoxy coatings are a simple and strong type of floor, suitable for commercial and industrial use. From schools and airports to warehouses and food preparation areas, it is a flexible flooring material that works well at a low cost.
To install an epoxy resin floor, you can utilise our services for a guarantee of quality and a long-lasting result. We can also suit a range of budgets. Contact us for more information and to get your project underway.
FAQs And Useful Information
The following are some frequently asked questions about resin floors, their thickness and the services we provide:
How much will my resin floor cost?
A resin floor will cost more if there is a larger surface area to cover and, if the concrete substrate requires extensive preparation, costs can rise higher still. However, epoxy resin is a very cheap material so even large spaces can be installed affordably. Installation time is also very quick, which means production areas can return to full-capacity fast.
How long will a resin floor last?
As a very durable material, resin can last exceptionally long, even with constant use. A typical floor will last 10 years or more. Choosing the appropriate thickness for the floor will help increase its lifespan.
Contact us to install a resin floor today.