Comparing Resin Flooring vs Polished Concrete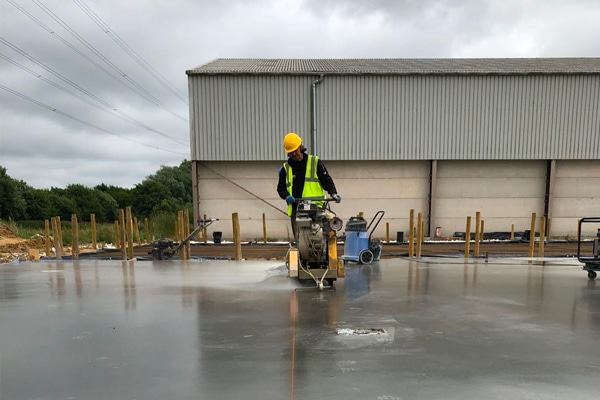 Resin flooring is a type of flooring that commonly uses an epoxy-based resin to cover the surface of your concrete floor. Resin flooring can be paintable and can provide an even, smooth and bright plastic-based look. Polished concrete involves grinding the surface of the concrete to achieve the distinctive polished look.
Both resin flooring and polished concrete have the following characteristics, which makes them great choices for floors in many settings:
bright, reflecting natural and artificial light
easy to clean
resistant to chemicals
strong, even with heavy use
suitable for using vehicles and heavy machinery
long-lasting
We are experts in installing a wide range of concrete flooring systems, so we are well-placed to provide the information and detail you need when comparing resin flooring vs polished concrete. If you have a resin flooring or polished concrete flooring project you can contact us for an accurate quote.
Resin Flooring and Polished Concrete Installation Techniques
The fundamental difference between resin flooring and polished concrete is the construction methods that you use when installing them.
Resin flooring is essentially a pouring of various layers of usually epoxy-based resinous coatings, which then hardens. A polished concrete floor is a fine finishing technique that uses specialist machinery.
Both types of flooring require solid technique that need a good level of skill, but some people will be able to install small-scale resin floors themselves. The grinding machines for a polished concrete floor require more experience and are not normally suitable for DIY concrete flooring.
Resin Flooring vs Polished Concrete Price
Resin flooring is normally cheaper than a polished concrete floor. One reason for the price differences is that resin flooring is quicker to install. There are more steps necessary to finish a polished concrete floor successfully, and these take more time. Preparation of the floor may also add to the installation time and costs of both types of floor.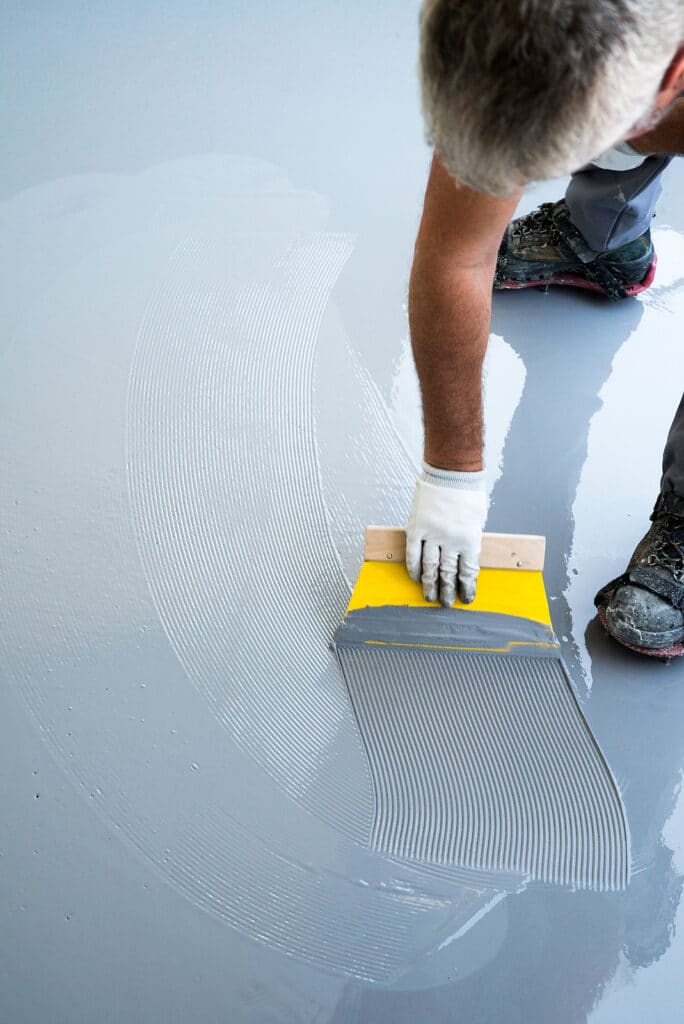 Polished Concrete and Resin Flooring Aesthetics
While both types of flooring will deliver you a clean and smooth look, there are many types of aesthetic differences between resin flooring and polished concrete, which may make them more or less attractive from a visual point of view.
Both types of floor have the following characteristics:
clean
reflective
smooth
shiny
A polished concrete design has a less seamless look than resin flooring, as there are more natural imperfections that become visible as a result of the grinding process. It is also not possible to change the colour of polished concrete, where resin flooring can make use of pigments and dyes for a wide range of colours and patterns.
Another key difference in terms of aesthetics is the fact that resin flooring is more readily paintable, which makes it easier to mark out areas of the floor or fix any damage that occurs by applying additional sealants.
Resin Flooring Functionality in Contrast to Polished Concrete
While both types of flooring are durable and hard-wearing, epoxy resin flooring systems have some distinct functionality features including the following:
chemical resistance
slip-resistance
stain resistance
easy clean
Resin floors have the functionality to make them appealing for commercial and industrial settings. Polished concrete floors have a similar but slightly different set of features, and this can affect the attractiveness of this design option in certain situations. Polished concrete flooring features include the following:
dust-free
easy clean
fitting for feature floors and designs
mould resistant
The functionality you require, and the ultimate choice between resin flooring vs polished concrete, will depend on what you want to use the floor for.
If you want a floor that is suitable for very intensive use, such as an industrial setting, then choose an epoxy-based resin flooring system.
On the other hand, if you want a floor that has more of a natural look but that still has some of the benefits of resin then you can choose polished concrete.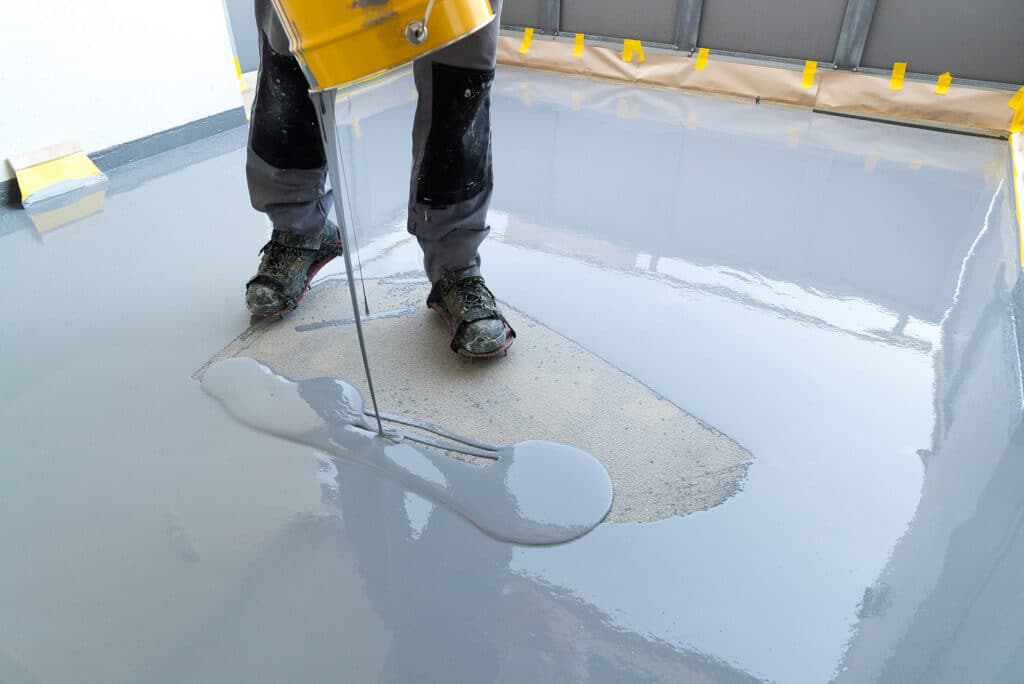 What Are the Differences Between Epoxy and Resin Flooring?
Epoxy flooring is essentially a type of resin flooring. A lot of resin flooring uses epoxy-based resinous materials, which you will then pour over the existing concrete floor for before hardening.
There are other types of resin flooring including the following:
polymethyl methacrylate (PMMA)
polyurethane (PU)
Epoxy, PMMA and PU floors all have resinous materials that use a similar technique of pouring when installing them. The characteristics, price and look of each type of resin flooring are generally quite similar.
Resin Flooring vs Polished Concrete Explained
There you have some key differences and similarities to two very popular types of concrete flooring. With a team that has experience spanning over 30 years, we are experts in installing resin flooring and polished concrete flooring systems – and are happy to share our knowledge with you.
If you are looking for a resin or polished concrete floor we can advise you and come up with solutions for a range of budgets. Our professional installers have the experience and skill necessary for a swift install that uses the best tools and material and gets the best results. Contact us today to start your project.