How To Choose Industrial Floor Coatings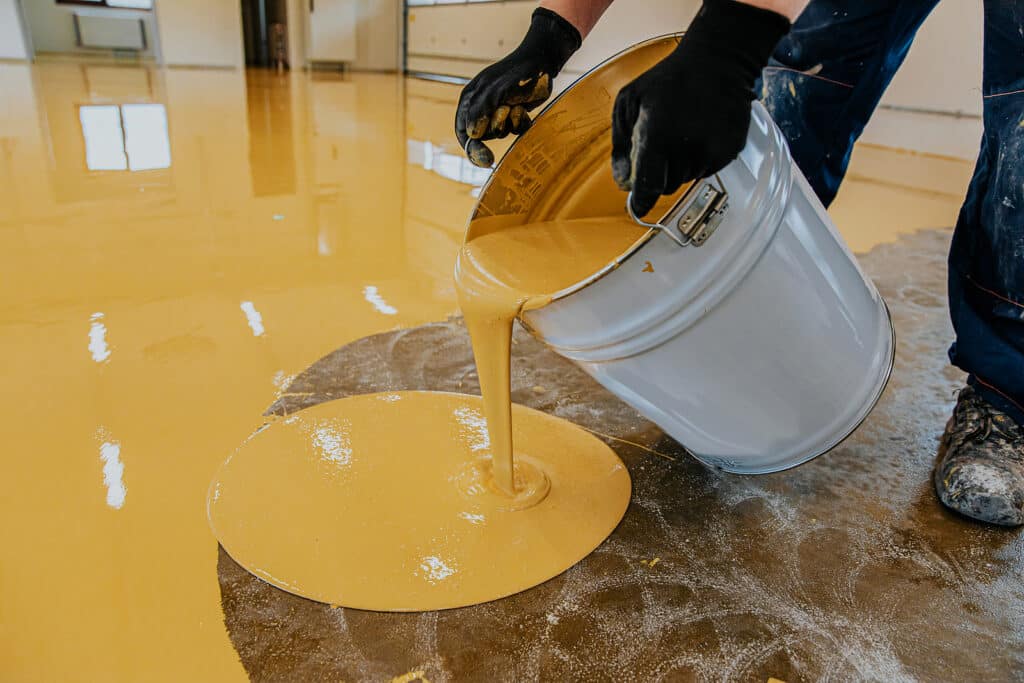 There are many types of industrial floor coating to choose from that protect and maintain the concrete below, increase safety or efficiency and prevent surface damage. Most industrial spaces will benefit from resin flooring, as it is very durable and one of the best industrial-grade flooring systems available.
Many people struggle to find the most appropriate flooring for their space, as there are many types of resin to choose from. The three main types are epoxy, polyurethane (PU) and polymethyl methacrylate (PMMA). Each has its distinct advantages and disadvantages, and here we will clearly explain them.
As experts in delivering long-lasting and high-quality flooring systems across the UK, we are well-placed to guide you through the differences between industrial floor coatings to help you make the best choice. If you have an installation project to complete, please feel free to contact us for a quote.
Types Of Industrial Floor Coatings Explained
There are three principal industrial grade floor coatings. Each works in much the same way by pouring the resin onto the surface and sealing the existing concrete below with a protective layer. Certain coatings are more appropriate for certain settings than others.
Potential industrial floor coatings include the following:
Epoxy resin flooring
Perhaps the most popular type of industrial-grade flooring is epoxy resin. This is a very cheap material, but also has the advantage of being extremely strong and hard-wearing. It looks similar to plastic and has an even, shiny look.
Epoxy resin flooring has the following qualities:
chemical resistance
custom clear, colour or other design finishes
easy hygiene and cleaning
high bonding strength
impact resistance
scratch resistance
Another core benefit of epoxy resin is the fact that it is one of the hardest materials available, making it extremely difficult to damage in the event of an accident. The main disadvantage is that epoxy resin takes a long time to harden.
The qualities of epoxy resin make it suitable for areas such as warehouses and parking garages, as it is heavy-duty enough to withstand the weight of vehicles such as cars and forklifts. PU resin has a higher cost than epoxy resin flooring.
Polyurethane resin flooring
PU resin is a good choice for a faster hardening, or 'curing' time, which means industrial spaces can return to full efficiency in around 5 days. It looks similar to epoxy resin, with a plastic-like appearance, and has many of the same properties.
PU resin has the following features:
absorption resistance
chemical resistance
easy to clean and hygienic
impact resistance
moisture resistance
scratch resistance
slip resistance
temperature resistance
Temperature resistance is probably the most distinctive feature of PU flooring. PU will resist very high or low temperatures. Drawbacks include that it is difficult to repair and has a high sensitivity to humidity without an expert installation.
The qualities of PU flooring make it suitable for commercial kitchens, freezers and food production areas. Other potential spaces that can benefit from this industrial-grade flooring are breweries, bakeries or dairy farms.
Polymethyl methacrylate resin flooring
PMMA is what some people call synthetic resin, as it is technically an artificial compound rather than an organic one. PMMA has a very fast cure time, at around 2 to 4 hours, so industrial settings can resume functioning extremely quickly.
PMMA has the following benefits:
very high chemical resistance
rapid cure
high durability
shatter resistance
quick and easy repair
slip resistance
ultraviolet light resistance
suitable for outdoor use
The appearance of PMMA is a bit less plastic-like than the other resins we discussed above. It has an almost glass-like appearance – which is why people also refer to it as acrylic glass. A drawback is the costs involved as PMMA is much more expensive than PU or epoxy.
Potential applications for PMMA floor coatings include health and scientific settings, such as laboratories or medicine production areas. It is also suitable for certain commercial food production spaces, but will not resist heat as well as PU can.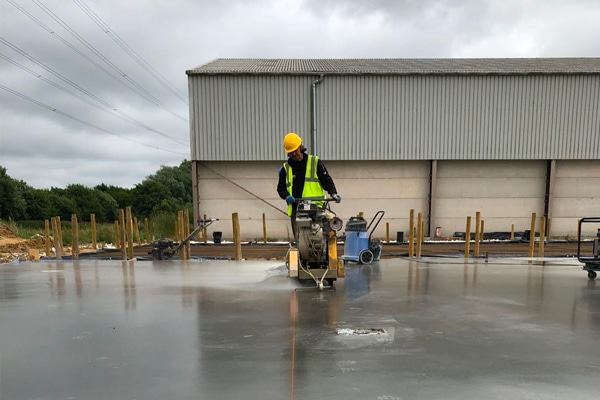 Get an Instant Quote
Get an easy quote with our price calculator:
Industrial Floor Coating Projects
The most popular industrial floor coatings make use of resins such as epoxy, PU and PMMA. The best resin to choose is the one most suitable for the specific industrial space, which will vary depending on the needs of each business or sector.
Our services see us install extensive resin floor coatings of various types all over the UK. We are dynamic and responsive to our clients' needs and guarantee a high-quality installation. Contact us for a free quote on your project.
FAQs And Useful Information
The following are some more details and common questions about industrial floor coatings and the services we provide:
What is the most durable concrete floor coating?
Epoxy resin is the most durable form of industrial-grade flooring, with extremely high impacts necessary for any type of scratch, abrasion, crack or break to occur. This is due to the strong bonding strength of the epoxy, which effectively adheres to the existing concrete surface below. While epoxy resin can be a hassle to replace, there is a low chance of repairs being necessary for at least 10 years thanks to the durability it provides.
What are the disadvantages of epoxy flooring?
Epoxy floors can be a loud surface to walk on, which can cause a problem in areas with high levels of foot traffic. Epoxy resin can also become very cold, which may be an issue in areas such as garages. Proper installation requires extensive preparation of the existing concrete and professional equipment, as without this there may be unevenness or a rippling effect that undermines the high strength of the floor.
How much do industrial floor coatings cost?
The main factor that influences the cost of your industrial floor coating project is the surface area you have to cover, as a greater area naturally requires more coating. Additional elements, such as extra layers of resin sealants, will also add to the costs. Your choice of resin is also a key factor, though low cure times from resins such as PMMA may offset initial expenses by allowing an industrial space to resume functioning as normal much faster.
What products do you use in your installations?
We only use the highest quality materials and couple this with the best equipment and an expert installation team for the best possible results. Using the finest products leads to stronger, longer-lasting floors that require much less repair or replacement, so we believe it is important for people to ensure their industrial-grade flooring meets the highest standards.
Is it better to stain or paint concrete floors?
Industrial floor paints are very reliable and long-lasting, meaning they can withstand a lot of foot traffic or vehicle use without degrading. This is important in areas where clear line-markings are necessary for health and safety reasons, such as in a factory or garage. Staining a concrete floor, or rather the coatings above it, can work but will have an extra cost and is not as intricately customisable or changeable as floor paint.
Does epoxy flooring scratch easily?
No. Epoxy resin is one of the hardest resins available, so it would be tough to scratch even with very high impacts. They also do not dent easily, as the resin is so durable. This makes them useful for areas with particularly large amounts of traffic or where heavy equipment and goods are regularly in use.
Contact us today for a free quote on your industrial floor coating project.