What is Resin Flooring?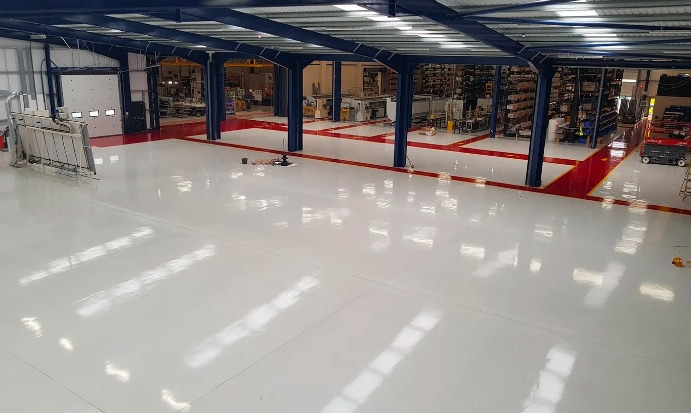 Resin Flooring is a hard-wearing plastic surface with a highly durable finish. There are many different resin floor types, which are ideal for environments with heavy use. Depending on the ingredients used, different features and finishes, such as non-slip and chemical resistance, can be added to benefit you, and the final product. Implemented as indoor flooring in commercial, industrial, and even domestic environments, these features can provide huge advantages over other types of flooring, like traditional tiles or concrete floors.
There are four main resin floor types used to create the majority of commercial, industrial and domestic resin flooring systems:

Epoxy

Methyl Methacrylate

Polyurethane Resin

Cementitious Urethane
A more in-depth explanation of each material can be found further down in the article.
Different Resin Flooring Materials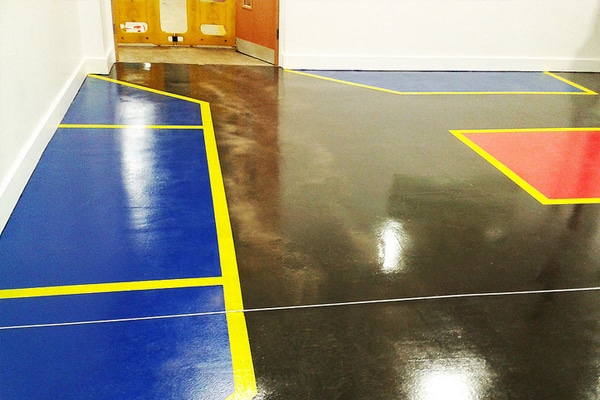 Resinous flooring has a higher compressive strength compared to other materials such as concrete, which gives floors with a resin flooring type of coating an extreme toughness and durability. These types of resin flooring solutions are far more heavy duty than their counterparts, meaning they are able to withstand much more weight and impact damage than concrete, tiles or vinyl, without moving or cracking. Great for industrial workshops and garage floors.
Another feature making resin flooring ideal for industrial and commercial environments is that their durability increases under stress. This allows for heavy traffic, such as a high commercial footfall, or industrial forklifts and machinery.
In order to make resin flooring coatings impervious to water and moisture damage, a unique type of sealant is used when securing them to the pre-existing subfloor. This enables resin flooring to be far easier to clean compared to their counterparts, allowing a more hygienic floor surface stopping dirt from being trapped; which is ideal for domestic use as well as within highly-sanitary areas – like hospitals.
What are the Benefits of Resin Floors Compared to Other Floors?
They have increased durability, easily handling general wear and tear
They are more hygienic and easier to clean
They have a greater amount of design and personalisation options
There are chemical resistant variants, ideal for industrial environments
They are resistant to impacts and footfall abrasion
They enable a safer environment to work in with slip-resistant qualities
They require a far lower amount of general upkeep and maintenance

If resin flooring sounds like it could be a great fit for your next project, call us today or send us a message through our contact form for a free quote on our expertly poured resin floors.
Resin Flooring Options Explained: What is a Resin Floor and its Benefits?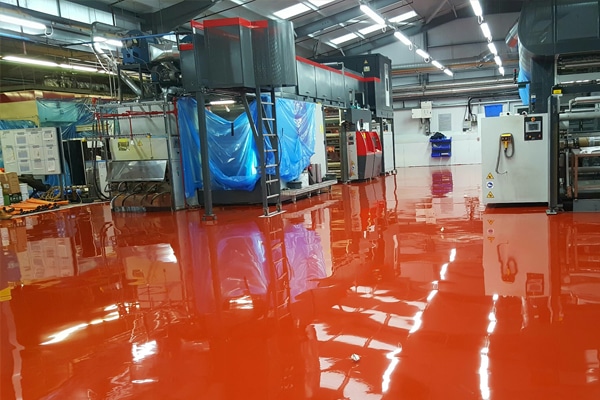 What is Epoxy Resin Flooring?
The most well known and distributed type of resinous flooring, epoxy resin flooring is best defined by a high durability, high performance, and protection. Your epoxy floors and epoxy floor coatings also have the potential to be altered with anti-slip properties, as well as with different design options to make it stand out in any environment. Epoxy flooring systems also offer a greater ROI compared to non-resin floors due to their high durability, eliminating the need for frequent maintenance and the need to refloor for many years.
What is Methyl Methacrylate Resin Flooring?
This type of resinous flooring can be rendered usable within just a few hours due to its fast curing properties. For high turnover projects, or projects short on time, this resin can be used on the same day – cutting curing times to just a fraction of the time normal resin takes to cure. This is also ideal for commercial settings and projects needing to be used the next day.
What is Polyurethane Resin Flooring?
Boasting enhanced heat and chemical resistance, these floors are best for workshops and scientific labs handling chemicals or frequently fluctuating temperatures, this type of resin flooring is your best choice in upgrading your floor for your project within a lab or engineering workshop.
What is Cementitious Urethane Flooring?
These floors are unrivalled when it comes to liquid spills. This is the resin flooring to choose when you want your resin flooring to be completely waterproof, as well as withstanding huge fluctuations in temperature. These resin floors are also easy to clean compared to their counterparts – which is another added bonus.
Do any of these options seem like the perfect fit for your next project? Give us a call today, or send us a message through our contact form, for a free quote on our expertly poured resin floors.
How to Resin a Floor: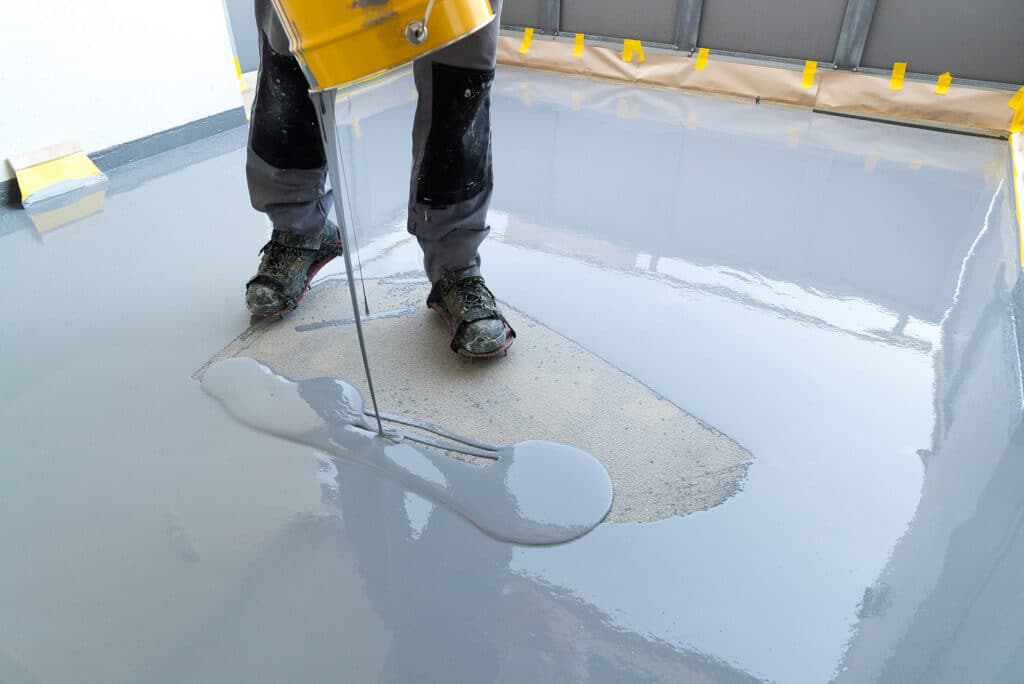 So, you're looking at how to resin your own floor in order to, presumably, save money but don't know how. Installing resin flooring is typically a very laborious task and should only be performed by experienced professionals or concrete contractors. However, if you're prepared to undertake the task of applying resin to your floor as an untrained person without any materials, there are a few things you should know:
Materials required:
Clear epoxy coating resin
Epoxy solid colour pigment of your choice
Fumed Silica
Scales
Paddle Mixer
Appropriate safety equipment
Spiked shoes
Builders' caulk / Silicone sealant
Notched squeegee on a pole
Spreaders and mixing stick
Appropriate cleaning equipment
Polypropylene strip
Glue gun
Calculations
It's crucial that the working environment is dry and heated, with a constant temperature of about 20°C – this includes the temperature of the floor and the ceiling. The resin also needs to be at room temperature, so if it is cold; you'll need to raise the temperature to 20°C before you use it. The room also needs to be completely clean and dust-free in order to provide an optimal finish.
The calculation for working out the amount of resin you will need for your project is as follows:
Our room measures 10m by 10m
= 100m2
We recommend a 2mm deep pour of resin in order to make the floor as flat and smooth as possible.
100 x 2mm = 200kg
Meaning you will need to purchase 200kg of the resin of your choice, plus resin colour pigment.
Room preparation
Prior to pouring the resin, you'll need to seal any cracks or holes in the floor, as well as creating a seal between skirting boards, wall gaps and doors, this can be done with caulk and polypropylene sheets – which don't stick to epoxy resin. If your floor is porous, you'll need to completely seal it.
Pouring and Curing the Resin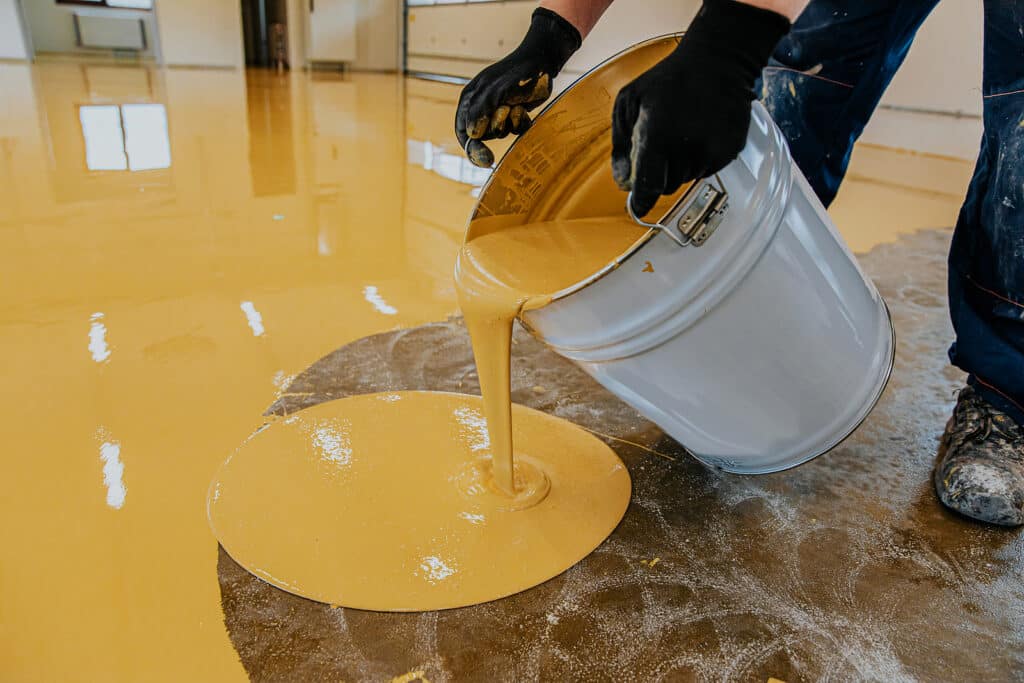 Pigment and use a hand mixer to your tastes, be cautious as a little goes a long way.
Begin pouring the resin over 1/9th of the floor, working towards the door – ensuring you don't get trapped in the room.
Using a small hand spreader, push the resin around any bends or pipework.
Use a notched squeegee, with 4mm depth notches, for large scale resin spreading.
You'll find you don't need to spread it yourself as much, as the resin spreads itself.
Ensure the whole room is completed in one session, otherwise it can become very uneven.
If you need to access the floor before it is cured, use spiked shoes to minimally disturb the resin.
Once you're happy with the floor, seal the room and leave it to cure for as long as required as per the resin. Dust, debris, and draughts can disrupt the cure, so ensure proper cleaning and sealing of the room.
If you like the idea of having your resin floor installed affordably and efficiently, we strongly recommend you contact the professionals; like our 100% accredited team at Concrete Flooring Solutions.
Our team can complete your brand new resin flooring, to your specifications, within a day depending on the type of resin used. To skip out on all the faff and severely mucking up this DIY job, message our team through our contact form, for a free quote on our expertly poured resin floors.
How Much Does a Resin Floor Cost, and How Long is Installation?
The price of each resin flooring installation project we undertake is calculated and quoted individually. Our specialist resin flooring installers will work closely with you to ensure that each one of your specifications are taken into account when calculating the cost, whilst not breaking the bank, as well as setting out a precise time frame for your project to be completed in a minimally invasive, COVID secure, way.
We can guarantee that you will only be paying for what you need for your project and nothing more, there are no hidden costs. Depending on the type of resin used, we can have your project completed within a day, too.
Call us today or send us a message through our contact form, for a free quote on our expertly poured resin floors.