Can You Have an Epoxy Wood Floor?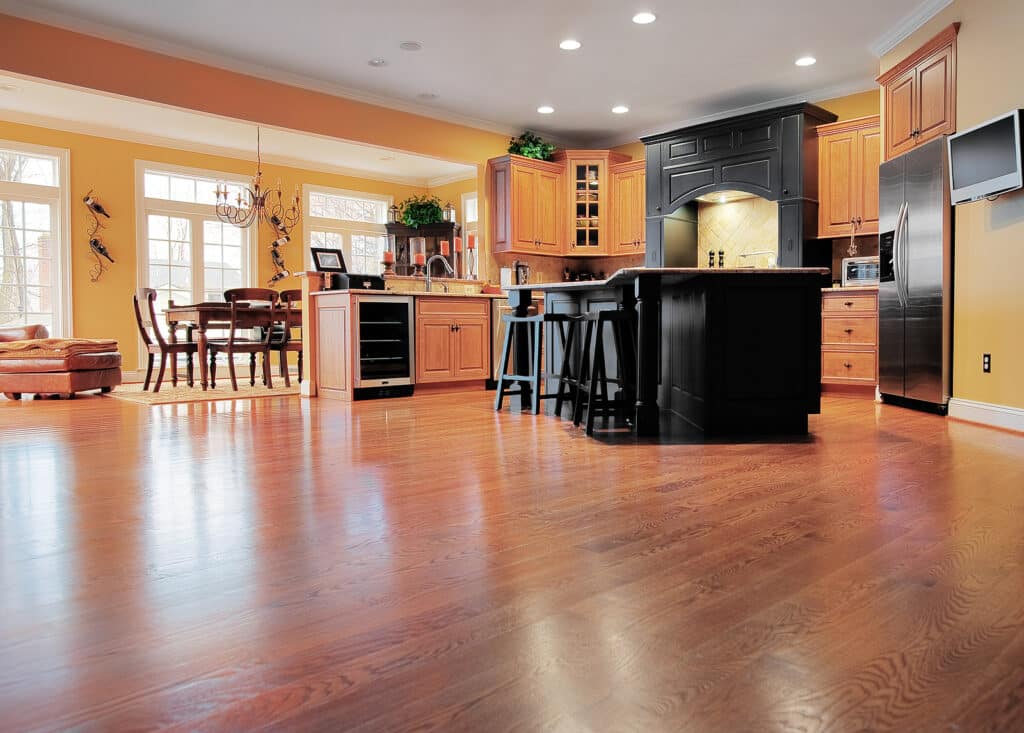 When carrying out building work or renovating, it is natural to wonder about the options you have for finishing off your floors. For instance, the question of whether or not you can have an epoxy wood floor may come to mind.
If this is an option you wish to explore, please read on to find out more about epoxy resin flooring and whether paint or resin is the most suitable option for your intended work project. 
If you would like a team of qualified professionals to help install your ideal flooring, contact our team at Concrete Flooring Solutions today. We are more than certain that we can provide you with the surface that will perfectly suit your work.
What is Epoxy Resin?
Epoxy resin is a primary component in an epoxy coating, along with a polyamine hardener. These parts are mixed together to create a durable, long-lasting flooring finish that is left to cure, rather than dry. When applied professionally, epoxy resin floor coatings can leave any project with a hard-wearing, easily maintained floor finish that will last for years.
How is this Different from Epoxy Paint?
Upon first reading the names of both products, it may seem as though epoxy resin coatings and epoxy paint are the same thing. In some circumstances around creating an epoxy wood floor, professionals will even use the terms interchangeably.
However, there are some important differences to note between epoxy floor coatings and epoxy paint, whenever you're considering adding a layer to a work project. Typically, epoxy paint is a latex acrylic product, consisting of a catalyst and a small amount of epoxy resin. When dry, these can have better adhesive properties and be more durable than standard acrylic paint.
If you are planning on carrying out work on a small space, such as a garden shed or outbuilding, epoxy paint may be the product you need. You must remember to sand and prime the area before you begin painting, however, as the material may not bond to the wood otherwise.
Can You Pour an Epoxy Resin Floor Over Wood?
Most often, epoxy resin is designed by specialists to serve as a coating for concrete flooring. However, it can also theoretically be used for covering a wooden floor or subfloor. This is often planned in conjunction with using clear epoxy resin, as this allows you to still see and admire the woodgrain underneath.
We highly recommend speaking with a professional contractor before carrying out work on your floors that requires clear or coloured epoxy resin. This is because many floors that require new finishes and coverings are discovered to be in poor condition, and may actually need replacing before any work is carried out. In some cases, it may be suggested that the wood is ripped out and the epoxy resin applied to the concrete subfloor instead.
If you are thinking of applying an epoxy resin covering to your wood floor, please get in touch with us today. We will be able to answer any further questions you may have about the process, or even provide specialist assistance if this is required.
Should I Use Epoxy or Polyurethane for Coating a Wood Floor?
When looking to build or renovate on top of a wood floor or subfloor, both epoxy resin and polyurethane coatings offer their own advantages and disadvantages. For example, while both are resistant to chemicals, polyurethane systems are more resistant to natural chemicals, while epoxy resins are better at protecting against strong artificial corrosives.
As both materials are durable, long-lasting, and waterproof, you should carefully consider both options and their individual characteristics before deciding which is best for your floor.
Using a Self-Leveling Epoxy Resin
It is possible to find self-leveling epoxy resin for covering your wood floors and subfloors in homes and garden sheds. However, we would still recommend contacting a professional service to apply epoxy coatings to larger floors. This is because a contractor will use the most efficient tools and equipment to ensure the subfloor is completely clean and level before applying the epoxy layers. This is not done when using a self-leveling product, so results may not be as you have intended.
To See More Resin Options for Your Wood Flooring
If you are considering epoxy resin flooring for a building project that's larger than a garden shed or simple house renovation, contact our team today. We will be ready and waiting to discuss your options, and can find you the ideal flooring finish for the room or rooms you have in mind. We will also work closely with you to plan out a price that keeps the work-friendly to the budget you have available.
Our flooring options, both clear and in different colours, can offer you a durable, level finish that's easily cleaned and kept in its ideal condition for many years to come. As such, you may rest assured that it'll stay cost-effective for all of this time as well. The work will also be carried out by a team of highly skilled and fully qualified contractors, so you can feel confident in knowing it was carried out to the highest of standards.
We'll be waiting to discuss everything you need to complete your flooring project, whether you need a covering for a wood subfloor right away or would like answers to a few questions before you begin.