Everything You Need to Know About Concrete Floor Levelling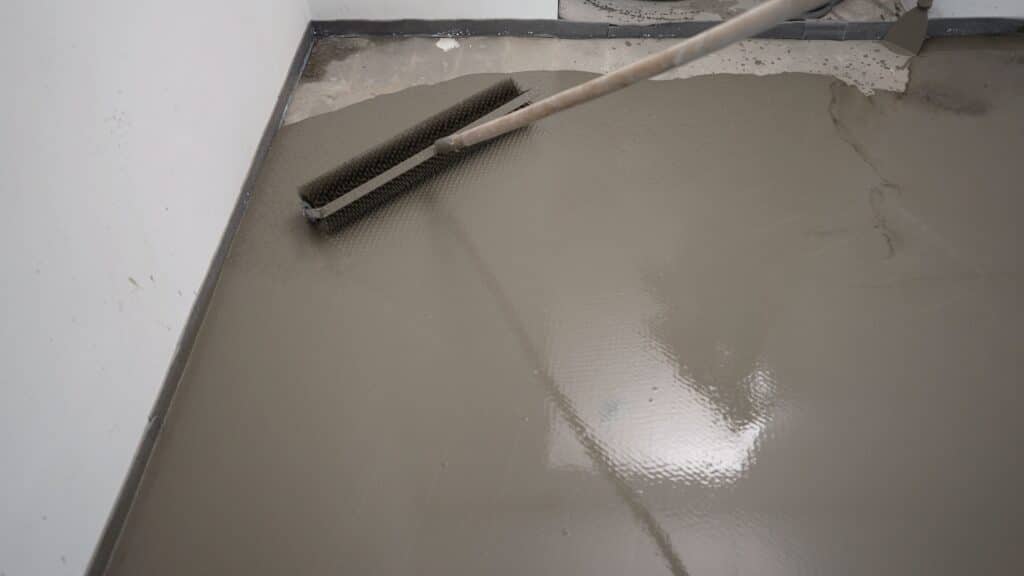 Do you have concrete floors in your home or place of work? Perhaps you've noticed that, despite how good they look, your concrete floors actually uneven and you need a solution! If your concrete floors aren't completely flat, don't panic, there is a solution and it's called floor levelling.
Laying an industrial concrete floor professionally is the best solution. If your concrete flooring is not done professionally, this can result in an uneven floor. Having concrete laid over particularly large areas can lend itself to a little inaccuracy and unevenness because of the difficulty when moving and laying extremely wet and heavy concrete.
What Causes Uneven Concrete Floors?
Floors can become uneven over time due to many things, but mainly as a result of cracking and moisture. So, whether you want to refinish an uneven floor yourself or completely replace your existing floor, you'll most likely need to level the concrete floor. With the right preparation, techniques, and equipment, you can level your own concrete floor in just a couple of days!
When to Use Levelling Compound
Many people choose to level their concrete floors themselves. However, using self-levelling compound on a concrete floor depends on how much of the floor isn't level. To accurately measure just how out of level your floor is, you can also use a long spirit level.
Hold up the low end of the level until the bubble is in the middle and then measure the gap between the floor and the raised end of the level. If the concrete floor is less than 5mm out of level, you can use a self-levelling flooring compound to even out the surface. You can buy self-levelling floor screed compound from any DIY store.
Mark any High and Low Points on the Floor
Using a piece of chalk or a pencil, mark any areas of the floor where there are high or low spots, concrete bumps, or dips. Finally, sweep over the floor with a level to help reveal any depressions in the concrete that you may have missed the first time around.
The Types of Self-Levelling Compound
There are two main types of self-levelling compound. The first is a powder that comes with a latex liquid in a separate container. To prepare it all you have to do is mix the two together to form a compound. The second type of self-levelling compound is a bag of powder with the latex compound included. To use this, you just need to mix it with water to use.
If this is your first time using self-levelling compound, we would recommend you use the second type as it is much easier to mix and work with.
What is Self-Levelling Floor Screed?
A self-levelling screeding compound contain latex because they are laid in a very thin layer, helping give concrete floors the flexibility they need to move without cracking. Once self-levelling compounds are mixed and poured, they will flatten across the uneven floor and use gravity to self-level.
To Lay a Self-Levelling Floor Compound You Should:
Clean the Floor
Start to prepare your floor by first removing all the furniture, baseboards, and appliances from the room. Take everything out of the room so that the space is completely clear and can be properly finished. Next, ensure the surface is dust free by giving it a good sweep and then going over it again with a vacuum cleaner. Once the floor is completely dust free, the surface can be primed.
Fill Cracks in the Floor
Fill any large cracks in your concrete floor with a filler and sealer. You can do this easily by putting the nozzle of the concrete filler bottle into the cracks and squeezing the filler out until the crack is properly sealed. Alternatively, you can use a trowel to press filler into the crack. Before commencing any further work it is important to let the filler and sealer dry before continuing on with the prep work.
Top tip: it is important you fill any cracks completely before you prime the floor and pour levelling compound over it, otherwise you will end up using far more leveller than necessary as it will flow into and fill all the cracks.
Apply the Primer
Once the floor has been prepped, it is time to apply the primer with a soft-bristle push broom, spreading it over the entire surface of the floor. To spread it thoroughly, apply downward pressure to work it into the pores of the concrete. Once the floor primer has been thoroughly applied, it's important that it is left to dry for about 3-24 hours until it has a tacky finish.
Mix the Compound
Using a bucket, mix the compound with a mixing paddle until the consistency is right. At this stage, it is best to only mix enough to make the required number of screed lines. Don't mix more than one bag at a time because you only have about 15-30 minutes during which the compound is pourable and spreadable. We would always recommend working with a partner on this job as it means that one person can mix the next batch of leveller compound while another pours and spreads it out.
Let the Concrete Leveller Dry
Once all the concrete floor leveller has been spread on the floor, it's time to let it dry according to the manufacturer's instructions. Most concrete floor levelling compounds dry quickly, so they can be walked on after just 4 hours, drying fully after 24 hours. You can then install other types of flooring on top of concrete flooring after this stage.
Top tip: Remember, the drying time of your floor levelling compound can depend on temperature and humidity. So, ensure to check the type of floor levelling compound you're using and read the manufacturer's instructions.
The Benefits of Concrete Floor Levelling
Self-levelling concrete is a polymer-modified cement, so it doesn't need large volumes of water to be added to it for proper placement.
Self-levelling concrete is used to create smooth, flat surfaces with very high compressive strengths.
It can be installed on top of concrete, wooden, plywood, or ceramic floors and more.
Among the fastest and newest flooring trends for both architects and commercial property owners.
Quick and easy to install.
Hypoallergenic.
The advantages of concrete floor levelling are many, including a reduction in damaged floors and repair costs. So, if you want to improve the structural integrity of your floors and remove any unevenness, concrete floor levelling is just what you need.
Concrete Flooring Solutions are a nationwide concrete flooring company that specialises in a range of concrete flooring options for industrial areas. If you're concerned about the condition of your concrete flooring, or you'd like some advice on what you can do to maintain the condition of your concrete floor, please feel free to give our friendly team a call today.
We have over 30 years' experience in the concrete flooring industry and we're always on-hand to offer our expert advice to current and prospective clients.