Concrete Calculator | How to Calculate Concrete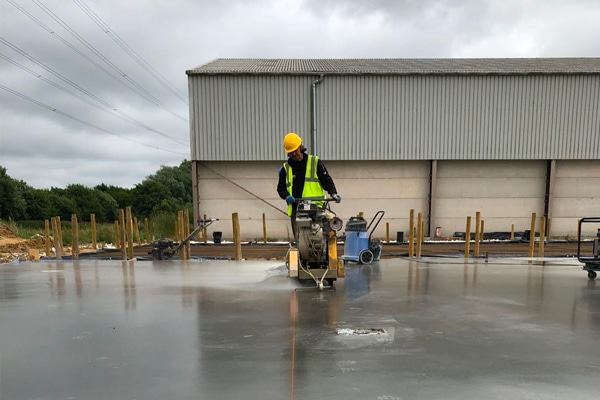 Get an Instant Quote
Get an easy quote with our price calculator:
Concrete Flooring Solution's concrete calculator is able to give you a bespoke and direct quote for your flooring requirements. Unlike other calculators, when you enter the required information, our team will get back to you in 24 hours with a bespoke quote for your project. All quotes are unique to your exact requirements, you won't find another concrete calculator like this in the UK.
To submit your requirements and/or details, simply complete our fast, easy and efficient calculator form below and our team will get back to you in under 24 hours.
What You Need to Know Before Using a Concrete Calculator
Before you start using a concrete calculator, be it on our website or anyone else's, you must know what you're calculating.
Concrete consists of three materials: coarse aggregates, water and cement. All work together to form the strong, durable substance we know as concrete. The cement is used to bind the materials together, which then hardens overtime and water is used to maintain the right consistency and keep it hydrated so it doesn't buckle or crack. Portland cement is the most commonly used cement in concrete work.
Buying Concrete and Installation
You will need a rough idea of how much concrete you need. Concrete typically comes in 80lb sacks or it can be delivered via a concrete mixer. Ensuring that your concrete is thoroughly mixed is essential to get the right consistency. You must also be sure to apply the mixed concrete to the target area no more than half an hour after it has been mixed. The longer you wait, the more the consistency falters and you will be left with lumpy concrete that won't set in the correct formation.
The Curing Process
Once the concrete has hardened, the curing process begins. This is typically a slow process but can be sped up using an accelerant and concrete blankets; the latter is very helpful in colder weather. After about 28 days, the concrete will have reached its peak strength and will be able to handle almost anything you throw at it.
FAQs
How do you calculate concrete?
Every customer will have different requirements depending on their concrete project. However, there is a simple formula you can follow to ensure you're getting an accurate estimation on your concrete calculations.
How to calculate concrete:
You will first need to know how thick you want your concrete to be.
Next, mark out the area where you'll be pouring or paving the concrete
Measure the width and length
Multiply the length by the width to determine square footage
Convert the thickness from inches to feet
Multiply the thickness in feet by the square footage to determine cubic feet
Convert cubic feet to cubic yards by multiplying by .037
How many yards of concrete do I need?
This depends on the size and scale of your concrete project. However, if you're tackling a larger project (driveways, warehouses, workshops etc) then you may want to order the concrete in yards (as opposed to bags). Yard measurements are typically required for larger projects, but to find out how many yards you need, for example, one slab may equate to five yards, but others may require more or less depending on the size of the slabs or area you're concreting.
How much ballast do I need to mix concrete?
When mixing ballast, try to keep the ratio as follows: one cement to six parts ballast for outdoor patios, driveways and paths. For bigger, commercial-based jobs such as concreting multi-storey car parks and motorways, you would need a ratio of 1:8.
Contact Our Concrete Specialists to Calculate Your Price
Try out our bespoke concrete calculator today to receive your free quote. We aim to get back to all customers within 24 hours and provide cost-effective concrete flooring solutions. We operate across the UK and specialise in polished, industrial concrete flooring and composite metal decking.
Whatever the job, our team of 40 years' experience have you covered.