Building Regulations for Concrete Floor Construction
Here at Concrete Flooring Solutions, we have many years of experience in supplying and installing the highest quality concrete floors on the UK market. Our skills and knowledge base have developed as time has gone on, meaning that we have always kept up-to-date with our equipment for carrying out installations and changes in the industry which may have an impact on the products we use or what we can provide for our customers. It also means that we are able to provide information that our customers might need to know before beginning a work project, such as the Building Regulations for concrete floor construction.
If you are thinking of installing a concrete floor for the first time, either as a domestic project, or as part of your job, it is vital that you are aware of the Building Regulations in place for this work. Below, we have detailed the requirements listed in the Building Regulations for concrete floor construction.
For a professionally installed, high quality concrete floor that you know will meet Building Regulations, get in touch with us today. Our staff are always on hand to answer any questions you may have about our services before our highly trained and qualified team begins work, and will be able to discuss all the needs and requirements of your project, taking into account the regulations that are in place for your planned work.
It must be noted that the following information refers to laying concrete floors and Building Regulations in England, and that policies in Scotland and Wales may differ. If in doubt, please contact your local planning authority for more information about your own circumstances.
Building Regulations for Floors
According to the concrete floor Building Regulations, a floor must provide one or more of the following:
Structural support of the room's contents and users, as well as the weight of the floor itself; and

If this floor is a ground floor, it must provide resistance to:





a) Ground moisture; and




b) Heat loss (via thermal insulation)
These points must be taken into account when you are planning on building any floor, for either a work or domestic project. If you do not adhere to the regulations set, it is possible that your local authority could take action. This may eventually result in a fine, if all calls and requests for you to comply are either not met or ignored. To avoid penalties when laying a concrete floor, Building regulations must be followed.
Ground Floor Construction
There are three general types of ground floor construction available. These are solid floor construction, suspended concrete floor construction and suspended timber floor construction. As we are experts on the use of concrete as a building material, we will focus on the two former of these types.
Building Regulations for Concrete Floor Construction: Solid Floors
The typical way to construct a solid floor is to provide a solid base of hardcore with sand blinding, layering concrete over the top. Making sure the floor has a level finish is often done by adding another layer of screed over the concrete. A suitable gauge damp proof membrane (DPM) and thermal insulation should also be provided. You can either lay these over the top of the sand blinding, or on top of the concrete itself.
The DPM should be lapped onto the damp proof course in the external walls as well, and any internal walls that are around the floor. The floor may vary in thickness over certain parts, depending on ground conditions and the order in which the concrete slabs are laid. If the building already has air bricks, in order to ventilate existing floor voids, then ducting should be provided to allow air to pass through and into the void. Air bricks should also be placed in the new wall.
Building Regulations for Concrete Floor Construction: Suspended Concrete Floors
As part of the Building Regulations for concrete floor construction, it is stated that structures should be built so that it is protected against the growth of intrusive plant life. The ground must have a layer of concrete poured across, with a ventilated gap of at least 150mm to prevent moisture gathering and affecting the condition of any parts of the build, including timber joists if the floor you are installing is also timber.
Instead of timber joists, suspended concrete floor constructions use pre-cast concrete planks or smaller, pre-cast concrete beams with concrete blocks laid in between. They are often preferred, as they can span greater distances than timber joists can. Any insulation being installed should also be placed between the beams, and air vents must be placed underneath to provide ventilation. This ventilation should reach the void, and the air should be able to flow from one side of the building to the other.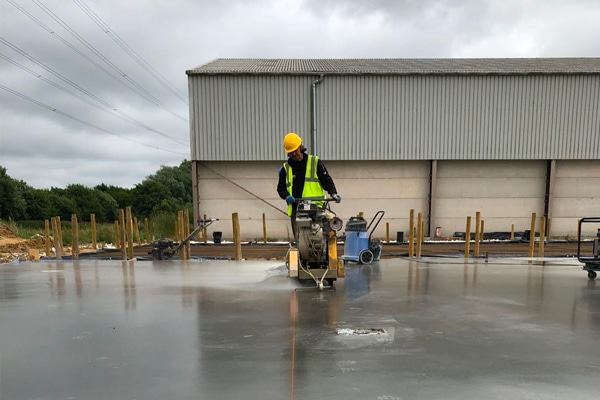 Get an Instant Quote
Get an easy quote with our price calculator:
Contaminated Ground
In the event that your building site is located on an area of ground with a certain amount of contamination, you will need to ventilate any gases which have formed. A common gas which occurs naturally is radon, and this can be found in areas across the country. Other places which may contaminate the ground include landfill sites.
We Professionally Install Concrete Floors
At Concrete Flooring Solutions, we pride ourselves on our expert knowledge on every aspect of concrete and concrete flooring. This extends from providing fast, efficiently-laid concrete floors to answering our customers' questions about different topics related to concrete. This includes the subject of the Building Regulations for concrete floor construction.
When you choose to use our service to have a concrete floor installed, you will not have to worry about making sure your work is following the Building Regulations. When you call us to place your order, our staff will discuss your requirements with you and when the work is ready to be started, our professional installation team will carry it out, keeping the Building Regulations in mind as the stages are completed.
Get in Touch
If you have been looking for a hard-wearing, durable concrete floor which is also easy to clean and maintain, get in touch with us today. We are passionate about what we do and we want to see our customers get the best of what we can offer, so we continuously aim to provide the highest quality concrete floors on the market.
Contact us today if you need a floor for your work or home project, and we can get started on discussing your site's specifications right away. We can also answer any questions you may have about the established concrete floor Building Regulations.