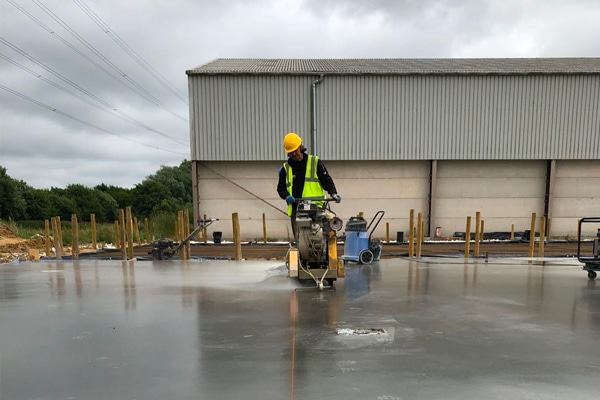 Get an Instant Quote
Get an easy quote with our price calculator:
Where We Work
Industrial Flooring in Norwich
At Concrete Flooring Solutions, we have years of experience and a wide range of knowledge, state-of-the-art equipment and excellent services behind us, meaning that we can proudly call ourselves one of the UK's top concrete and industrial flooring contractors. No matter where you are in the country, we can provide you with the proper industrial flooring you need, so if you are looking for industrial flooring in Norwich, contact us today and our team will have your purchase delivered to you and installed in no time at all.
Industrial Flooring Experts in Norwich
Our aim is to ensure that our customers receive the highest quality industrial flooring in Norwich. To help with this, we will spend time with you, discussing the exact requirements for your work project, so that your floor will be installed to the specifications and with the finishes that you have asked for.
We design and install floors following the guidelines set by The Concrete Society's Technical Report 34, so you know that your purchase will be made and put in place to the standards set by the industry.
We also believe in keeping our customers involved in the process as it is being carried out. That is why when you call us to have an industrial floor installed in Norwich, we will keep you updated at every stage of the work.
Our Process for Industrial Flooring in Norwich
The first step we take in providing industrial flooring in Norwich is to plan out and check that your specifications are all being followed as they should be. We will also make sure that our own standards are being maintained, so the quality of your floor will be as high as any of our other expertly-installed floors.
We will also use the latest tools and equipment to see your work completed, so that your floor is made to the best possible standards.
The Types of Industrial Flooring We Offer in Norwich
There are two types of industrial flooring in Norwich that we will supply and install. These types are both designed to be long-lasting, quick to clean and easy to maintain, but they also have individual features which make them suitable for differing projects and building sites. Things such as the amount of foot or vehicle traffic your floor will see, the type of site your floor will be used for and whether it will be placed in an interior or used on an exterior will determine which type of floor you should pick.
Industrial Concrete Flooring
This industrial flooring in Norwich is a popular choice for both industrial and commercial properties, because it can be cleaned and maintained easily. It also remains durable enough to withstand high foot traffic, vehicles and heavy machinery. This flooring is also available from us in a range of designs, so you can order your floor and receive it exactly as you had imagined.
To learn more about industrial concrete flooring, please see our page, or call us to ask any questions you have today. Our friendly staff are ready and waiting and will be happy to provide answers.
Composite Metal Decking
This type of industrial flooring in Norwich comes highly recommended. This is not only because it is now the industry standard for newly built retail buildings and offices, but also because the interlocking combination of metal beams and concrete slabs reinforces the strength of the finished floor. The use of concrete slabs also means that the delivery will be quick and the installation will be easy. We will bring your new purchase to your site, get the slabs slotted into place soon after. This means that you will be able to continue with the next stage of your work project in a quicker time than you had previously thought, and your overall build will be complete in a shorter amount of time.
For more information about composite metal decking as an industrial flooring in Norwich, please go to our page or get in touch with us.
Floor Finishes
Once we have installed your floor, there are a number of different floor finishes which you may wish to utilise, depending on the type of property your flooring will be installed in. From the smooth, highly sheened look of polished concrete, to the textured effect of brushed concrete, we will be able to offer you the finish which has the most pleasing aesthetic or best practical use for your site. For example, a highly polished concrete floor can make extremely attractive, easy-to-clean commercial flooring, while a concrete floor with a brushed finish can provide safety flooring in outdoor areas when the pathway has become wet.
If you wish to find out more about the floor finishes we can offer for your new purchase, contact us today.
We Provide Professional Services and High Quality Flooring
By purchasing an industrial floor from us, you will be guaranteeing your floor is hard-wearing and of the quality you deserve as well as expect. We can save your firm both money and time, through a swift installation of a product which is designed to last for many years to come, with only minimal maintenance and regular cleaning to keep it in good condition. 
Call Us
If you have been looking for a durable, easily cleaned and maintained industrial floor in Norwich, call Concrete Flooring Solutions today. We pride ourselves on our expertise and we know that we can help you find the flooring that will suit your work project perfectly. Whether you need industrial flooring in Norwich for a factory, warehouse or retail building, get in touch with us and we will be able to discuss your specifications before we start preparing your floor.
If you need a quick quote on what your flooring may cost, please use the instant quote price calculator found at the top of this page. We are passionate about what we do and we want our customers to be satisfied with their product, including the price paid for it, so we do everything we can to see them come in on or even underneath their budget. This calculator can give you an idea of how our services can be split across what you intend to spend.