The Benefits of Reinforced Concrete Flooring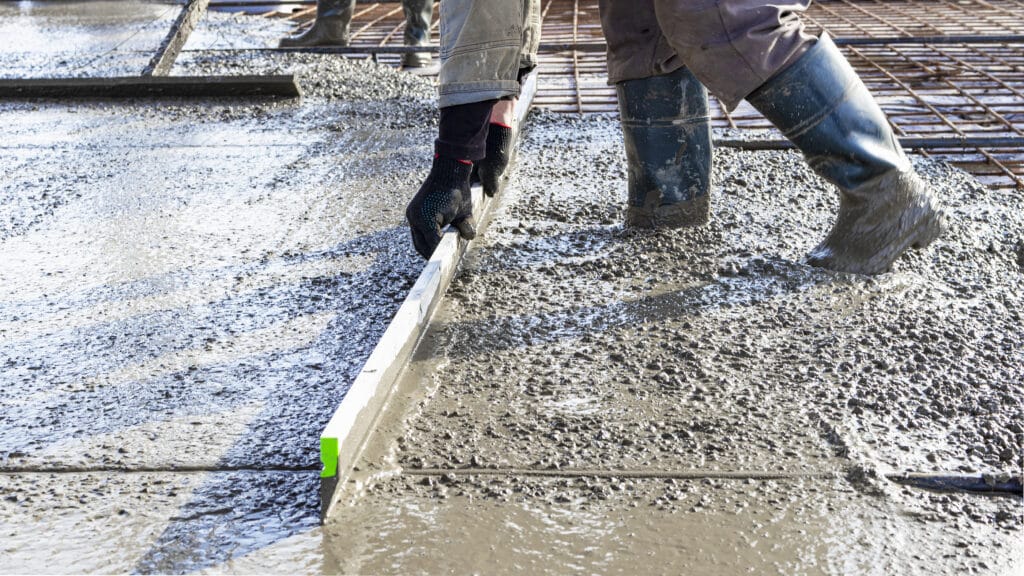 Using reinforced concrete for industrial flooring and commercial spaces is extremely popular and has a much better tensile strength than regular concrete, making it less likely to fail.
Reinforced concrete is one of the most popular options we provide and will help ensure your structure remains strong and durable for many years to come. Made from relatively inexpensive materials, extremely strong, and easy to pour into various shapes, our reinforced concrete for industrial and commercial spaces is by far the most popular choice we offer.
What is Reinforced Concrete?
Reinforced concrete is made stronger through reinforcement by steel bars that are embedded in the floor before the concrete is poured over and sets. Reinforcement is extremely beneficial for concrete flooring as it helps reduce the likelihood of tensile stresses, cracking, or structural failure. Reinforcement is particularly beneficial for industrial and commercial floors as it helps concrete flooring withstand immense pressure, high traffic, and many years of wear and tear.
For concrete floors to be properly reinforced, the concrete needs to be poured straight over the pre-laid steel reinforcing bars or mesh so that it can be allowed to set. The concrete is then given time to set and solidify around these rods or this mesh, creating a concrete floor with the added strength of steel.
Why Do We Use Reinforced Concrete Floors?
There are many reasons why reinforced concrete flooring is so popular amongst our customers through the UK:
Regular concrete can be brittle with relatively poor tensile strength in comparison to reinforced concrete.
Reinforced concrete is used to ensure your concrete flooring remains resistant to damage such as cracking, bending, or the ravages of time.
Steel and concrete react to thermal changes in similar ways to each other, which means that any internal stress is avoided.
Reinforced concrete flooring has a better tensile strength than regular concrete and is also more durable with a higher compression strength, too. Any stress placed on a reinforced concrete floor is transferred to the steel rods, which means that the floors can carry much more weight than regular concrete.
Where are Reinforced Concrete Floors Most Beneficial?
Reinforced concrete floors are most commonly used in public spaces, such as car parks, office and residential blocks, and factories. The additional strength provided by reinforced concrete makes it a popular choice for numerous sectors. Many public and industrial spaces are subject to a great deal of pressure, making the additional of reinforced concrete particularly beneficial.
Our Team are Experienced at Concrete Flooring Installation
Our team have over 30 years' experience working in the concrete flooring industry and are all highly experienced in the installation of high-quality reinforced concrete flooring. We work with a variety of industries and spaces, so you can rest assured that the reinforced concrete flooring we install is of an exceptionally high quality.
The Benefits of Reinforced Concrete Floors
Reinforced concrete has numerous benefits that make it a very popular choice amongst many of our customers.
High Compressive and Tensile Strength
Reinforced concrete sets and hardens around steel bars, allowing it to withstand significant pressure and tension. The concrete itself provides the compressive strength, while the steel provides the tensile strength. Steel is a strong material often used for reinforcement. Steel expands and contracts, depending on the temperature, just as concrete does, which means that it won't easily become damaged. It is this strength and flexibility that makes reinforced concrete a popular choice for structures and floors that need to withstand excessive pressure.
Reinforced Concrete is Cost-Effective
Reinforced concrete flooring is one of the most cost-effective floor materials. Cement mixed with rock, gravel, sand fragments, and water before being added to steel reinforcement to make it strong. This combination of concrete and steel is much cheaper than other building materials, making reinforced concrete flooring a great solution for your space – no matter the size!
Reinforced Concrete Allows for Fast Construction
There isn't much that can compare to the speed of reinforced concrete flooring construction. Although reinforced concrete is most commonly poured into shape on-site, it can also be supplied in pre-cast pieces to make the process easier.
Reinforcement Provides Versatility
There are many scientists and engineers who have studied concrete and its properties and can now later the mixture dependant on application. Adding certain materials to concrete can make it set faster and become resistant to the effects of extreme temperature or environmental changes. Reinforced concrete allows engineers to design and build a number of flooring types. What's more, tension while setting the concrete between steel reinforcements can prevent cracking, making flooring stronger.
Reinforced Concrete is Weather Resistant
Another popular element of reinforced concrete is how it is resistant to changes in weather conditions. Steel and concrete materials react in similar ways to the demands of temperature changes, reducing the likelihood of cracking and weakness.
Reinforced Concrete is Resistant to Corrosion
Corrosion is a common problem in many flooring materials as they are prone to damage and wear and tear over time. However, reinforced concrete is made stronger than other concrete flooring types and is, therefore, far more resistant to corrosion.
Reinforced Concrete is Resistant to Fire
Many flooring materials, such as wood and metal, can't handle the same hot temperatures that reinforced concrete can without catching fire or severely deteriorating. The low rate of heat transfer in concrete flooring means the interior remains much cooler than the surface, making it chemically impossible to catch alight.
The heat resistance of concrete flooring makes it ideal for areas that regularly need to withstand high temperatures, such as factory floors or engineering workshops.
Our Approach to Reinforced Concrete Flooring
Here at Concrete Flooring Solutions, we always find the best flooring solution for your space, helping provide a reinforced concrete floor ideal for your requirements. We specialise in a number of bespoke flooring techniques, including traditional mesh or steel fibre reinforced floors. What's more, all our concrete flooring designs are in accordance with The Concrete Society's Technical Report 34, the industry standard for concrete industrial ground floors.
Communication is Important to Us
Choosing the right concrete flooring for your space can be a difficult process and for many people, that's why we work hard to communicate effectively with our customers. We will help you find the best reinforced concrete flooring for your property, working hard to communicate everything with you and ensure you feel supported throughout the entire installation process.
Providing Reinforced Concrete for Over 30 Years
We are proud to have been providing reinforced concrete flooring to our customers for over 30 years. We pride ourselves in providing unbeatable services and exceptional flooring solutions to our customers throughout the UK. Our team and our work remains at the forefront of concrete flooring technology and we are always on the lookout for future advancements and developments in the industrial floor sector.
Our Team Behind Reinforced Concrete Flooring
Every one of our industrial flooring projects is different and our customers have individual requirements. However, each reinforced concrete flooring installation we complete passes through a rigorous planning process to ensure that all requirements are met. The knowledge and experience our concrete installation team offers helps put every one of our customers' minds at rest.
The Latest in Techniques and Skill
We are passionate about constantly improving our services and developing our skills which is why we are able to pour single area slabs of concrete up to 2,500m2 and lay them to the highest flatness tolerance. Additionally, we work hard to use the latest design technology to create bespoke reinforced concrete floors that suit the exact requirements of our customers. By providing flood pour and wide bay construction techniques, we can offer our clients reinforced concrete flooring they can be proud of.
A Reinforced Concrete Flooring Service You Can Trust
Choosing the right reinforced concrete flooring for your property can be a difficult task. However, with the help of our team, the process can be made significantly easier. What's more, if your industrial flooring is not completed to a high enough standard or has been completed by inexperienced workers, it can be very expensive to rectify. By hiring our services, you can rest assured of the provision of a service you can trust.
Our Reinforced Concrete is Protected
There are a few common factors that need to be addressed regarding reinforced industrial concrete flooring:
Surface dusting
Premature wear
Base slab concrete
Surface issues are a common problem that occur because of poorly laid concrete flooring. However, here at Concrete Flooring Solutions we use premised powders to provide a far greater abrasion resistance and allow for colouring options. The process is very simple. It uses a simple spreader to apply the dust and then a power-float vehicle to complete the finer details.
Contact Our Team Today
If you would like to find out more about the benefits of our reinforced concrete floors and what we offer our customers, why not give us a quick call? Our team are always on-hand to advise you on the best flooring solution for your commercial or industrial space. Call us today and find out more about the reinforced concrete flooring options we provide.