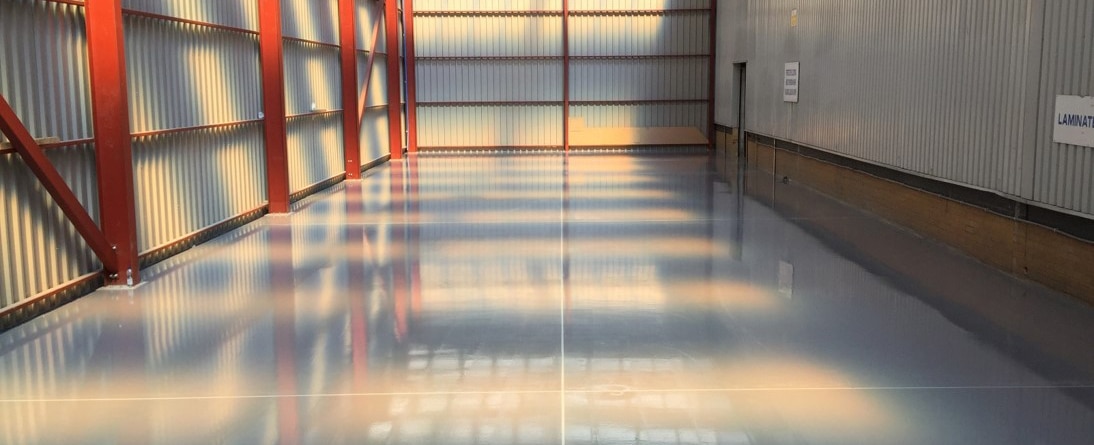 Heavy Duty Resin Flooring in the North East
Resin Flooring Contractors in North East
Over 40 Years' Experience
100% Accredited
Competitive Rates
Lifelong Results
Constructionline Gold Member
Concrete Flooring Solutions offers a range of high strength resin flooring for your warehouse, factory, retail or office space. We are proud to serve the North East of England, from County Durham to Newcastle Upon Tyne. We are industrial flooring specialists, manufacturing and installing all of our floors in materials including epoxy and polyurethane, with a range of styles and colours. Whatever your resin flooring needs in the North East may be, Concrete Flooring Solutions will make and install a high quality, affordably priced product.
To get a free online quote for a resin floor in the North East, contact us today.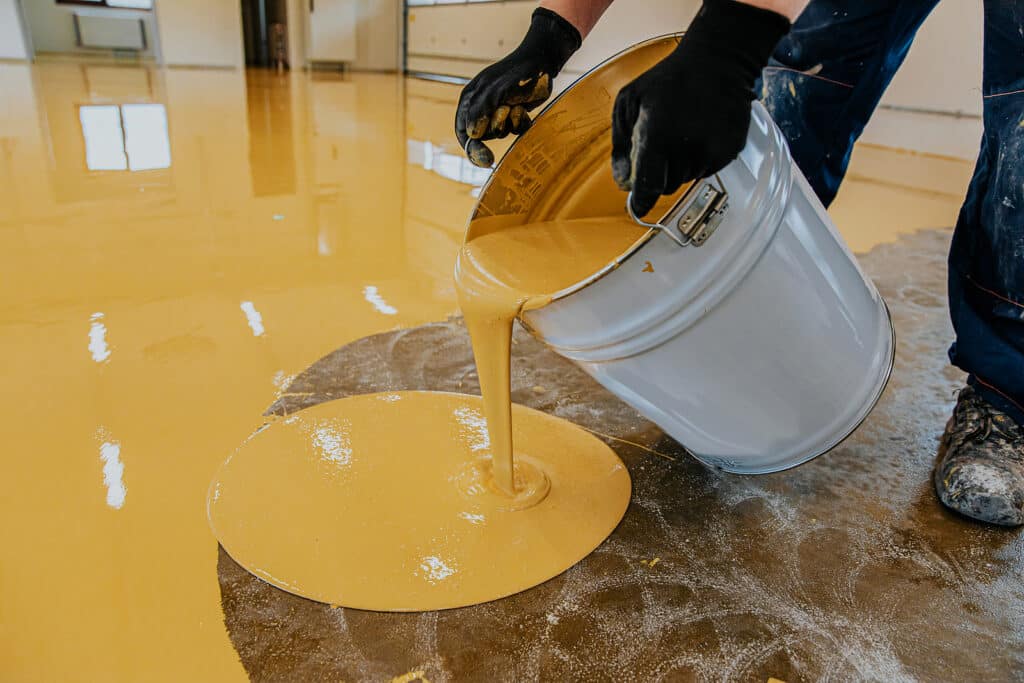 The Benefits of Resin Flooring
Resin flooring will give you a durable, hard wearing surface for your factory, warehouse, or laboratory. Resin flooring has a beautiful, seamless look, with guaranteed lifelong results from all of our floors. Resin flooring has several key benefits compared to other flooring solutions.
Affordability: Resin is a sturdy, long lasting product at a comparatively low cost. A resin floor is a floor that will last, with low upkeep costs, and little to no repairs or maintenance.
Ease of Use: Resin floors are easy and quick to install, with our experienced team pouring your floor in as quickly as a day. Resin flooring is also easy to clean, saving time compared to other types of flooring such as tiles or carpet. Unlike rubber flooring, poured resin offers a seamless and quick installation.
A Versatile Option: Resin floors operate well in both indoor and outdoor environments, with weather and heat resistance. An epoxy resin floor comes in an attractive range of colours, and can withstand heavy foot traffic.
Our Range of Resin Flooring in the North East
Our team in the North East offers a range of resin floor coatings to fit the needs of your commercial or domestic property. We offer polyurethane resin and epoxy floor coatings, both poured over polished concrete flooring. We also have other specialty resins, offering specific benefits like quick installation or grip resistance. Whatever your needs, be they industrial or retail, our resin flooring systems can manufacture and install the perfect resin floor for you.
Here are our main options for resin flooring in the North East:
Epoxy Resin Flooring: Epoxy resin is a plastic-like substance that is used for flooring polished concrete floors. It provides a seamless look in a range of colours, self levelling to your concrete surface. Epoxy resin is perfect for both industrial and commercial projects, as is hard wearing and easy to clean. It would be perfect for a warehouse floor, even one with heavy machinery.
Polyurethane Resin Flooring: Polyurethane resin flooring is slightly softer than epoxy, whilst remaining perfect for regular foot traffic. Polyurethane resin is able to withstand extremes of heat, and is U.V. resistant. This makes it especially suited to outdoor spaces, and to heated indoor environments like factories.
Methyl Methacrylate Flooring: Our methyl methacrylate floors are fully usable within hours, the fastest curing time of our resin flooring range. If your project is on an expedited timescale, then methyl methacrylate may be the choice for you.
Cementitious Urethane Flooring: Cementitious urethane flooring is highly temperature resistant and impervious to liquid, whilst offering great slip resistance. A cementitious urethane floor is great for an industrial or scientific setting, such as a laboratory.
Every resin floor we design and install is made in accordance with the Concrete Society's technical report 34.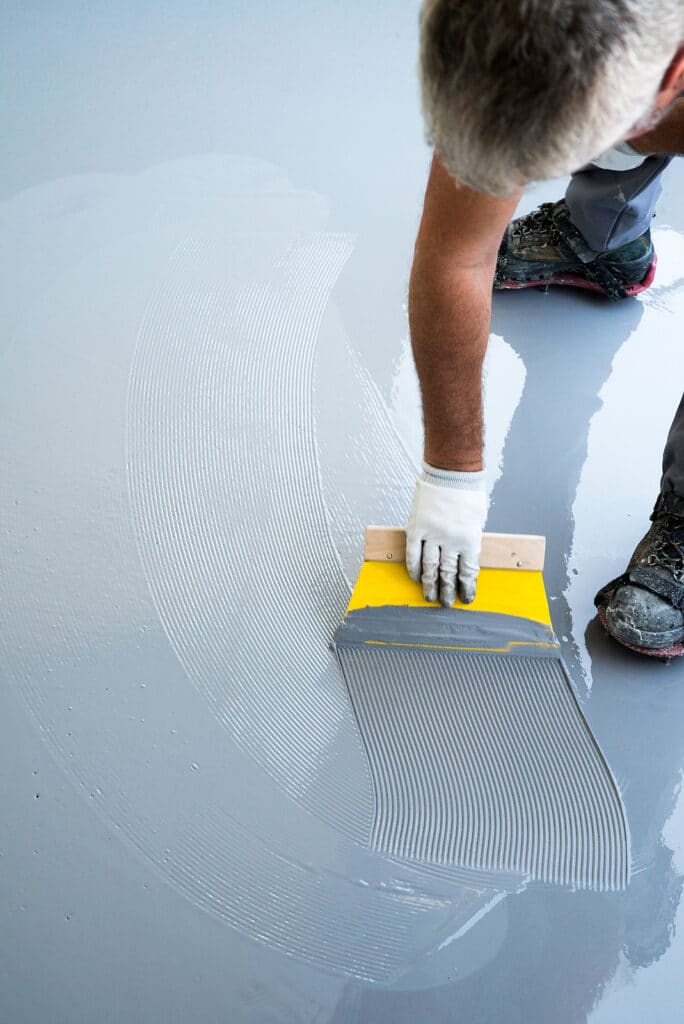 Why Choose Us?
Concrete Flooring Solutions puts sustainability at the forefront of everything we do, prioritising lean construction principles at each stage of the manufacture and installation process. We are the only provider of both concrete flooring and resin flooring in the UK, giving us a unique streamlined structure. We can pass these savings on to our customers, as they will only have to deal with one company throughout the purchase and installation of their resin floor.
Our experienced team of contractors will guarantee a perfect installation of your resin floor in the North East. Our high standards of quality and environmental engagement are showcased by our Constructiononline Gold membership. We are proud to offer a quality guarantee on all of our products.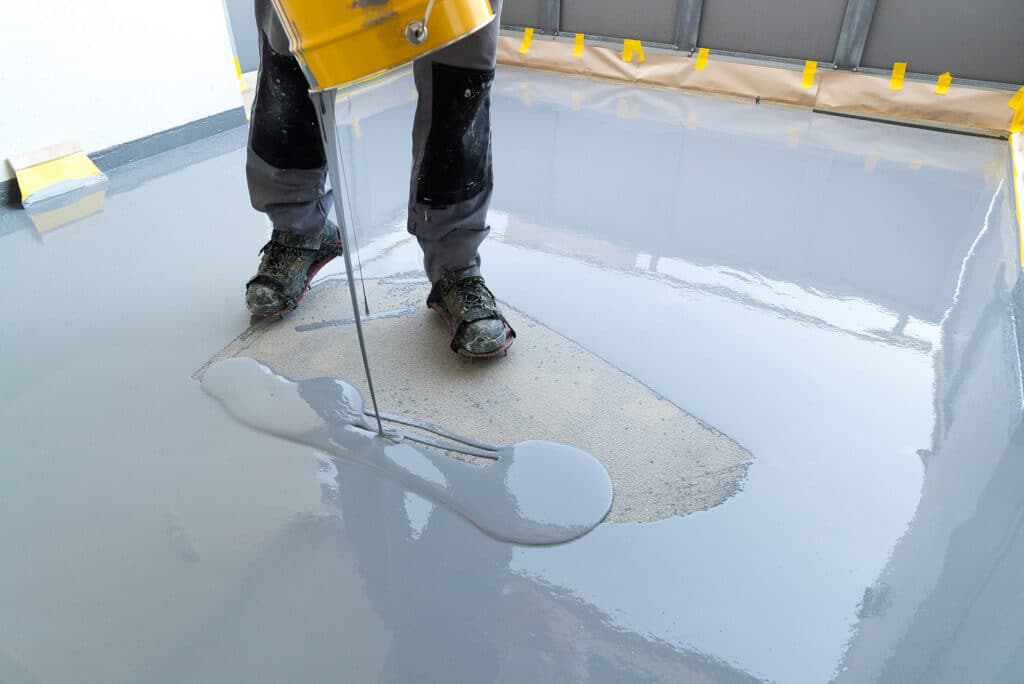 Installing Your Heavy Duty Resin Floor
The installation process for a resin floor, be it in our seamless high gloss epoxy, or our hardy polyurethane resin, first involves sanding and cleaning your concrete base to get it as flat as possible. Our epoxy resin floors require at least two coats, with further required for certain styles and environments. We prioritise the quickest installation we can whilst maintaining quality.
Our team is prepared for any challenge you might have for us. As a company we have worked on resin flooring projects for Formula 1, Amazon, and Ikea. The quality of our products and service has made us an industry leader.
Get a Quote for Your Resin Flooring in the North East Today
A resin floor is the perfect choice for your business in the North East, at once hard wearing, easy to clean, and attractive. We offer resin floors suited to indoor or outdoor locations, high temperatures, and busy foot traffic.
Concrete Flooring Solutions will manufacture and install our resin floor across the North East. We are the trusted name in industrial resin flooring, due to our professionalism, quality, and reliability.Contact us through our contact form now to get a quote.