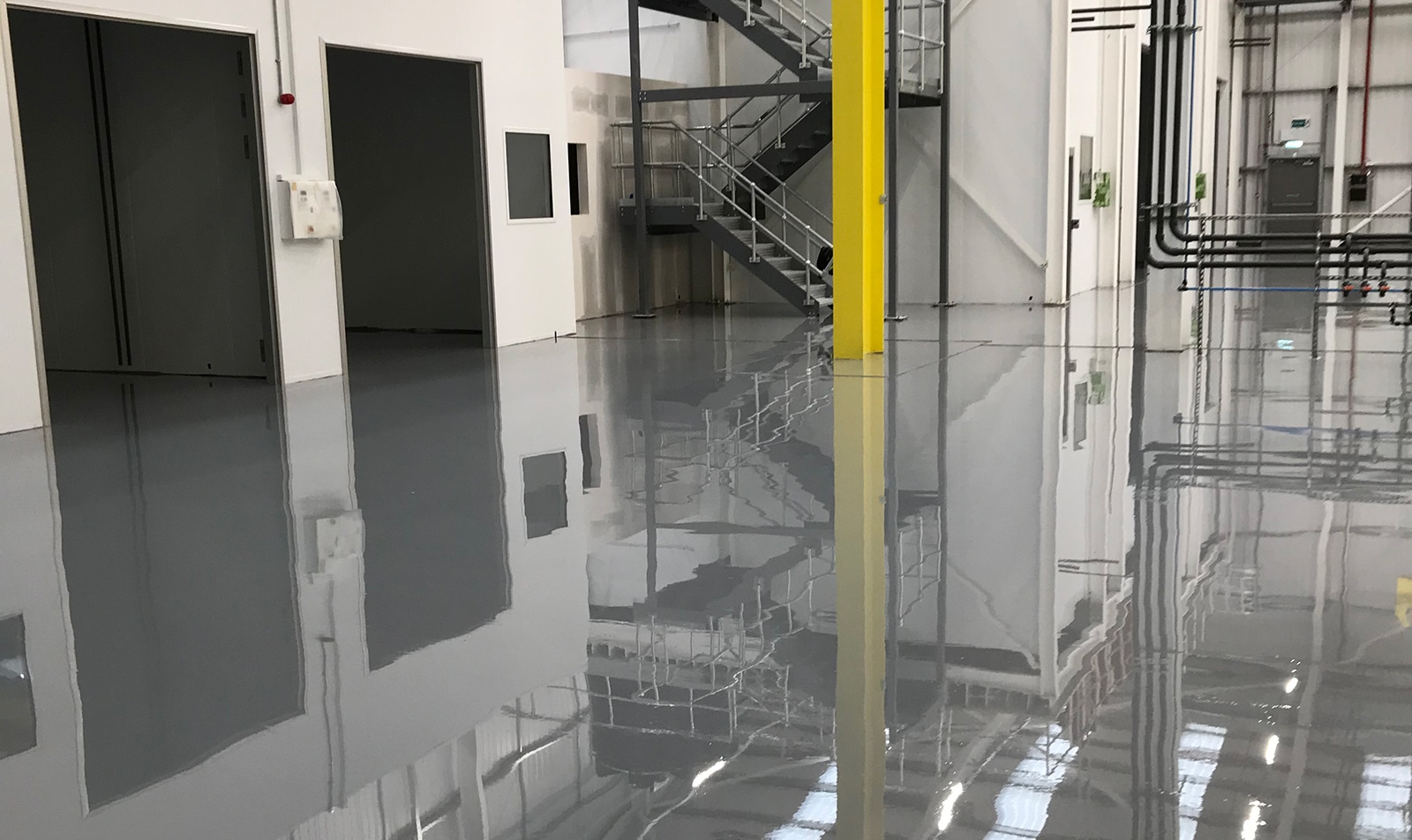 Professional Epoxy Resin Floor Installers
Epoxy Resin Floor Installers
Over 40 Years' Experience
100% Accredited
Competitive Rates
Lifelong Results
Constructionline Gold Member
Epoxy Resin Floor Installers
Concrete Flooring Solutions are one of the leading epoxy resin floor installers in the UK, with decades of experience in providing exceptional-quality resin floors for a wide range of clients. Our flooring solutions are cost-effective and installed in the fastest turnaround, with no compromise on quality.
Eminently practical, it is also easily customisable and suited to a huge range of properties, industrial and commercial. If you're looking for a high-quality, heavy-duty, easy-to-clean floor coating, epoxy resin is one of the best flooring options.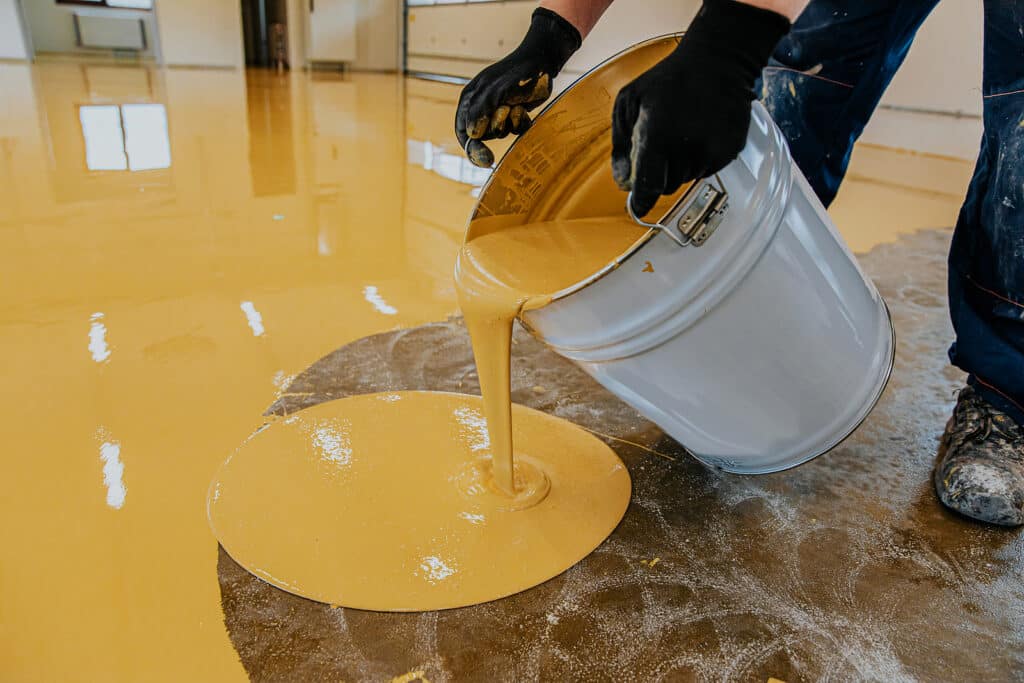 What an Epoxy Resin Floor Installation Can Offer You
We provide professional epoxy resin floor installations for commercial and industrial properties. Epoxy resin flooring is the most common flooring choice for these spaces because of its low cost, swift installation, and unbeatable versatility.
Epoxy resin resembles plastic and is a specific type of resin finish that coats a concrete floor. Specifically, the resin works by bonding to the surface of the concrete to provide an exceptionally hardwearing floor with a seamless finish.
What Spaces Are Suited to Epoxy Resin Flooring?
You may be surprised by the diversity of spaces that can benefit from this flooring finish.
Garages, industrial and domestic: Epoxy is strong enough to withstand the constant use of heavy vehicles.
Warehouses: Heavy machinery is no problem for the impact-resistant resin system. This makes it ideal for factories and warehouses.
Clinics, laboratories and medical facilities: Epoxy resin provides a floor coating that is exceptionally chemical-resistant and able to withstand cleaning with heavy chemicals every day, making it the perfect hygienic flooring solution. The self-levelling nature of epoxy resin makes for a surface that is smooth and easily wiped clean.
Schools: School hallways and corridors will often have incredibly high foot traffic. If you're searching for a flooring system that can cope with this, and provide a safe, anti-slip surface, epoxy resin is the best choice.
Commercial spaces: Not only does epoxy resin floor have all of the above practical benefits, but it also provides an aesthetically pleasing floor coating, too. Easily customisable, you can add line markings and brand colours to make your commercial or retail space unique and attractive.
What is the Design Potential for Epoxy Flooring?
The design potential for epoxy resin flooring is fantastic. If you're happy with your floor as it is, you can choose clear epoxy resin to get all of the resin's benefits without an effect on the look.
Or, you can choose from a number of colourings and finishing effects, including marbling, as well as different textures. Have a look through our design services and talk to our team to find out how you can customise your epoxy resin floor installation.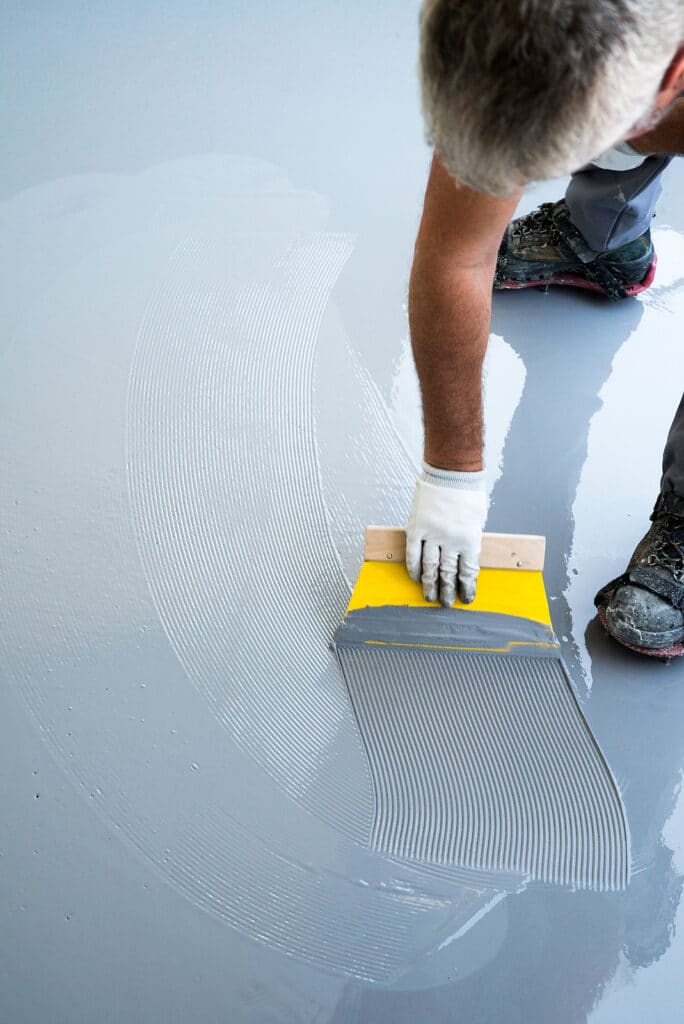 Why Us?
We are a proud member of the ACIFC, The Association of Concrete Industrial Flooring Contractors. Our company has been recognised for its impressive experience and the consistent expert delivery of products. Annually, we install an excess of 180,000m2 of concrete flooring. Our design, material and construction techniques are always at the forefront of innovation.
We specialise in lean construction, always looking for ways to minimise our waste, installation time, and amount of materials used. We do this to make it the most cost-effective solution for you and the least disruptive, too. Any epoxy resin floor installation from CFS will be done to the highest standards in a comprehensive, efficient service where no corners are cut.
When you get an epoxy floor installation from Concrete Flooring Solutions, you get:
Reliable resin flooring that lasts for decades
Dedicated resin floor installers with years of experience who are passionate about getting you the best results
A company with Constructionline Gold member status
Competitive rates that offer exceptional value for money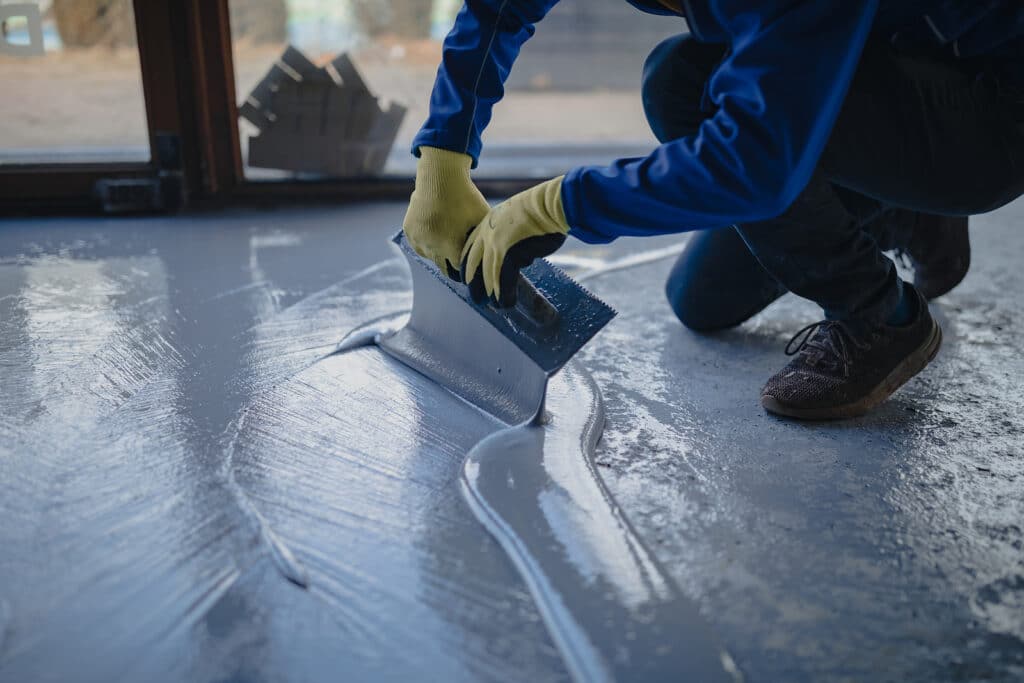 How Do Our Epoxy Resin Floor Installers Work?
Our first step is always to ensure your surface is fully prepared to provide a clean, level floor devoid of any debris and dust. Sometimes we may need to carry out diamond grinding or shot blasting to achieve this, depending on the state of your floor:
Shot blasting: This is a technique that uses a blast of abrasive material that can smooth out your floor surface to ensure it is properly prepared for the resin finish.
Diamond grinding: Diamond grinding works similarly to shot blasting but with a special grinding machine that creates a level floor surface.
This may add additional costs to your epoxy resin floor installation. We will always be upfront about any supplementary work that needs to be carried out, as well as the cost of this. Our resin floor installers are committed to carrying out this highly-skilled work with maximum efficiency to minimise costs and disruption.
Get a Quote From Our Epoxy Floor Installers Today
For the highest quality, most efficient epoxy resin floor installation, choose Concrete Flooring Solutions. We will help you with the most appropriate choice for the functionality you need for your particular space and will work with you to fit our installation to your budget.
Whatever the scale of your flooring project, our epoxy resin floor installers are primed and ready to deliver exceptional service.
Get a fast and accurate quote on your epoxy resin floor installation