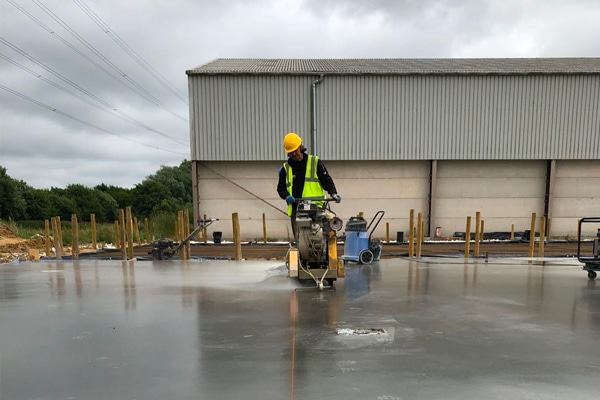 Get an Instant Quote
Get an easy quote with our price calculator:
Where We Work
Concrete Flooring In Ipswich
We are Concrete Flooring Solutions, a concrete flooring company that specialises in a wide variety of concrete flooring finishes. We have over 30 years' experience in the concrete flooring industry and our staff have been expertly trained to ensure that we meet our customer's every need. We're always looking for ways to improve our service and we strive every day to find new ways to improve our efficient service. Our team are always on-hand to help, even if it's a case of answering a question regarding our concrete flooring finishes.
Concrete Flooring Contractors in Ipswich
Concrete Flooring Solutions have continued to grow throughout the years and this is thanks to our dedicated customers and ever-improving staff. We are now one of the most sought-after concrete flooring companies in the UK and we're aiming to reach even higher heights! Our team is constantly expanding, meaning we're able to cover more areas in the UK, making our clients happier. So, if you're looking to have your floor concreted and you live in Ipswich or any of the locations we currently cover, why not give us a call today to see what we can offer you?
Concrete Flooring Solutions cover a wide variety of concrete flooring finishes in Ipswich. One of the most popular finishes is currently polished concrete. This finish has become popular because of its durable and 'professional' look. It's often used in art galleries, universities and even people's homes.
Below are our other concrete finishes:
Industrial Concrete Flooring
Commercial Concrete Flooring
Residential & Domestic Concrete Flooring
Polished Concrete
Additionally, we understand that some clients would like a finish that's more tailored to their flooring needs. So, if you find that the above concrete finishes do not match your needs, this shouldn't be a problem! Simply call or contact one of our friendly members of staff with any questions or queries that you have. Our team will do their utmost to ensure that your needs are met.
You can always give us a call on 0845 517 9193, or alternatively, you can get in touch via our contact form.
Our Concrete Flooring Options in Ipswich
Below are our most popular services:
Industrial Concrete Flooring
This concrete finish is arguably the finish that is used most commonly. It is used for city pavements, garages and other large industrial areas. Industrial concrete flooring is extremely versatile, as it can be built suspended (depending on the building structure) or it can be built on grade. For more information, or to contact us regarding our industrial concrete flooring, click here.
Commercial Concrete Flooring
Commercial concrete flooring shares many similarities with industrial concrete flooring. The only main difference is that commercial concrete is believed to harbour a more 'professional' finish. So, this is why you may find it used in restaurants and retail sites. For more information, or to contact us regarding our commercial concrete flooring, click here.
Residential & Domestic Concrete Flooring
Residential and domestic concrete flooring is becoming increasingly popular due to it offering a more 'creative edge'. Multiple colours can be implemented into this type of concrete flooring, making it an appealing option for restaurants, universities and homes. For more information, or to contact us regarding our residential and domestic concrete flooring, click here.
Polished Concrete
As stated previously, polished concrete is currently our most popular finish due to its durability and smart finish. It is a common choice for universities and corporate sites. So, if you're looking to utilise our polished concrete finish within your property or company building why not get in touch here?
Composite Metal Decking
Most popular for retail sites and new office builds, composite metal decking is easier to lay than the previously mentioned finishes. The slabs are very easy to deliver and place into position – making the job swift and efficient, minimising time spent on site.
Design Services
Concrete Flooring Solutions are also able to offer bespoke design solutions to all our customers. These are used for both ground bearing slabs and slabs that are supported on piles – using wire mesh reinforcement.
Our designs are in accordance with The Concrete Society's Technical Report 34 which has become the industry standard for concrete industrial ground floors.
Our Approach
Our approach at CFS is to respect the needs of our clients, it's that simple. Our staff are always working towards bettering the company and ensuring that our customers walk away happy with the work we've finished. Additionally, we're only a phone call away, so if you do have any queries or concerns about your concrete flooring, please do not hesitate to contact us.
Simply call us on 0845 592 0083 or get in touch via our contact form.
Other Areas We Cover
We can cover many cities across the UK. As we continue to grow and expand as a company, we will be able to reach more customers.
We understand that concrete flooring projects can take time and be expensive, and that's why we put extra effort into meeting and talking with our clients before anything is finalised. You can expect that once we have agreed on your project, work will start immediately and in the least invasive manner possible.
Contact Us Today
We like to think that our approach is simple and easy. So, if you have any questions, or you would like a quote on your commercial property, why not give our team a quick call? We can offer concrete solutions to any client within the UK – so call today on 0845 592 0083, or get in touch via contact form to see what we can offer you!