Concrete Flooring Contractors in Birmingham
Here at Concrete Flooring Solutions, we offer expert advice and service backed by 30 years' experience in the concrete flooring industry. As a company, we are constantly looking to develop new relationships with customers, helping them build and design the concrete flooring they require. Our services are some of the most sought-after in the UK and our dedicated staff are always on-hand to help with any advice or project enquiries from large scale industrial concrete flooring projects to smaller commercial floors we've got you covered.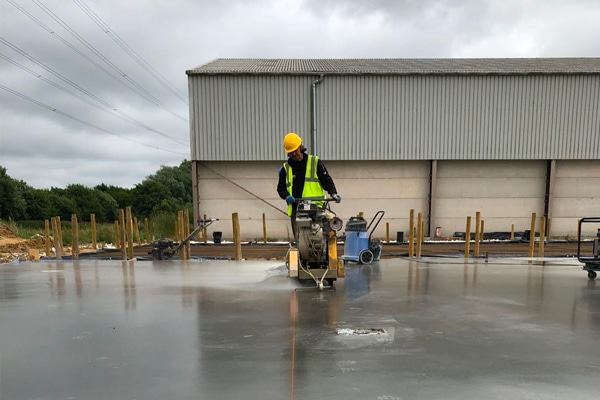 Get an Instant Quote
Get an easy quote with our price calculator:
Birmingham's Top Flooring Contractor
CFS has continued to grow throughout the years and thanks to our customers, we have been able to build a stable, trusted and reliable foundation. We're always looking to expand our concrete flooring services to different parts of the UK. That's why, if you do require our services, our team will have no trouble travelling to your desired location to begin work. Our team are dedicated to ensuring high levels of customer satisfaction are always met and that's a guarantee.
CFS covers a range of concrete flooring services in Birmingham. One of our most sought-after concrete flooring services is our polished finish. This has become an incredibly popular feature, as it's a clinical finish that is both smart and durable. Our other services include:
Industrial Concrete Flooring
Commercial Concrete Flooring
Residential & Domestic Concrete Flooring
Polished Concrete
If you feel as if the above concrete flooring services do not match your requirements, don't worry! Our team will be happy to work around your requirements. So, if you're looking for a bespoke concrete flooring solution, why not get in touch with our team today? Our staff are able to take on any job, big or small!
We're always free for a friendly chat, so why not give us a call on 0845 517 9193? Alternatively, you can get in touch via our contact form.
Our Concrete Flooring Options in Birmingham
We try to incorporate all of the latest concrete flooring finishes to give our clients a broad range to choose form. While we do have four primary concrete flooring services, we understand that every client requires something different. So, we work with you to discover what concrete flooring will best suit your style and needs. Below are our most popular services:
Industrial Concrete Flooring
Arguably our most popular service. Our industrial concrete flooring service is primarily seen in car parks, city pavements, garages and other industrialised areas. Industrial concrete flooring is incredibly versatile, in that it can be built on grade or can be suspended – depending on the structure. For more information, or to contact us regarding our industrial concrete flooring, click here.
Commercial Concrete Flooring
Similar to industrial concrete, commercial concrete is also used in the areas mentioned above. The only main difference between the two is that commercial concrete is thought to offer a more 'professional' finish to an area or facility. Restaurants regularly employ the use of commercial concrete due to both its durability and its look. For more information, or to contact us regarding our commercial concrete flooring, click here.
Residential & Domestic Concrete Flooring
Another concrete flooring solution growing in popularity is residential and domestic finishes.
One of the main attractions of this flooring is that it holds a more 'creative' edge. Colours can also be implemented into this concrete flooring design, so if you're looking for a finish with slightly more 'edge' this is our recommendation. For more information, or to contact us regarding our residential and domestic concrete flooring, click here.
Polished Concrete
One of the other swiftly-growing concrete flooring options is the polished concrete finish. This is arguably the most professional finish, as it emanates a 'sheen' finish. So, if you're looking to utilise our polished concrete finish within your property, company building or whatever it may be, why not get in touch here?
Composite Metal Decking
Most popular for retail sites and new office builds, composite metal decking is easier to lay than the previously mentioned finishes. The slabs are very easy to deliver and place into position – making the job swift and efficient, minimising time spent on site.
Composite metal flooring has recently become the most common choice of concrete flooring in new office builds and retail sites. The slabs are very easy to deliver and slot into position, the job is swift and efficient, meaning the labour itself won't take long. For more information, or to contact us regarding our composite metal decking, click here.
Design Services
Additionally, we are also able to offer unique design solutions to our clients. These are for both ground bearing slabs and ground slabs supported on piles (using wire mesh reinforcement).
Our designs are in accordance with The Concrete Society's Technical Report 34 which has become the industry standard for concrete industrial ground floors. 
Our Approach
Our approach at CFS is to respect the desires of our clients, it's that simple. Our staff will work tirelessly to ensure that your project is brought to life and if you're unsatisfied, we're only a phone call away. So, if you'd like to know more about how we can transform your property, why not get in touch today? Even if it's for an informal chat, our team will be happy to help.
Simply call us on 0845 592 0083 or get in touch via our contact form.
 Other Areas We Cover
We can cover every major city and county in the UK, if  required. Our dedication to reaching our clients is second to none. We  understand that concrete flooring projects can take time and be expensive, that's why we put extra effort into meeting and talking with our clients before anything is finalised. You can expect that once we have agreed on your project, work will start immediately and in the least invasive  manner possible. Our two primary offices are based in Hampshire and West Sussex.
Contact Us Today
We like to think that our approach is simple and easy. So, if you have any questions, or would like a quote on your commercial property, why not give our team a quick call? We can offer concrete solutions to any client within the UK – so call today on 0845 592 0083, or get in touch via contact form to see what we can offer you!