Concrete Flooring Services in Bristol
Over the years, Concrete Flooring Solutions has grown exponentially, thanks to our increasing customers and dedicated staff. Our attention to detail is what separates us from the competition. We like to keep our customers updated on our progress in case there are any changes they'd like made or they have a query about the project.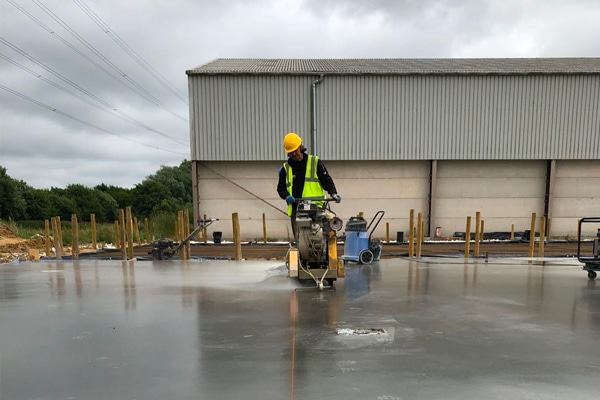 Get an Instant Quote
Get an easy quote with our price calculator:
Top Flooring Contractors for Bristol
Concrete Flooring Solutions offers exceptional flooring finishes including polished concrete flooring here in Bristol. Although we are based in the south of the UK, our team are dedicated to reaching customers further afield.
Customer service and satisfaction is our number #1 priority, here at Concrete Flooring Solutions.
With over 30 years' experience in the concrete flooring industry, Concrete Flooring Solutions are swiftly becoming one of the UK's best-trusted concrete flooring companies. Additionally, our team is made up of qualified and trusted professionals who ensure that every job is completed to an exceptionally high standard.
So, whatever the job, be it big or small, Concrete Flooring Solutions are here to help. We make it our personal guarantee that your requirements will be met and if you do encounter any problems, our team will be happy to help.
Keeping you updated on our progress not only puts your mind at ease, but it's also a very efficient work ethos for our team. If we're doing a good job, then hopefully this means our customers will remain happy! If, however, you feel our work is invading your personal space, please do not hesitate to chat to one of our team members. We know that concrete flooring can sometimes be an invasive job and we want to ensure that we don't disrupt your daily routine!
Our Concrete Flooring Options in Bristol
Here at Concrete Flooring Solutions, we're constantly on the search for technological advancements within the concrete industry. We try to ensure that all our customers' needs are met, even if that means attempting a new concrete design!
Below are the finishes we offer:
Industrial Concrete Flooring
Commercial Concrete Flooring
Residential & Domestic Concrete Flooring
Polished Concrete
While our main services are listed above, we do understand that some customers may require bespoke flooring alternatives. If this is the case, please feel free to call us on 0845 517 9193 or reach us through our Contact Page!  
Industrial Concrete Flooring
This is still one of our most popular services, and we imagine it will remain that way for the foreseeable future. It's commonly used in large industrial areas because of its durability and versatility. Additionally, it can be built on grade or suspended depending on the structure of the building.
For more information, or to contact us regarding our industrial concrete flooring, click here.
Commercial Concrete Flooring
Similar to industrial concrete flooring, commercial concrete can be applied to the same areas. However, the main difference with commercial concrete is that it offers a more 'professional appearance'. Commercial concrete flooring is definitely growing in popularity, thanks to its 'professional' appearance. This makes it ideal for restaurants and retail shops.
For more information, or to contact us regarding our commercial concrete flooring, click here.
Residential & Domestic Concrete Flooring
Residential and domestic concrete flooring is another option increasing in popularity as it adds a more 'creative' finish. Because of this, many people have opted to have it placed in restaurants and even their homes!
For more information, or to contact us regarding our residential and domestic concrete flooring, click here.
Polished Concrete
As we may have mentioned earlier, polished concrete is swiftly becoming a very popular finish. People are attracted by the 'sheen' finish it offers. Not only that, but polished concrete is extremely durable. It has become a good choice for art galleries and restaurants, as it adds light to a room. If you're after a professional look, polished concrete is definitely worth considering.
So, if you're looking to utilise our polished concrete finish within your property, or company building, why not get in touch here?
Composite Metal Decking
If you're looking for a simple and easily fitted concrete flooring option, composite metal decking might be the choice for you! It is arguably the best choice for retail sites and office builds because of how easy it is to place.
For more information, or to contact us regarding our composite metal decking, click here.
Design Services
Additionally, we are also able to offer unique design solutions to our clients. These are for both ground bearing slabs and ground slabs supported on piles (using wire mesh reinforcement).
Our designs are in accordance with The Concrete Society's Technical Report 34 which has become the industry standard for concrete industrial ground floors. 
Our Approach
Our approach is a simple one; we marry exceptional customer service with brilliant work ethic, and that means happy customers.
If you'd like to learn more about what it is we do here at Concrete Flooring Solutions, you can reach us through our Contact Page, or call us on 0845 592 0083.  
Other Areas We Cover
Birmingham
London
Swansea
Oxford
Cambridge
Sussex
Exeter
Our team are dedicated to ensuring that our customers receive the services they need. You can expect that once we have agreed on your project, work will start immediately and in the least invasive manner possible.
Contact Us Today for Concrete Flooring Services in Bristol
We like to think that our approach is simple and easy. So, if you have any questions, or would like a quote on your commercial property, why not give our team a quick call? We can offer concrete solutions to any client within the UK – so call today on 0845 592 0083, or get in touch via contact form to see what we can offer you!