Industrial Screed Flooring Installed by Expert Contractors
We are one of the leading resin flooring contractors in the UK. We will deliver an accurate quote, efficient installation and long-lasting resin floor. We have over 30 years of experience and will provide exceptional service during your installation.
Here at Concrete Solutions, we provide the number one leading concrete and epoxy resin flooring solutions throughout the UK. Whether you're looking for industrial flooring with chemical resistance, or epoxy resin floor screeds or floor coatings with added slip resistance, our Constructionline Gold experts can provide the best possible results.
We also ensure that our practices remain COVID safe. This is why we always carry out our work in the least invasive ways – so that you can relax knowing there are no risks when having work done on your property.
Our Constructionline Gold member floor experts at Concrete Flooring Solutions aim to bring you expertly installed non-slip resin flooring with results that go above and beyond. To see how our heavy-duty non-slip resin flooring can benefit you and your properties throughout the UK, get a free online written quotation. Contact us today.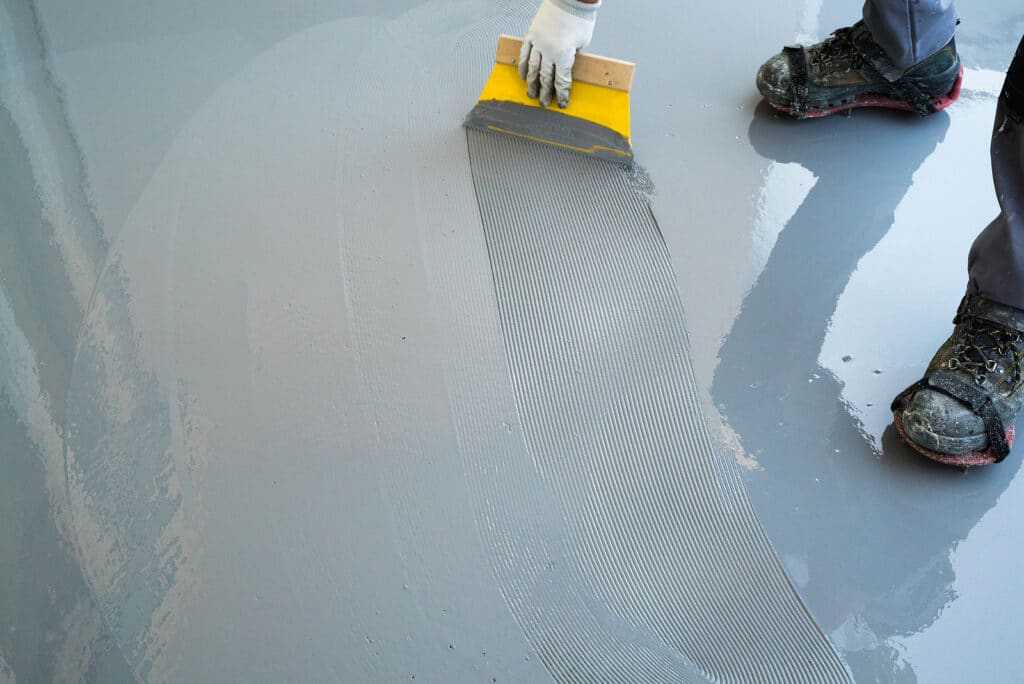 Industrial Screed Flooring
When it comes to installing industrial screed flooring, we have multiple options available to suit your needs. Options that suit commercial areas with high levels of foot traffic, and industrial areas that frequently deal with chemicals are available for installation by our experts.
Some of our industrial screed flooring options are known as "self-levelling", which means that the epoxy screed can be poured to achieve a level floor that hides minor imperfections with ease. However, the concrete floors that the epoxy resin screed is being poured onto must be repaired prior. When we repair concrete, it will allow the screed to create a level floor – rather than filling small holes in the floor and creating an imperfect finish.
Types of Industrial Screed Flooring Available at Concrete Flooring Solutions 
At Concrete Flooring Solutions, our experts use multiple types of epoxy resin screeds in order to bring our customers the best possible results. Below, we list the resin screeds that are best suited for industrial situations, as well as their benefits, and how each one works for each area.
Pumaflow:

Pumaflow epoxy resin industrial screed flooring is a three-part floor screed that utilises a flow application for ease. It is laid at 2-3mm and also features a stylish smooth gloss floor finish. Best for medium-duty applications, this industrial screed flooring features great chemical resistance; and even better resistance to abrasion and wear.

In terms of industrial situations and placements, this industrial screed flooring best suits the industrial side of food and beverage production, as well as industrial settings frequently dealing with chemicals – such as the engineering or manufacturing sectors. The glossy floor finish is not only for style either, as this also enables ease of cleaning which is perfect for areas, like hospitals and scientific labs, that need to be sanitary. This option is also available in an electro-static dissipative grade known as Pumaflow ESD.

Pumaflow industrial screed flooring is great for areas that require food-grade flooring, and constant sanitary upkeep with ease of cleaning. To see what we can do for you, contact us today.
Pumadur SL:

This polyurethane industrial floor screed is a three-part application that is laid at 2-3mm by using the flow technique. Seamless matte floor finishes as well as high abrasion and chemical resistance are the key features of Pumadur SL. Primarily used for medium-duty applications in industrial environments, Pumadur SL is also available in an electro-static dissipative grade known as Pumadur SL ESD.

If the Pumadur SL industrial option appeals to you, contact us today.
Resuthane SL:

As a three-part polyurethane industrial screed flooring, Resuthane SL is available in two options. Resuthane SL 23, which provides 2-3mm coverage, and Resuthane SL 45, which provides 4-5mm coverage. Both options provide self-sealing qualities, matte finishes, and enhanced health and safety that comes with greater slip resistance than other industrial-grade screed floorings.

Resuthane industrial screed flooring is also largely adaptable in a wide variety of placements, such as in commercial areas with high foot traffic, along with many industrial applications. In terms of industrial uses, Resuthane boasts great temperature and chemical resistance – great for engineering and manufacturing industrial settings frequently working with chemicals and fluctuating temperatures. These resin floors are also food-safe, easy to clean, and extremely durable in every situation. These features enable this industrial screed flooring to be a great option for bakeries, workshops, production lines, and scientific labs.

If Resuthane SL industrial screed flooring appears to be a match for your project, contact us today.
For the Best Industrial Screed Flooring – Contact us Today
Our Constructionline Gold Member flooring experts are the best at what they do. They know how to get the best flooring solutions for you, to solve your needs as one of our customers. If you're looking to install a self-levelling epoxy floor screed, epoxy floor paints, or any of our other expert services, our professionals at Concrete Flooring Solutions will be more than happy to help.
If you don't see an option that appeals to you above, get in touch with us and we will see if we can provide a solution for you.

To see what the best options are for your needs, contact our team of experts today through our contact form.