Resin Flooring Sunderland
For the gold standard in professional flooring solutions in Sunderland.
Get an Instant Quote
Get an easy quote with our quote calculator:
100% Accredited Resin Flooring Contractors in Sunderland
Our professional flooring specialists at Concrete Flooring Solutions can supply and install your stylish epoxy resin flooring and floor coatings with the least-invasive and most efficient service possible. Our Constructionline Gold Member professional contractors can get your flooring in place, and ready to use, the same day; and can meet any specific requirements. 
Need a brand-new resin floor for your home in Castletown? We can bring you our stunning, scratch-proof resin floors that will have lifelong results for your domestic needs with quick and minimally invasive installation.

Over 40 Years' Experience

100% Accredited

Competitive Rates

Lifelong Results

Constructionline Gold Member
For a free online quote to see how we can get the best resin flooring contractors in Sunderland to you,  contact us today. 
What can our Resin Flooring Contractors in Sunderland do for Your Project?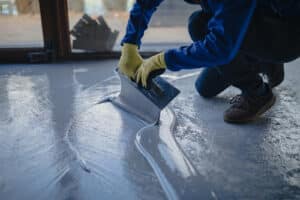 What resin flooring suits your needs? Our professional resin flooring contractors, installers, and expert customer service team can help you discover which of our wide array of option best suits your project. Take a look below, where we explain the different types of resin flooring systems, their benefits, and how each option could work for your project. 

All of our resin flooring designs are in accordance with the industry standard Concrete society's technical report 34.
Epoxy Resin Flooring:




As the most recognised and distributed form of resin flooring, epoxy resin flooring is able to totally stick to its pre-existing subfloor and is renowned for its reliability and extreme durability. Our resin bound flooring contractors in Sunderland can also alter the properties of your epoxy resin with various properties, such as anti-slip features for safety flooring, and self-smoothing to make your floor as level as possible. This poured resin flooring is a great choice for any environment, be it domestic, industrial, or even commercial properties. If you need a new retail flooring for a property with high-footfall, like Bridges Shopping Centre, then this is the top choice for you. 

Cementitious Urethane Flooring:




Incomparable when it comes to liquid spills, these polished concrete flooring systems are completely waterproof as well as thermally resistant. For those who work with liquid materials and frequent temperature fluctuations, like large scale bakeries in Deptford or Ford Estate, this would be the option for you. As well as being completely impervious to water and wild temperatures, they also have the added bonus of being dust free and easy clean.

Polyurethane Resin Flooring:




If you've been needing to upgrade your old and worn floors in your scientific labs, your engineering workshop, or your warehouse; now is the time. This key feature of this type of flooring is its chemical resistance, which makes it a great idea for those frequently working with harsh and dangerous chemicals. It also boasts great temperature resistance too; which makes this a great heavy duty option for those in industrial and scientific industries.

Methyl Methacrylate Flooring:




Got any projects on the go that urgently need a new floor as soon as possible, or need a new floor quickly for your business that needs to open up the next day? Then this resin flooring may be for you. Our resin flooring contractors in Sunderland can have your brand new resin flooring down and cured within a day. Due to its fast cure features, this poured resin is a great choice for any high turnaround projects, or any projects needing new floors in quick succession such as commercial flooring needing to be used next day. 
If any of these options sound like a great fit for you, our team of 100% accredited professionals here at Concrete Flooring Solutions will be more than happy to meet your requirements. Contact our experts today for a free quote, and to see how we can get you the best resin flooring in Sunderland, through our contact form.
Our Epoxy Resin Flooring Contractors in Sunderland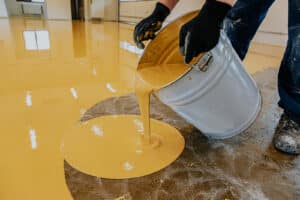 At Concrete Flooring Solutions, we offer a wide range of resin flooring. From the most well known epoxy resin, to lesser known cementitious methacrylate flooring. Our flooring contractors in Sunderland can get your new resin floor installed quickly, safely, and in the least invasive manner; so you can be sure that we'll always complete your floor in a COVID secure manner. Our epoxy resin floors can be altered with different properties to suit your needs, from non-slip for industrial flooring needs, or with different visual properties for purely cosmetic needs; our expert team of consultants can discuss your requirements, provide detailed specifications for your needs; and talk over how to execute your ideas efficiently.  
Depending on the type of resin used, we can even have your entire project completed in as little as a day; this is due to certain resins having an exceptionally quick curing time – allowing for high-turnover projects to be finished within a tight timeframe. 
Contact us Today for a Free Quote With Our Resin Floor Contractors in Sunderland
We know you want high-quality resin flooring, which is why our team of experts here at Concrete Flooring Solutions can have your new resin flooring laid and completed efficiently; and in a COVID secure way.  As a team of 100% accredited professionals, we can supply and install your brand new epoxy resin flooring in Sunderland with stunning results. 
Simply call us today, or send us a message through our contact form, to see how we can give you the best epoxy resin flooring in Sunderland.