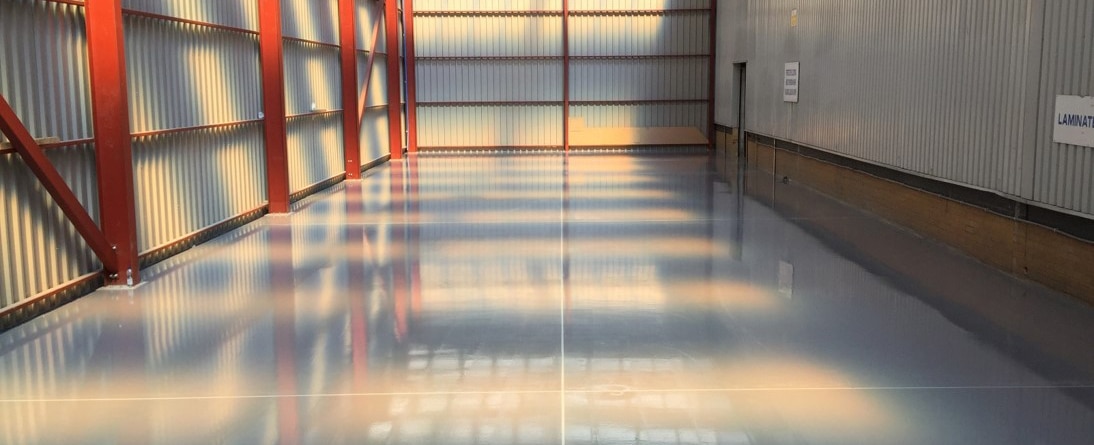 Resin Flooring in Norfolk
Lifelong results
Flooring contractors with over 40 years of experience
Competitive rates
100% accreditation by professional bodies
Contractors with Constructionline Gold member status
Resin Flooring Norfolk | Epoxy Poured Resin Flooring Systems
Concrete Flooring Solutions offer a wide range of high-quality resin flooring systems for use in domestic, commercial, and industrial environments. Whether you're in need of heavy-duty industrial resin flooring for use in your garage or workshop, or luxurious and seamless epoxy poured resin flooring in Norfolk for use in your home, our resin flooring contractors at Concrete Flooring Solutions can offer a diverse selection of finishes and styles for your consideration.
As an increasingly popular option, with ever-growing demand, resin flooring systems and polyurethane screeds provide a great alternative and stylish option over traditional products like tiles and laminate. Epoxy flooring and floor coatings provide multiple advantages over traditional flooring options. From being easy to clean, slip-resistant, highly durable, to having no joints or seams visible from the poured resin; epoxy floors offer a practical and stylish option for residential, commercial, and industrial areas.
We can discuss your needs and requirements, and how we will achieve the best possible result for you. Get in touch with us today.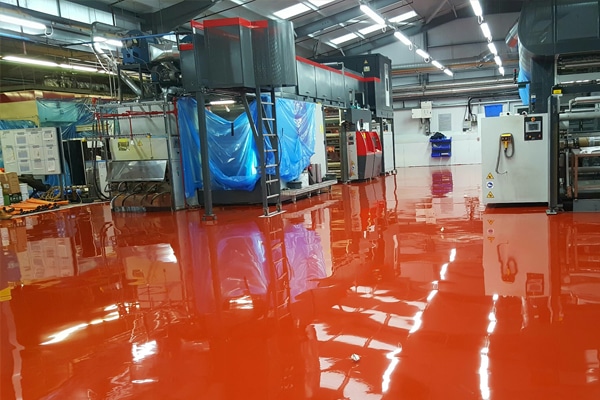 Benefits of Resin Flooring in Norfolk
Deciding to replace your old, worn out, flooring could be the best choice you could make. Boasting a number of benefits to your property, epoxy resin flooring in Norwich provides an extremely versatile flooring solution that suits multiple different environments.
Looking for a slick and modern look for your home? Need a highly durable, yet stylish floor for your commercial area? Need a safe and chemically resistant floor for your workshop or garage? Resin flooring offers a wide range of benefits for every environment. These include:
Complete waterproofing
Easy to clean
Extreme durability
Wide range of customisation options
No grouting needed
Bespoke to your needs
Temperature resistance
Chemical resistance
Options Available for Resin Flooring in Norfolk
Whether it's for use domestically or commercially, or you want to make your industrial resin flooring a bit more exciting, we're sure to be able to accommodate your request for customisation. Below, we've listed a few of the aesthetic options you can choose from that are on offer. However, don't hesitate to ask if you'd prefer something else – we may still be able to accommodate your cosmetic choices.
Poured Resin
Available in plain block colours which can be altered with floor painting, or even available in concrete or marble style, poured resin produces a floor that is completely seamless – meaning there is no grouting or joining marks visible. Poured resin is a highly flexible and modern indoor resin option that can breathe personality into even the most contemporary rooms, or be used for practical applications within sports halls and other similar areas.
Epoxy Flakes
This option incorporates natural minerals within the resin which can produce a dazzling finish to your floor. In order to keep this option completely bespoke, we offer a huge range of colours and colour combinations in order to suit the vision you have for your space.
Metallic Epoxy
This option is often referred to as 'floor art' due to the metallic epoxy being used allowing a unique combination of colours, designs, and swirls to be created by using bright and vibrant pigments and colours.
Glitter Epoxy
If the idea of unlimited colour combinations catches your eye, this may be for you. High-quality glitter is encased within layers of epoxy resin which produces amazing flooring effects.
Resin-Bound Quartz
Best for outdoor areas, patios, driveways, and industrial areas, resin-bound quartz creates a gorgeous and practical area that can withstand the elements of the outdoors. Fully drainage and SUDS compliant, you don't need to worry about sun bleaching as it is also fully UV stable.
Contact us Today for High-Quality Resin Flooring in Norfolk
Our expert resin flooring contractors at Concrete Flooring Solutions are always available to discuss your requirements and designs for your next flooring project. If you're wanting to upgrade your warehouse with extremely durable industrial resin flooring, want to install stylish and practical epoxy flooring for your commercial area, or want to instil some personality into your floors at home; our flooring specialists will be more than happy to discuss how we can benefit your project.

From Thetford to Cromer, our services stretch across the entirety of Norfolk. For a free obligation-free quote, get in touch with our experts today.