Heavy Duty Epoxy Resin Flooring in Manchester Installed by Professionals
Over 40 Years' Experience
100% Accredited
Competitive Rates
Lifelong Results
Constructionline Gold Member
As a company of floor contractors who pride themselves on their top quality work, Concrete Floor Solutions is proud to extend their quality assured epoxy flooring services to Manchester. Our resin services cover the whole of Manchester, from Wigan and Rochdale to Altrincham and Stockport.

Our services cover a huge range of projects for domestic, commercial, and industrial floors. We can even add slip and chemical resistance to your brand new resin flooring in Manchester. For all your poured resin needs, Concrete Flooring Solutions are your first port of call.
Get your free online quote to see how our epoxy flooring in Manchester is right for you. Contact us today.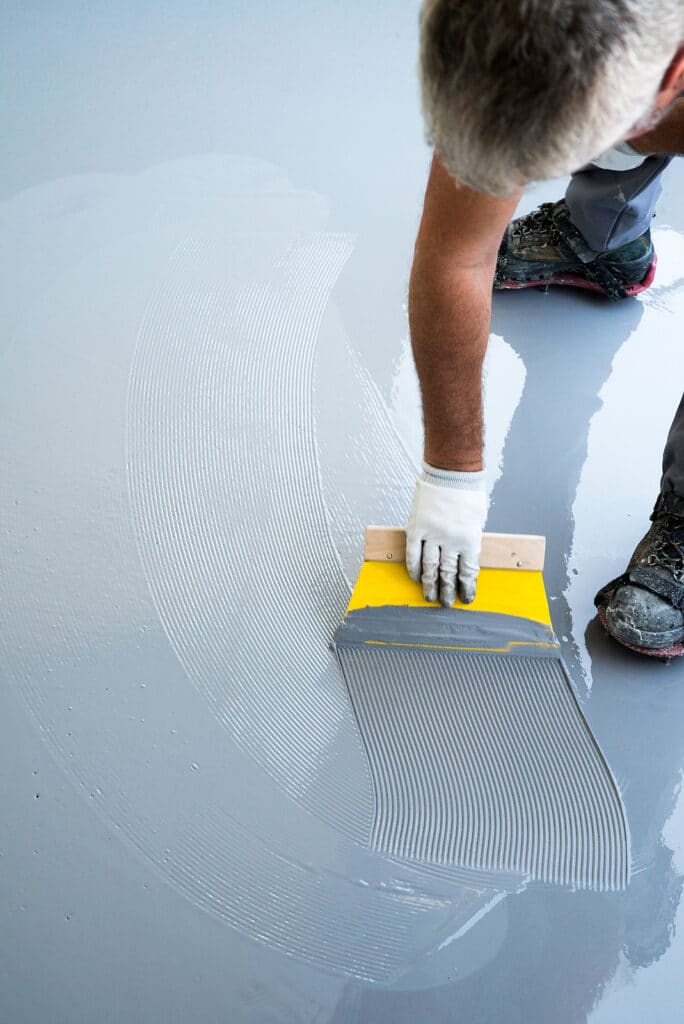 How Can Having Epoxy Flooring in Manchester Benefit You?
Our epoxy resin flooring in Manchester is guaranteed to be highly durable, stylish and long-lasting no matter the type of resin you choose. So if you're looking to affordably upgrade your flooring domestically, industrially, or commercially, then Concrete Flooring Solutions can help..
Looking to upgrade the flooring in the University of Manchester or the Arndale Centre? We can also deliver the added bonus of not having to worry about any accidental markings or scratches, with its extremely high durability ensuring showroom quality for years to come.
Our team of 100% accredited professional epoxy resin floor contractors in Manchester have over 40 years of experience and can lay your brand new epoxy resin flooring in Manchester with minimal floor preparation on your part and a completely COVID secure, minimally invasive, and dust proof, service.
Your Options for Epoxy Flooring in Manchester
Concrete Flooring Solutions has the best resin flooring contractors in Manchester for all of your needs. We supply top quality epoxy resin flooring for domestic, industrial and commercial use throughout Manchester. Want to know what kind of flooring our resin flooring contractors in Manchester can get to you? Take a look below:
A synthetic resin flooring which works best for those projects needing to be complete within a tight timeframe. Polymethyl Methacrylate is the best choice for our clients who have multiple projects on the go that need to be completed quickly and efficiently, or for our clients who need their floor coating to be rendered usable as soon as possible. This resin has special properties which enable it to cure within just a few hours, this benefit does not risk the durability or quality of the resin as it's just as durable and waterproof as others.
If this option is the best fit for your needs, contact us today for your free quote.
Durable and high performing, epoxy resin flooring is the most widely recognised type of resin flooring because of its high reliability. Our epoxy resin flooring contractors in Manchester can ensure a stylish finish to any project, as well as also being able to alter the properties of the material with anti-slip and self-smoothing properties. For a great choice in flooring, we can supply commercial, industrial and even domestic resin flooring in Manchester for any needs.
For amazing epoxy flooring in Manchester, for any of your domestic, commercial or industrial needs, contact us today.
Cementitious Urethane Flooring:
This flooring is great for industrial environments in Roundthorn, for those looking for flooring which has a naturally high-temperature resistance, as well as imperviousness to water. Cementitious Urethane flooring is a great option as it is created with a mixture of cement, aggregates, water and urethane, which all help to boost the temperature resistance of this material, as well as its imperviousness to water.
For great quality waterproof and thermal resistant flooring, contact us today for your free online quote.

Polyurethane Resin Flooring:
With enhanced heat and chemical resistance, our resin flooring contractors in Manchester can ensure a quick installation for these specialist resin floors in your scientific or engineering environments. Whether your floor is frequently exposed to harsh chemicals in the science labs at Manchester University, or withstanding high temperatures in your workshop or warehouse floor in Trafford, our extremely high durability epoxy resin screeds will have your back.
Need a new chemically resistant resin floor in Manchester? Contact us today to see how we can get yours to you.

All of our resin flooring designs are in accordance with the industry standard Concrete society's technical report 34.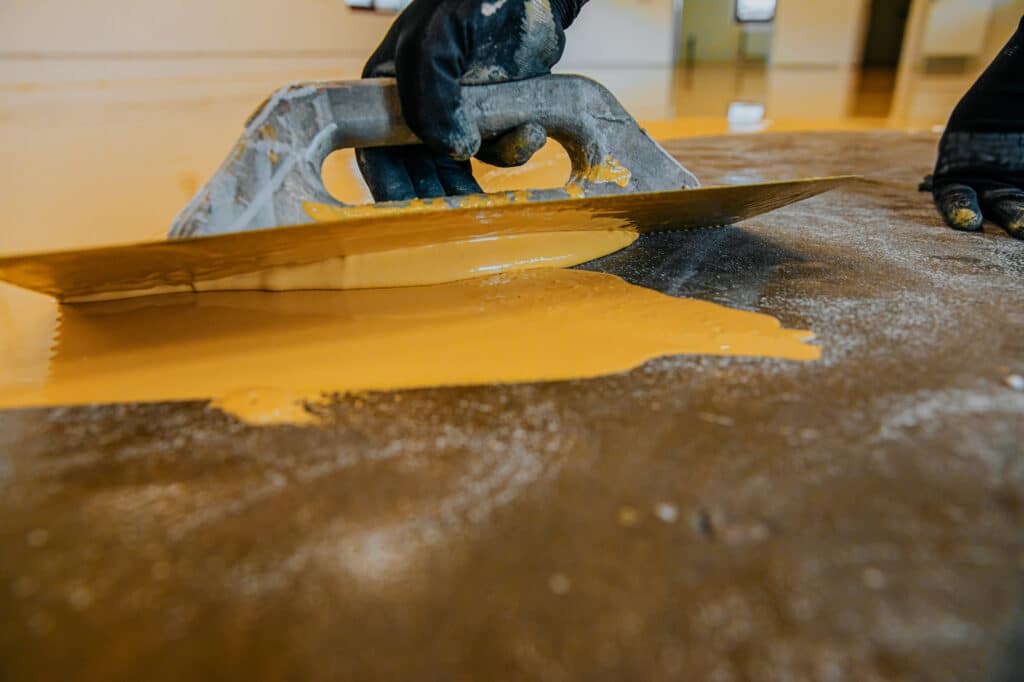 Contact us Today for Epoxy Resin in Manchester and More
As one of the best suppliers and contractors of epoxy resin in Manchester, we pride ourselves on our customer service; making the entire process quick, easy, simple, and totally tailored to your needs and specifications.
To discuss our wide range of resin floors in Manchester with our contractors and get a free quote on how we can get one of our expertly crafted floors to you, call us today or send us a message through our contact form.