Durable and Heavy Duty Resin Flooring in Leeds and West Yorkshire
Over 40 Years' Experience
100% Accredited
Competitive Rates
Lifelong Results
Constructionline Gold Member
As providers of top quality floor coatings and resin flooring in West Yorkshire and Leeds, Concrete Flooring Solutions is here to bring you the best flooring solutions for any project you have in mind. From Wetherby to Ardsley, our Constructionline Gold flooring contractors and resin flooring specialists with over 40 years' of experience can bring your projects throughout Leeds some stunning results in as little as a day. For all your poured resin needs, Concrete Flooring Solutions are your first port of call.
For some of the highest quality resin flooring in Leeds, contact us today for a free quote from our top resin floor installers.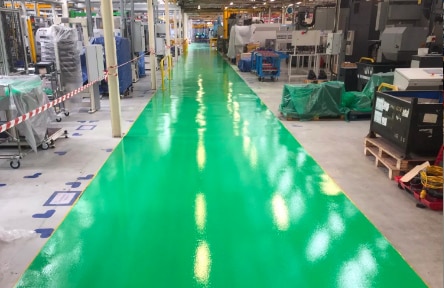 What Can Our Resin Floor Contractors in Leeds Do For You?
Have a commercial property in The Calls that needs some TLC? Our highest quality slip-resistant poured epoxy resin floors can withstand years of footfall, so your property will look day one for years to come.
Do you have a domestic project in Horsforth, like a new floor for your home or shiny new driveway, that requires our heavy duty, scratch-resistant, resin flooring? Our 100% accredited and professional flooring contractors in Leeds will bring your home long-lasting results.
Needing some new industrial resin flooring for your factory in Knowsthorpe to replace your old, poorly laid floor? We at Concrete Flooring Solutions can bring you an incredible new epoxy resin floor to your industry environments in Leeds that are both chemically and thermally resistant.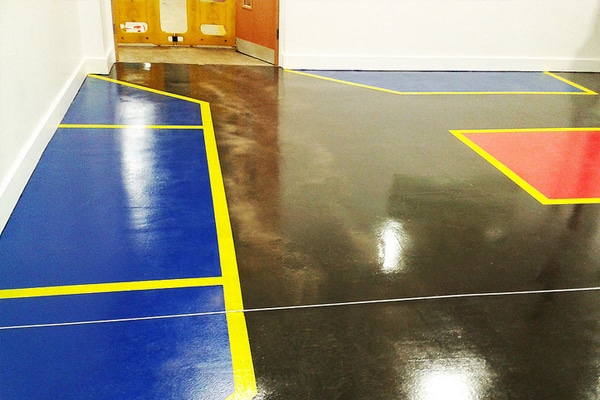 How Can Having Resin Flooring in Leeds Benefit You?
Our resin floor contractors in Leeds can revamp the floors of your property with highly durable, waterproof and heavy duty poured resin flooring systems which are exceptionally beneficial for commercial areas, such as the Victoria shopping centre, and environments with a lot of foot traffic, like Trinity Leeds. Because of its high durability, resin floors don't become scuffed and unsightly over short periods of time like traditional concrete or tiles do. This will guarantee a greater ROI due to its reliability and less need to be replaced.
Having resin floors in Leeds also boasts a greater slip resistance than its flooring counterparts purely because of the nature of the material. This creates a higher sense of safety in the areas covered by the resin flooring, which is ideal for all environments; industrial, commercial and domestic. Our team of professional resin floor contractors in Leeds can have your safe and reliable resin floor down and ready to use within a matter of hours.
What Can Our Resin Floor Contractors in Leeds do for you?
We at Concrete Flooring Solutions know that you want stunning and durable flooring that's affordable and doesn't cost the Earth. So here is a list of the flooring options which our resin flooring contractors in Leeds can offer for your project:
Polyurethane Resin Flooring:
The best resin flooring in terms of chemical resistance, this option makes for a great choice for scientific and industrial settings that often handle harsh or corrosive chemicals. This also makes a great choice for settings frequently working with fluctuating temperatures, so if you've been needing to upgrade the floors in your scientific labs or industrial warehouse, this is the best option for you.
Epoxy Resin Flooring:
Our resin flooring contractors in Leeds are able to supply epoxy resin flooring, renowned for its reliability as an extremely durable, hard wearing, and heavy duty. As the most widely available type of resin flooring, epoxy resin can also be altered with properties which enable slip resistance and self-smoothing properties which makes the resin safer and longer lasting – guaranteeing a greater ROI.
Methyl Methacrylate:
Just as durable, with a fraction of the curing time, this type of resin flooring is best for those with projects on a tight time schedule and needing to be completed quickly. Because of its chemical composition, this type of flooring cures far quicker than any other resin we provide. Rendered usable within just a few hours, this resin is best for commercial projects and shopping centres, like the white rose, needing to be ready to use the next day.
Cementitious Urethane Flooring:
Extremely resistant to frequent, and rapidly changing, temperature changes – as well as being completely impervious to water – this type of flooring is best for those who work in industrial environments who frequently work with hot materials and lots of liquid, like a blacksmiths or a large scale bakery located in Armley. These floors also have the added benefit of being easier to clean due to its extra properties compared to other flooring.
All of our resin flooring designs are in accordance with the industry standard Concrete society's technical report 34.
Contact us Today for the Best Resin Flooring in Leeds
Our resin flooring contractors in Leeds are more than willing to help with your project with our epoxy resin and polyurethane specialists. Whether in a commercial, domestic or industrial setting, Concrete Flooring Solutions is here to get your project completed efficiently and professionally, as well as in a completely COVID secure way with minimal invasiveness.
To get your project completed in the best way possible, and with some stunning results, give our team a call today. Alternatively, send us a message through our contact form, and we'll get back to you as soon as possible.