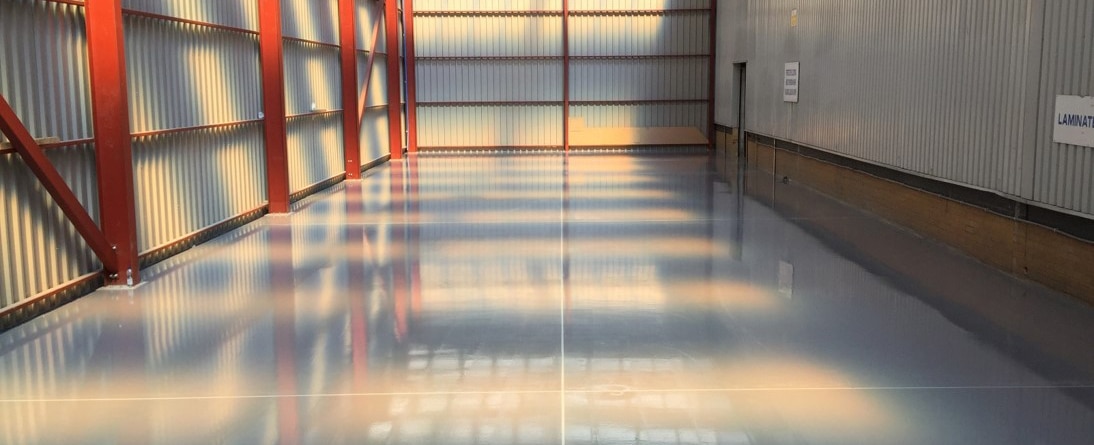 Professional Installation of Resin Flooring Lancashire
Over 40 Years' Experience
100% Accredited
Competitive Rates
Lifelong Results
Constructionline Gold Member
If you're looking to install cost-effective, stylish, and high durability resin flooring systems for your next project, Concrete Flooring Solutions is your number one choice throughout the UK. Not only do our specialist resin flooring contractors supply and install the highest quality epoxy resin flooring and floor coatings for any property in the UK, but we also have the years of experience required to deliver stunning results with every flooring project.
Whether you're looking for some high quality commercial flooring for your shop in Ashton-on-Ribble, or you'd like some stylish resin flooring for your home in Chorley, our expert flooring contractors would be more than happy to help.
When you choose Concrete Flooring Solutions, you can expect:
Flooring options that deliver high performance and lifelong results
Specialist resin flooring contractors with over 40 years of experience
Highly competitive and cost-effective rates
Assurance of quality by accreditation from professional bodies
Flooring experts with Constructionline Gold member status
Read more about our resin flooring contractors here.

If you're interested in installing resin flooring in Lancashire? Get in touch through our contact form.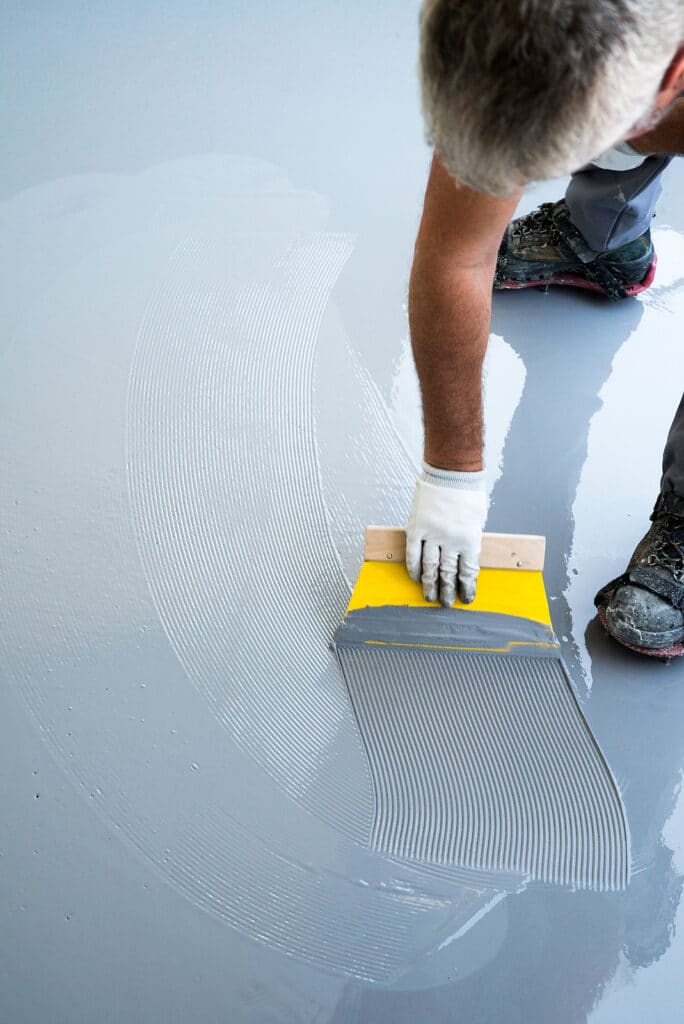 Uses of Resin Flooring in Lancashire
Resin flooring can be applied in a wide range of environments to provide multiple benefits, with some resins offering more advantages than others in different places. This includes industrial grade resin flooring, a perfect flooring solution for facilities such as warehouses, kitchens, food preparation areas, car parks, and hospitals, as they create a floor covering that is easy to clean, easy to maintain, and can be altered with slip-resistant properties. Read more about our industrial flooring for car parks here.
Our range also features food-safe resin flooring products, read about them here.
Resin flooring creates a hard-wearing surface that can handle heavy impacts, is extremely durable, and has a very long lifespan. These hard-wearing characteristics of epoxy and polyurethane screeds mean that they create seamless flooring solutions that can withstand heavy use from high footfall in commercial areas, and traffic from factory machinery.
Our resin flooring options are available in a variety of colours, with aesthetic and practical alterations available, to suit the style and purpose of your project. If you would like sparkly, anti-slip flooring; we'll see what we can do for you.
If you're interested in the installation of high-quality resin flooring in Lancashire, please do use our contact form. We can discuss your needs, and provide a quote for your project. Get in touch today.
High-Quality Options for Resin Flooring in Lancashire
Here at Concrete Flooring Solutions, we have three main types of resin flooring on offer:
Polymethyl methacrylate
Heavy-duty polyurethane
Epoxy resin
Though each of these options offers significantly more hygienic and durability benefits than other flooring options on the market, there are differences between each option that provide significant advantages depending on where they are used. Here, we'll be explaining the uses of each option and where their best application and uses lie.
Polymethyl Methacrylate
Polymethyl methacrylate is also known as a thermoplastic type of resin, meaning that it is highly customisable with industrial needs, such as anti-slip and chemical resistant features. This type of resin is also known as acrylic, or acrylic glass, which is made to create durable products like perspex and plexiglass.
Most notably, polymethyl methacrylate has an extremely fast curing time. Even at temperatures below zero degrees celsius, it can be installed and cured in as little as a weekend. This is beneficial for businesses that require minimal downtime in order to not disrupt important business runnings and commercial properties with floors that need to be used as soon as possible.
Read more about our retail resin flooring here.
To support the super-fast curing times, polymethyl methacrylate is also easy to repair and upgrade due to the unique chemical bond – simplifying repairs and making them more streamlined compared to other flooring options on the market. The only downside to polymethyl methacrylate flooring may be the price, however, we believe that the price tag is completely worth it for its long lifespan and the convenience it offers alone.
Do you think polymethyl methacrylate will provide a good solution to your next project? If you have an ongoing project and require a durable, stylish, and seamless floor, get in touch with Concrete Flooring Solutions. We can discuss your needs in detail, and decipher whether or not polymethyl methacrylate is the best option for you.
Polyurethane
In a similar style to polymethyl methacrylate, polyurethane floors also boast excellent resistance to chemicals, impacts, and constant abrasive footfall. In contrast, polyurethane floors offer a substantial resistance to high temperatures; meaning that this is a fantastic option for bakeries, food preparation areas, and areas where hot metals are handled. Even when exposed to direct heat from ovens and furnaces, your polyurethane floor will not buckle.


As well as being available in a variety of different stylish finishes, able to adapt to multiple different aesthetics and environments, floor painting is also an option for more specific line markings in car parks or warehouses.
For more information about resin flooring for industrial areas and car parks, read here.
Contrasting polymethyl methacrylate, polyurethane resin is a thermoset resin; meaning that it can take significantly longer to cure. This means that there may be significantly higher levels of disruption to business processes during installation.
Are you looking for a heat resistant floor for your bakery or a floor that can handle sudden bursts of heat in front of furnaces or cooling equipment? Heavy-duty polyurethane flooring may be the best choice for you.
Epoxy Resin
The most well known and widely recognised type of resin used in the industry, epoxy resin acts in a similar way to polyurethane. As a thermoset resin, it is highly customisable with stylistic and practical alterations. Epoxy resin is also extremely hard wearing, and offers great protection against electrical currents – a fantastic idea to use this in electrical-based workshops as a safety measure.
Epoxy resin completely binds to the concrete sub-floor, resulting in a brilliantly hard and durable flooring system, and completely impervious to water ingress, chemicals, as well as heavy impacts. However, epoxy resin does have the longest curing time period of all available resins, meaning that it may cause significant disruption to operational businesses if installation is not timed correctly. if the flooring does become damaged, it will also take a lot longer to repair.
If you're looking for a resin flooring system that can protect you and your colleagues against potential electrocution in your industrial warehouse, or you're looking for a flooring option with high aesthetic customisation potentials, epoxy resin may be the best choice for you.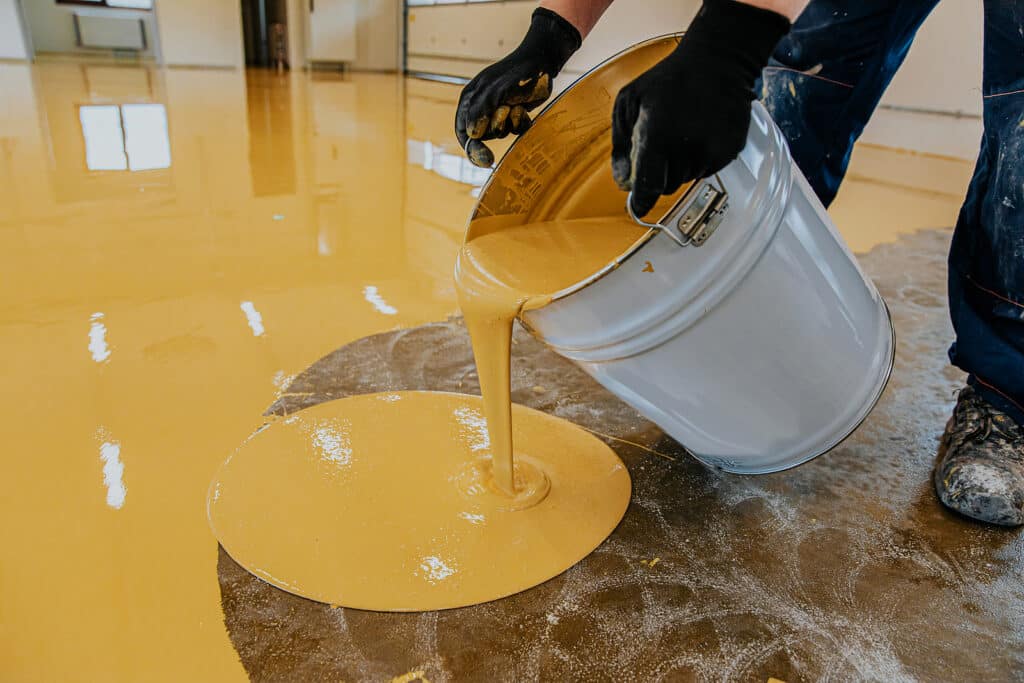 Contact us Today for High Quality Resin Flooring in Lancashire
Are you interested in resin flooring for your next project? Concrete Flooring Solutions provides the best quality resin flooring in Lancashire, so you can be confident in the fact that our resin flooring specialists with years of experience can provide a lifelong result you can be proud of in your home, commercial property, or industrial warehouse.
Looking for expertly installed resin flooring in Lancashire? For the number one supplier and installer of resin flooring in Lancashire, get in touch via our contact form today.