Durable Resin Flooring in Glasgow
Over 40 Years' Experience
100% Accredited
Competitive Rates
Lifelong Results
Constructionline Gold Member
Concrete Flooring Solutions focus on providing quality floor coverings and floor coatings in and around Glasgow. Whether you want slip-resistant flooring throughout the University of Glasgow or resin bound industrial flooring for your workshop or warehouse in Paisley, we're able to provide fast installation within all workspaces.
To get the best resin flooring in Scotland installed in your commercial or industrial vicinity, contact us today to receive a free online quote.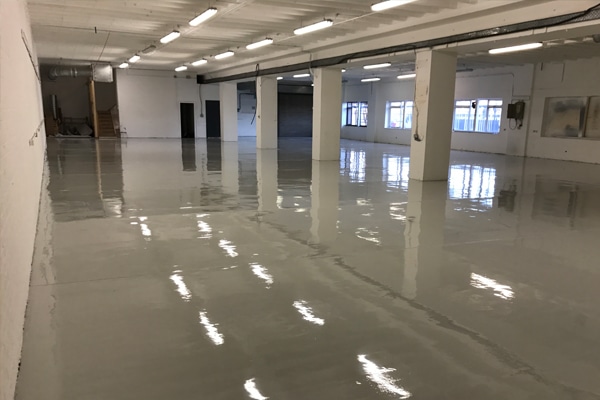 Where Can We Cover?
Concrete Flooring Solutions offers a wide range of epoxy resin flooring solutions in Scotland for all your domestic, commercial, and industrial needs. As one of the best flooring companies in Glasgow, we can professionally and affordably supply and install any epoxy resin flooring systems that you desire, as well as any resin surfaces with special features. From Bothwell to Clydebank, we provide expert resin flooring across Glasgow.
Need epoxy resin flooring in Glasgow?
As Glasgow's best flooring company, our contractors offer a wide range of resin floor coatings catered to your needs. From anti-slip and easy to clean epoxy resin for your domestic and commercial use, to our extremely high durability epoxy screeds – which we highly recommend for industrial settings, our team of professionals can have your rapid cure poured epoxy resin flooring complete as fast as possible.
We offer a wide range of poured resin floor installation options throughout Glasgow. Need to know what one suits you best? Take a look just below:
Epoxy Resin Flooring:
As the most well-known and distributed type of resin flooring, epoxy resin floors are best defined by their high durability, performance and protection; as well as the ability to be altered with anti-slip properties. Epoxy resin will save you money in the long run, due to the fact they completely stick to the pre-existing subfloor; eliminating the need to refloor for many years.
Methyl Methacrylate:
By utilising the fast curing properties of this type of resin, these types of floors are usable within just a few hours. Ready to be used on the same day, cutting curing times by a fraction and perfect for high turnover projects.
Cementitious Urethane Flooring:
These floors are unrivalled when it comes to liquid spills. This is the resin flooring to choose when you want your resin flooring to be completely waterproof, as well as withstanding huge fluctuations in temperature. These resin floors are also far easier to clean than their counterparts – which is another added bonus.
Polyurethane Resin Flooring:
These floors boast enhanced heat and chemical resistance. So if your workshop or lab works with fluctuating temperatures or frequently handles a lot of chemicals, this type of resin flooring is your best choice in upgrading your floor.

All of our resin flooring designs are in accordance with the industry standard Concrete society's technical report 34.
Benefits of Having Poured Resin Flooring in Glasgow
One of the main benefits of having resin flooring in Scottish cities is its high durability. Having resin flooring in Glasgow is especially beneficial in its commercial areas due to the exceptionally high foot traffic, with tourists and locals creating a huge population density at one time.
In these areas, non-resin floors can become scuffed and unsightly over time, which will cost more over a longer period of time due to the need to be replaced and upgraded more often. Resin flooring also boasts better slip resistance than other materials purely because of the type of material it is – this also enables the area covered by the poured epoxy resin to be a lot safer, which is great for busy areas in Glasgow, such as Pollocksheild, Parkhead and Finnieston.
Our resin flooring will save you a small fortune because of its superior durability and affordability.
Contact us Today for Epoxy Resin Flooring in Glasgow
Our concrete contractors pride themselves on bringing our epoxy resin contractors to your door as fast as possible in Glasgow. Call us today or send us a message through our contact form, for a free quote on our expertly poured resin floors.
FAQs
How much does your resin flooring cost?
The price of each resin flooring installation project we undertake is calculated and quoted individually. Our specialist resin floor team will work closely with you to ensure that each one of your specifications are taken into account when calculating the cost, whilst not breaking the bank. We can guarantee that you will only be paying for what you need for your project and nothing more, there are no hidden costs.
How long does installation take?
We will work with you and your plans in order to set out a precise time frame for your project which is catered to you. We always work to ensure your resin flooring is completed in a COVID secure way, as well as within a succinct timeframe that doesn't disrupt your work or daily routine. Depending on the type of resin used, curing can take as little as a few hours and rendered usable within a few hours of us laying the new resin flooring.