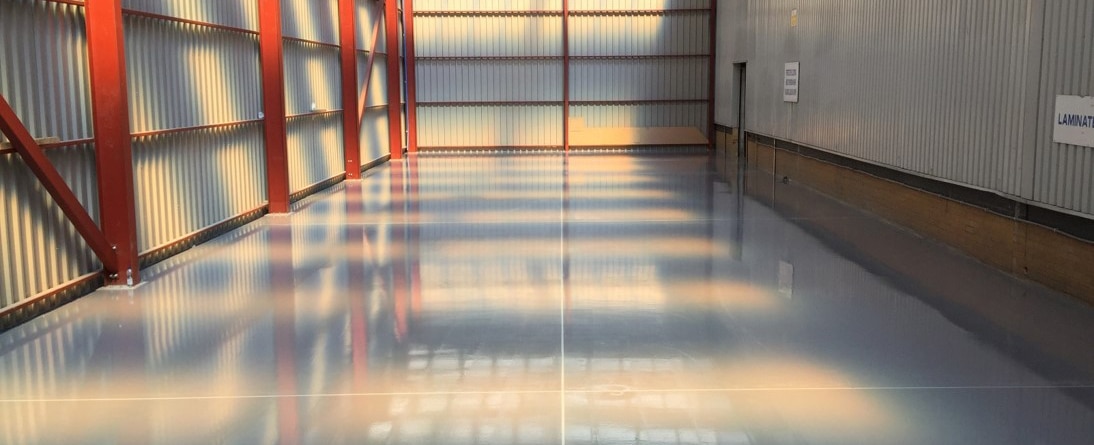 High-Performing Resin Flooring in Durham
Resin Flooring Contractors in Durham
Over 40 Years' Experience
100% Accredited
Competitive Rates
Lifelong Results
Constructionline Gold Member
Resin Flooring in Durham
Concrete resin flooring is the perfect solution if you're looking for a heavy-duty flooring system that is built to last. We are the experts in resin flooring and provide professional resin flooring installation in Durham and the North East.
We have over 40 years of experience in providing the highest quality resin flooring systems across the UK. Our flooring solutions have been installed for countless clients in industrial, commercial, retail and even residential properties.
The resin flooring we install in County Durham includes epoxy resin, polyurethane resin and rapid-drying polymethyl methacrylate flooring.
Keep reading to learn all about the many benefits of resin flooring from Concrete Flooring Solutions and which option will best suit your needs. Or get in touch today for an instant quote.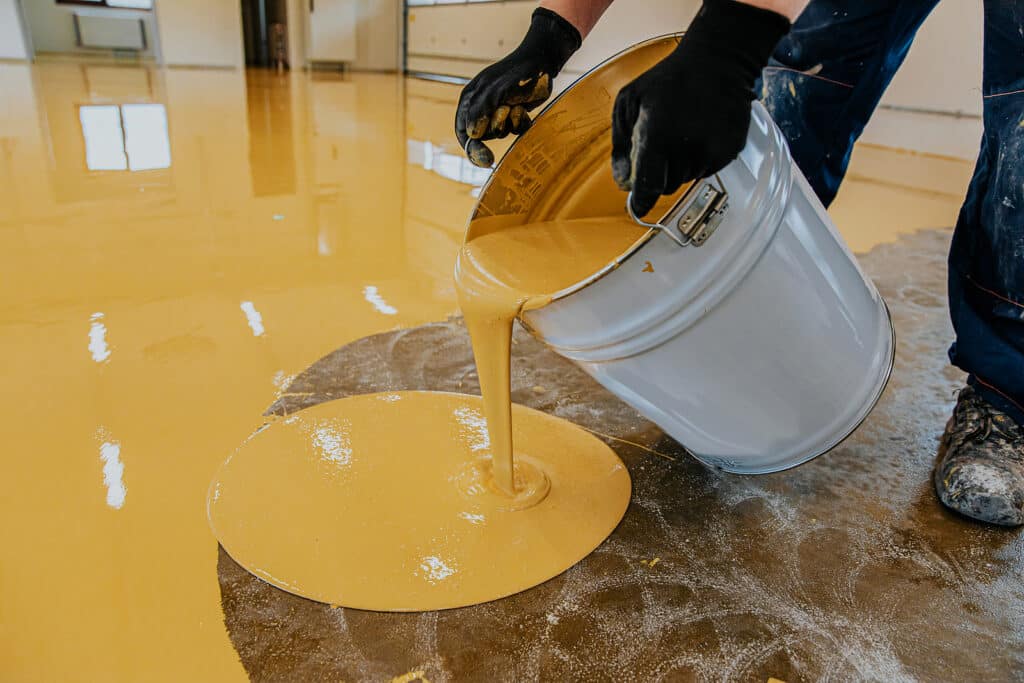 Why Choose Us For Resin Flooring in Durham?
Our installation experts are fully trained in advanced techniques to ensure the concrete resin floor coating we provide is built to last – and looks good doing it.
We strictly adhere to The Concrete Society's Technical Report 34, which is the industry standard for top-quality resin flooring applications. Our installers always go the extra mile to get your flooring rendered as quickly as possible and with as little disruption as possible.
Here are just some of the reasons why you should choose us:
Tradespeople who have 100% accreditation from the key industry bodies
Constructionline Gold member status
Flooring you can rely on to last a lifetime
Excellent rates that offer exceptional value for money
What Resin Flooring is Best for Your Needs?
Commercial and industrial clients choose resin as their flooring solution because of its superior range of benefits in comparison to traditional laminate, linoleum or tile floorings.
Resin flooring is:
Exceptionally durable
Water-resistant
Easier to install than other floorings
Cost-effective in the long run as it is very low-maintenance
Aesthetically pleasing
Easy to customise or add to
We have three options for resin flooring systems. Read about each option and its unique benefits below:
Epoxy resin flooring is the most commonly chosen option for commercial and retail spaces. This finish works by the resin bonding to the surface of the concrete to yield a particularly durable floor that has a seamless finish.
Epoxy resin is suited to:
Schools
Commercial and retail spaces
Spaces with a large amount of constant foot traffic
Warehouses
Spaces with heavy machinery
Epoxy resin is:
Slip-resistant
Highly resistant to impact
Easy to clean, providing long-term hygiene maintenance
Easy to customise: There is a lot of decorative potential for this flooring with multiple colour choices and finishing effects available. You can paint on it or apply line markings to suit the needs of your space.
Polyurethane provides a softer finish than epoxy resin that's more flexible and malleable. This makes it able to withstand drops from heavy items and fluctuating temperatures.
Polyurethane resin is suited to:
Industrial spaces
Breweries or bakeries that are always experiencing temperature extremes
Car parks
Polyurethane resin is:
Exceptionally hard-wearing
Has a high temperature tolerance
UV-resistant
Able to endure constant use of strong chemicals
Easily wiped clean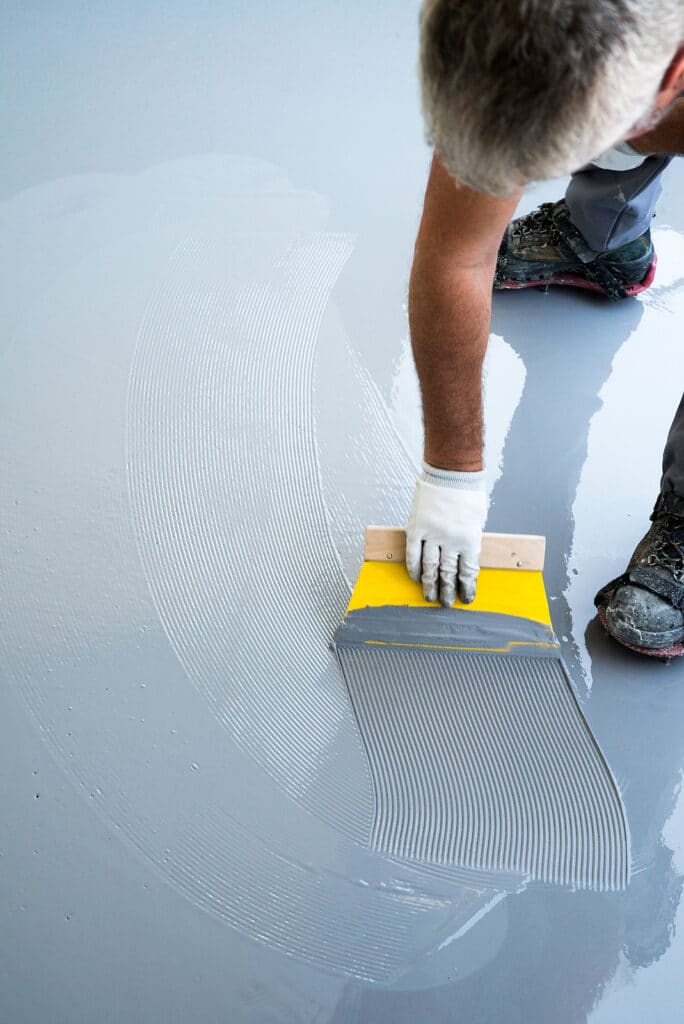 Polymethyl Methacrylate Flooring
Polymethyl methacrylate flooring has the fastest curing time of all the resin floorings while still providing all of the above benefits.
Polymethyl methacrylate is suited to:
Clients with multiple flooring projects on the go at once
Businesses who need as little down time as possible
Polymethyl methacrylate is:
Able to be finished and rendered fully usable in just two days
Still exceptionally durable
This incredible curing time means polymethyl methacrylate flooring is higher in cost than the other flooring solutions we offer. We believe the value for money is unbeatable. Our friendly team is available to discuss your options, just contact us. 
Get an Instant Quote on Resin Flooring Installation in the East Midlands
If you need a heavy-duty, high-quality flooring system in the East Midlands that you can rely on, Concrete Flooring Solutions is the best provider you can find.
Our premier resin flooring is always installed by highly-skilled flooring contractors in the fastest times using the least disruptive methods – without any compromise on quality. All of this comes with competitive prices that can suit a range of budgets and requirements.
Our team of experts are on-hand to discuss the best choice for your space and we are always happy to accommodate a range of unique needs in our installation service. Get a quote from Concrete Flooring Solutions today and transform your flooring system.