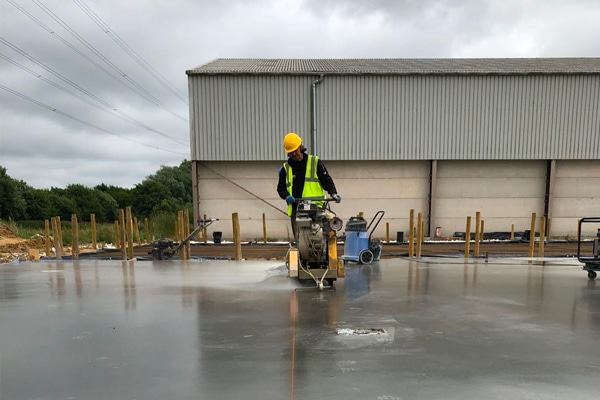 Get an Instant Quote
Get an easy quote with our price calculator:
Where We Work
Industrial Flooring in Southampton
At Concrete Flooring Solutions, we take great pride in being one of the UK's leading concrete and industrial flooring contractors. With over 30 years of experience in the industry, we know that we have all the equipment and skills necessary to help any of our customers nationwide, so they can have the flooring system they need for their building project. This is why we know that if you have been looking for industrial flooring in Southampton, we can provide you with the best heavy duty flooring on the market, installed and finished to your exact requirements.
Industrial Flooring Experts in Southampton
We want our customers to have the highest quality flooring available. To help this, we spend time discussing the specifics you want followed, so that your building can be completed with the floor it needs. We also ensure that each design we install is made in accordance with the guidelines set by The Concrete Society's Technical Report 34, so you will always be getting a product made to industry standards.
We also believe in keeping you updated from the start of the process to the finish. So, if you are looking for industrial flooring in Southampton or the surrounding areas, get in touch with us today to talk with our staff about what you need, and we will keep you updated as the work progresses.
Our Process for Industrial Flooring in Southampton
When we receive a call requesting an industrial floor in Southampton, our first step in the process will be to ensure your requirements are all being met and our standards are being maintained, through a series of thorough checks and intricate planning. We also aim to use only state-of-the-art design technology when creating your floor, keeping every aspect of the design exactly as you need it.
The Types of Industrial Flooring We Offer in Southampton
We offer two different types of heavy-duty industrial flooring in Southampton, both of which are designed to suit the needs of different projects. Factors such as foot and vehicle traffic, the type of site you need the floor installed on, and whether or not it will be placed inside a building all play a role in determining which type of flooring you need.
Industrial Concrete Flooring
A popular choice for commercial and industrial flooring among our customers, our industrial concrete flooring is durable, easy to clean and maintain and ideal for flooring areas which will see a lot of heavy foot traffic and heavy machinery. It can also come in a range of designs, meaning that you can have your floor exactly the way you want it at the end of the installation. 
If you would like to learn more about our industrial concrete flooring and how it can be perfect for your warehouse, factory or commercial kitchen flooring, get in touch with us today or see our page.
Composite Metal Decking
When it comes to new office or retail builds, composite metal decking is not only the new industry standard but also a type we highly recommend. Not only does the interlocking design of metal beams and concrete slabs highly reinforce the overall structure, but it also guarantees a swift, easy installation. We will be able to deliver the required slabs in no time at all and get them slotted into place, meaning you will be able to move onto the next stage in your work project sooner than expected.
To find out more about the composite metal decking we'll offer for industrial flooring in Southampton, please go to our page or contact us. Our staff will be more than happy to help answer any of your questions.
Floor Finishes
Once your floor has been laid, we will also be able to offer you a number of floor design finishes, from concrete with a brushed finish, to polishing and buffering your new purchase until it is completely smooth with a high sheen. Depending on the type of property your floor is for, you may wish to utilise these finishes. For example, brushed finish concrete is ideal for outdoor areas where it is likely that those travelling by foot would slip if the floor was wet, while polished concrete can provide an easily-cleaned surface for interiors.
To learn more about the finishes we offer for our industrial and commercial floors, please call us today.
We Offer High Quality Flooring and Professional Service
When you choose to have your flooring installed by us, you will be guaranteeing yourself a product that has been planned out and laid by highly trained and qualified professionals. This will save your firm time in that we know we can carry out your installation quickly, and it will also save you money because our floors are designed to last, with only cleaning and minimal maintenance needed keep them in good working condition.
Contact Us Today
If you have been looking for high quality, maintainable and easily cleaned industrial flooring in Southampton, whether for a warehouse, factory or retail building, we have a simple, swift solution for you. Get in touch with Concrete Flooring Solutions today and our expert team will be able to help get you started on planning your purchase.
If you would like a quick quote on what our services will cost for your floor, please use the instant quote price calculator at the top of our page. We will do everything we can to help you remain on budget, or even come in under it, and this calculator can give you an idea of how prices for our services can be spread across the work we carry out.