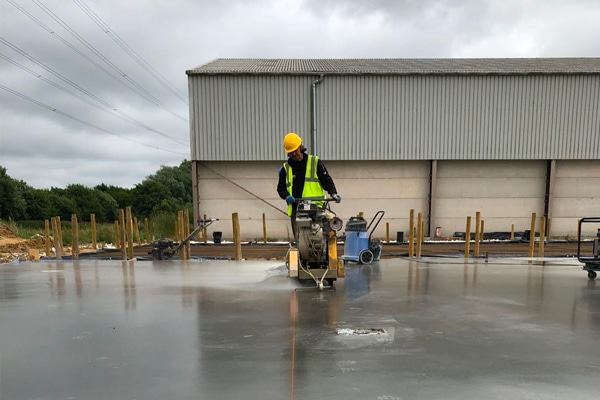 Get an Instant Quote
Get an easy quote with our price calculator:
Where We Work
Industrial Flooring in Essex
Here at Concrete Flooring Solutions, we take pride in our work and in our position as one of the UK's leading concrete and industrial flooring contractors. Over the decades we have been serving our customers, we have perfected our products and our installation process, so we know we have the knowledge and skills necessary to install high-quality industrial flooring in Essex. 
If you are in need of heavy-duty flooring for your property in Essex, get in touch with us today and we will be able to discuss any requirements you have, before carrying out a swift and professional installation.
Experts in Industrial Flooring in Essex
We aim to provide all our customers with flooring systems that are designed and installed to the highest standards. To ensure that you will be getting exactly the flooring you want, we will spend time with you, discussing the specifications you require before we begin our work. Everything we do is also completed to the standards set by The Concrete Society's Technical Report 34, meaning that all the floors installed by us are designed and laid to industry standards.
We will keep you updated on the progress of your installation, throughout the planning process right up until the work has been completed. So, if you are in need of industrial flooring in Essex, contact us and we will be able to start work on supplying and installing your purchase right away.
Our Process for Industrial Flooring in Essex
When we are called to install industrial flooring in Essex, we will first carry out a series of thorough checks that will help us put a plan together. This will then ensure that our standards are maintained and your floor's requirements are met.
To carry out the work, we will only ever use the most up-to-date equipment we have available, keeping every part of your design exactly as you want. This will also make sure that your floor is completed to the highest quality we can make it.
The Industrial Flooring We Offer in Essex
We have two different types of industrial flooring available to our customers in Essex. Both are equally easy to clean and maintain, but they are also suited to different building types as a finished product. Factors including levels of foot and vehicle traffic and whether the floor will be located in an interior or be built as part of an exterior all play a role in determining which type of flooring you will need.
Industrial Concrete Flooring
This type of flooring is popular among our customers because of its durable design and easy-to-clean surface. As it is a compact floor and has been installed professionally, it should also require very little maintenance, making it ideal for industrial and commercial locations which see a lot of heavy foot and vehicle traffic. You will also be able to design your floor to your own requirements, as our floor design service allows you to pick the finished look of the work.
To learn more about industrial concrete flooring in Essex, please get in touch with us today, or see our page on industrial concrete flooring.
Composite Metal Decking
This type of flooring is now considered the industry standard for new office and retail builds, and we highly recommend it as a product. The combination of interlocking metal beams and concrete floor slabs reinforces the overall structure of your build, and the slab design of the concrete means that your purchase can quickly be delivered and easily installed. This will save you time which can then be used on getting ahead in the rest of your work project.
If you want to know more about composite metal decking and what it can do for your property, please see our page. Alternatively, you can also contact us and we will be happy to answer any questions you may have.
Floor Finishes
At the end of the installation, we will be able to offer you a number of different floor design finishes, which you may wish to utilise for aesthetic or practical purposes. For instance, you may wish to have a highly polished concrete floor for your retail property, which you are able to easily keep clean and looking stylish for customers, or you could want a brushed finish to create safety flooring for foot traffic on an outdoor area. The choice is yours, though the finish you choose will most likely be connected to the type of flooring you are purchasing and the building style it will be installed in.
For more information about the floor finishes we provide for industrial flooring in Essex, please call us today.
Professional Installations of Top Quality Products
By choosing Concrete Flooring Solutions to carry out an industrial flooring installation for you, you will be ensuring that your product is supplied and installed to the standards not only expected, but also deserved. Every part of the process will be carried out by trained and qualified professionals, saving time in that the installation will be carried out quickly and saving your company its budget with floors that are designed to last for years with simple cleaning and light maintenance.
Call Us Today
For the most hard-wearing, easy-to-clean industrial floors in Essex, whether they are for a factory, warehouse or retail building, get in touch with us today. Our expert team can help you plan exactly the floor you need, no matter the requirements, and will be able to provide the fast, easy solution to get your work project moving ahead.
To get a quick quote on what you think you will need for your flooring, please use the instant quote price calculator at the top of this page. We will do everything we can to keep you on budget, or to even see you come in underneath it, so this quote can give you an idea of how our prices can be matched to what you intend to spend.