Concrete Flooring Services in East and West Sussex
Here at Concrete Flooring Solutions, we have been supplying the people of East and West Sussex with quality industrial concrete flooring for over 30 years. Our team at Concrete Flooring Solutions are dedicated to ensuring customer satisfaction is met on every job as well as supplying quality concrete flooring. Throughout our time, we have helped thousands of customers achieve their desired concrete flooring results, despite this, we're always striving to better ourselves and improve our relationships with our customers.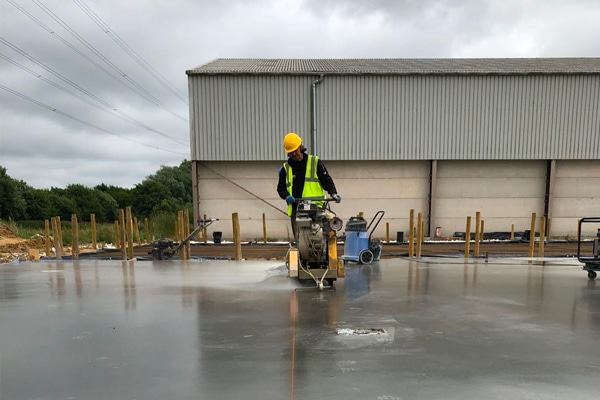 Get an Instant Quote
Get an easy quote with our price calculator:
Concrete Flooring in East and West Sussex
Our team at Concrete Flooring Solutions doesn't just design and install your flooring, we help you choose the design and type of floor that will suit your room or property. We help advise our customers on the concrete flooring that will best suit their needs and budget. We're always on-hand to answer any question or queries that you may have regarding our concrete flooring services.
We cover everything from industrial concrete to polished! If you require concrete flooring that isn't listed below, please do not hesitate to contact one of our staff members, as we will do our utmost to help you acquire the flooring you deserve. Our bespoke concrete flooring options can be seen below:
Industrial Concrete Flooring
Commercial Concrete Flooring
Residential & Domestic Concrete Flooring
Polished Concrete
As stated previously, if you find that the service you require is not featured in the list above, do not fret! Simply get in touch with one of our concrete flooring experts here for more information on how we can help you attain the concrete flooring you desire. Our team are happy to help with any job, no matter how big or small!
Our Concrete Flooring Options in East and West Sussex
At Concrete Flooring Solutions, we're always looking to keep up to date with the latest concrete finishes. Many of our customers do not know the difference between the concrete finishes we offer. So, with that in mind, we have given a short description of what each concrete flooring option entails. Below are the main concrete flooring finishes we offer:
Industrial Concrete Flooring
This has been our most popular concrete flooring option for quite some time. The reason for this is probably because so many areas require it – large car parks and industrialised areas such as city pavements. Additionally, industrial concrete is incredibly versatile. It's able to be built on grade or it can be suspended (depending on the structure).
For more information, or to contact us regarding our industrial concrete flooring, click here.
Commercial Concrete Flooring
Commercial concrete flooring shares many similarities with industrial concrete flooring – in that it can be used in the same areas. However, the difference between the two lies in the aesthetics, commercial concrete is seen to give a more 'professional' feel to the end product. This makes it slightly more popular in restaurants.
For more information, or to contact us regarding our commercial concrete flooring, click here.
Residential & Domestic Concrete Flooring
Residential and domestic concrete flooring is a design that is slowly growing in popularity. The main reason for this is that it allows room for more creativity. Certain colours, shades and tints can be applied, which makes the flooring a good choice for universities and restaurants.
For more information, or to contact us regarding our residential and domestic concrete flooring, click here.
Polished Concrete
Polished concrete is another flooring option that is swiftly growing in popularity. In fact, it is now seen as the most professional concrete finish on the market because of its polished finish. It's able to bring more light into a room and generally gives the area a cleaner, smarter finish,  ideal for art galleries and creative exhibitions.
So, if you're looking to utilise our polished concrete finish within your property, company building or whatever it may be, why not get in touch here?
Composite Metal Decking
Composite flooring is ideal for retail sites and new office builds. The main advantage with composite metal decking is that it's very easily fitted. As it comes in slabs, it's  simply a case of slotting them into place, making the job swift and efficient. For more information, or to contact us regarding our composite metal decking, click here.
Design Services
Additionally, we are also able to offer unique design solutions to our clients. These are for both ground bearing slabs and ground slabs supported on piles (using wire mesh reinforcement).
Our designs are in accordance with The Concrete Society's Technical Report 34 which has become the industry standard for concrete industrial ground floors. 
Our Approach
Our number one priority at Concrete Flooring Solutions will always be ensuring that our staff and customers feel valued and respected. From that, our service and efficiency will always be of the highest quality. If you'd like to learn more about what it is we do here at Concrete Flooring Solutions, you can reach us through our Contact Page, or call us on 0845 592 0083.