Concrete Flooring Services in Southampton
Our team at Concrete Flooring Solutions has over 30 years' experience in the concrete flooring industry and we're always looking to help both old and new customers. Recently, we have been servicing people in Southampton, helping them achieve their concrete flooring desires. our customers are our most valued asset, without them we simply would not be here today! Due to our expansion and customer reviews, we're proud to say that we're now the UK's most sought-after concrete solutions company.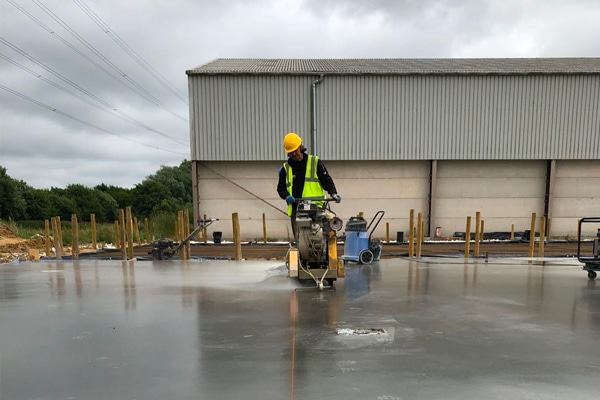 Get an Instant Quote
Get an easy quote with our price calculator:
Southampton Premier Concrete Flooring Specialist
Since our founding, we have been working tirelessly to ensure that all of our customers receive the dedicated service they deserve. Our company is built on relationships, both between our staff and our customers. This is how we have seen so much success over the years, because by growing and developing healthy relationships, it helps us understand more about what our customers require.
We understand that having concrete flooring installed can usually seem like a tiresome and invasive process. That's why, here at Concrete Flooring Solutions, we're always trying to make things simpler, namely by not getting in your way! We try and work in a minimally invasive manner so that we don't disturb your day-to-day routine, or work atmosphere. If you are becoming disturbed by our work, please do let us know and we will do our utmost to come to an agreeable solution that accommodates both of us!
At Concrete Flooring Solutions, we cover a range of bespoke flooring solutions here in Southampton. We understand that everyone has their own individual requirements when it comes to concrete flooring. So, if you find that none of the above concrete finishes match your desired style, don't worry! please do not hesitate to get in touch with one of our team members to see if we can come up with a concrete finish that you can appreciate.
Call us on 0845 517 9193 or reach us through our Contact Page!
Our Concrete Flooring Options in Southampton
We're always keeping ourselves updated with the latest advancements in concrete technology. Keeping up with trends is part of our job and is an essential task to ensure that we continue to grow as a company! This also means that customers will be able to demand more creative concrete flooring finishes. Below is an outline of our four main concrete flooring finishes.
Industrial Concrete Flooring
This finish is probably the most common concrete finish used in the UK. It is seen everywhere, from large car parks to city pavements. Industrial concrete is very versatile and can be built on grade or suspended depending on the structure of the building in question.
For more information, or to contact us regarding our industrial concrete flooring, click here.
Commercial Concrete Flooring
Commercial concrete flooring is another popular service we perform here at Concrete Flooring Solutions. This finish is fairly similar to industrial concrete in that it can be used in the same areas (car parks, pavements etc). the only major difference between the two is that commercial concrete is thought to emanate a more 'professional' finish. For more information, or to contact us regarding our commercial concrete flooring, click here.
Residential & Domestic Concrete Flooring
Residential and domestic concrete flooring is becoming an increasingly popular finish because it has the ability to inject a more 'creative' edge to your floor. This is particularly popular with retail shops and restaurants. Being able to inject a bit of flare and finesse is something we take pride in doing! For more information, or to contact us regarding our residential and domestic concrete flooring, click here.
Polished Concrete
Polished concrete is now our most popular service. More and more people are opting for this finish because it gives off a more 'professional' appearance. Many art galleries use polished concrete as it offers fantastic lighting, even universities are starting to use polished concrete! So, if you're looking to utilise our polished concrete finish within your property, company building or whatever it may be, why not get in touch here?
Composite Metal Decking
Composite metal decking is by far the easiest concrete flooring to apply. As the concrete comes in slabs, it makes the installation process easier. This technique almost halves the installation time, meaning it's both cost-effective and swift! For more information, or to contact us regarding our composite metal decking, click here.
Design Services
Additionally, we are able to offer unique design solutions to our clients. These are for both ground bearing slabs and ground slabs supported on piles (using wire mesh reinforcement).
Our designs are in accordance with The Concrete Society's Technical Report 34 which has become the industry standard for concrete industrial ground floors.
Our Approach
Our number one priority here at Concrete Flooring Solutions is to ensure both our staff and customers are treated with the respect they deserve – it's that simple. If you'd like to learn more about what it is we do here at Concrete Flooring Solutions, you can reach us through our Contact Page, or call us on 0845 592 0083.
Other Areas We Cover
We can cover every major city and county in the UK, if required. Our team are dedicated to ensuring that our customers receive the service they need. You can expect that once we have agreed on your project, work will start immediately and in the least invasive manner possible.
Our two primary offices are based in Hampshire and West Sussex. Below are some of the major
Contact Us Today for Concrete Flooring Services in Southampton
We like to think that our approach is simple and easy. So, if you have any questions, or would like a quote on your commercial property, why not give our team a quick call? We can offer concrete solutions to any client within the UK – so call today on 0845 592 0083, or get in touch via our contact form to see what we can offer you!