Concrete Flooring in Nottingham
Here at Concrete Flooring Solutions, we know that we lead the way among concrete flooring specialist companies up and down the country. Years of experience and our constant aim to improve our service have helped in this, as have updating our technology and never wavering in our commitment to our customers. We are proud to offer the help we do, and we are delighted to be able to offer it to customers contacting us from Nottingham.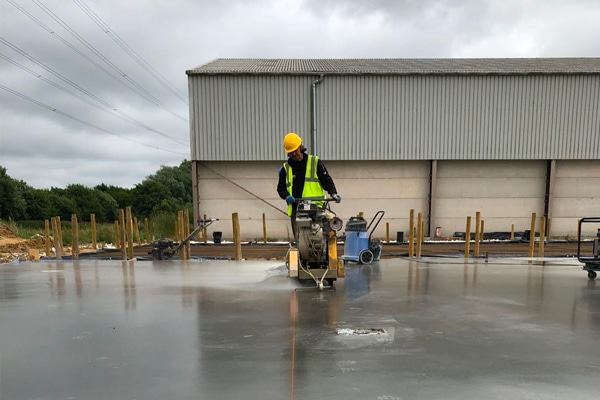 Get an Instant Quote
Get an easy quote with our price calculator:
Experienced Nottingham Concrete Flooring Contractors
Our team is made up of professional concrete flooring contractors, surveyors, designers and craftsmen, and all are dedicated to helping our clients across Nottingham.
Alongside our concrete flooring, we are also able to offer customers bespoke methods, such as composite metal decking.
Our other services include:
Industrial Concrete Flooring
Commercial Concrete Flooring
Residential & Domestic Concrete Flooring
Polished Concrete in Nottingham
If there is something specific you would like to order but you cannot see it listed above, please get in touch with us. We can help you find the floor that you are looking for, or provide a similar or superior alternative. If your floors have become worn from use or age, we can also provide replacements if attempting restoration will only delay the inevitable and prove less cost-effective.
We want you to get the floors you want. So, if you have been wanting concrete floors for your property, get in touch with us today.
Using one of our contact forms, you can place your order in no time at all.
Our Concrete Floor Finishes in Nottingham
Our highly qualified team of contractors pay attention to detail and will be happy to install our products in domestic properties, as well as the industrial and commercial sectors. In order to help you decide which flooring will be best for your property, take a look at our range of options below:
Industrial Concrete Flooring
This type of concrete flooring is most commonly found in car parks, city pavements and other areas where an extremely durable substance is needed. Depending on the structure it is placed in, this flooring can be built on grade or it can be suspended. Please let us know if you would like one of these features when placing your order.
Commercial Concrete Flooring
Commercial concrete flooring is most commonly found in places such as shops and restaurants, though as it is very hard-wearing and easy to clean, it can also be used in flooring for properties such as warehouses.
Residential & Domestic Concrete Flooring
Our services will even extend to smaller spaces, such as homes and other domestic properties. We can offer plain or coloured concrete, as well as ground and exposed aggregate, so if you are interested in any of these, get in touch with us.
If you are looking for something bespoke, please don't hesitate to ask. We will be more than happy to accommodate in any way we can.
Our Concrete Finishes
Polished Concrete Flooring
This is one of the most popular types of flooring that we offer to our customers and it comes in either plain or coloured varieties. You can also add an extra feature with this type, as it is possible to install underfloor heating when you get polished concrete flooring in Nottingham.
Composite Metal Decking
This type of flooring has become a standard in the construction of new office builds and retail sites, so we are proud to be able to offer this as the latest in flooring designs. Our delivery and installation service will also get this product to you swiftly and ensure that it is placed correctly, meaning you will have your new floor soon after.
Design Services
We are able to offer all of our customer's design solutions for ground bearing concrete slabs or for ground slabs that are supported on piles. We can do this using traditional wire mesh reinforcement, or fibre reinforcement.
Fibre reinforcement solutions are made either from fibre mesh, steel fibres, or a combination of both. We will look at each design individually so that the needs of our clients are met and the most cost-effective result is achieved.
If you do not know which type of flooring you need, contact us today and we will do everything we can to help.
For Beautiful and Durable Results
We want to help our customers in every way that we can, from providing excellent standards of customer care to selling the highest quality concrete flooring on the market. We have had satisfied customers return to us after they had a floor installed to order from us again, thanks to our ethics and the professional concrete flooring services we provide. If you would like more information about our services, get in touch with our friendly staff today. Or, if you would like to see what other clients have to say about us, go to our testimonials page.
All the designs and floor installation techniques we use are made in accordance with The Concrete Society's Technical Report 34, the standard for the industry. This serves as reassurance to our customers that all of our products are quality assured.
Call us Today
If you would like a quote on any of the products we offer, for a domestic, industrial or commercial property in Nottingham, contact us today. We provide concrete flooring of the highest quality, ready to be set in place and that can ensure the results you had been imagining.