Expert Concrete Flooring Services for the Midlands
We are a team of designers, surveyors and contractors dedicated to providing customers in the midlands concrete flooring that lasts a lifetime. We bring over 40 years' experience to the concrete industry with a specific focus on industrial and polished concrete services.
We specialise in laying concrete flooring to the highest flatness tolerance, ensuring a smooth, solid and durable finish for all property types.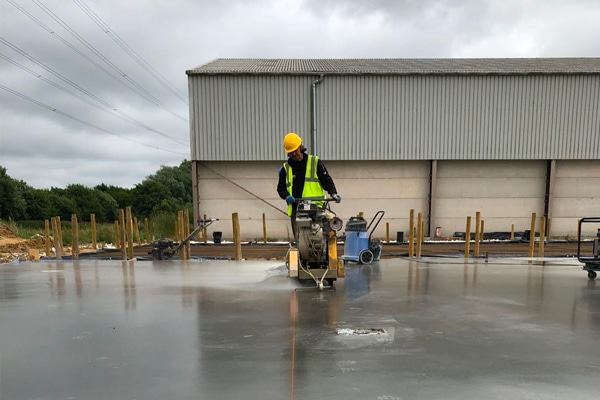 Get an Instant Quote
Get an easy quote with our price calculator:
Commercial Concrete Installation
We install concrete flooring across all commercial properties within the Midlands, offering affordable and competitive rates to our customers. Whether you require concrete floor surfaces for a large car park or a small retail space, our team has the experience to get the job done swiftly and efficiently.
Visit our Commercial Concrete page for further information. 
Residential and Domestic Concrete Flooring
We can install concrete flooring in all domestic and residential properties across the Midlands. Polished concrete is the most popular choice for these property types. The finish is durable, low maintenance and offers exceptional aesthetic value. If you would prefer a different type of concrete, this can also be discussed.
Visit our Residential and Domestic Concrete Flooring page for further information. 
Industrial Concrete Flooring
Industrial concrete projects are our speciality. We work hard to ensure the job is done swiftly and efficiently. Common industrial concrete projects include car parks, roads and other high traffic areas. We use a range of finishes in our industrial concrete, including brush finishing (ideal for car parks and areas requiring non-slip surfaces) and dust topping
Large scale projects for industrial concrete flooring include laying for car parks and other high-traffic areas. We also use a range of finishes for industrial concreting, such as brush finishing (popular in car parks and areas that require non-slip surfaces) and dust topping to offer greater abrasion resistance.  
Visit our Industrial Concrete Flooring page for further information. 
Composite Metal Decking
We also provide metal decking solutions for all properties. This type of flooring is installed to help support the top layer of your flooring (this could be hardwood, concrete etc). Composite flooring is now used in the majority of office and retail properties because it's able to support heavier flooring materials (such as polished concrete). Composite metal decking uses slabs, making it easy to deliver and install, cutting costs on labour time.
Visit our Composite Metal Decking page for further information. 
The Polished Concrete Finish
Currently the most popular finish, polished concrete is widely used because of its versatility, durable design and low maintenance requirements. Polished concrete looks great in any property and can last a lifetime.
Art galleries, restaurants and shop floors commonly use concrete flooring due to its decorative concrete properties.
For further information about our polished flooring in the Midlands, head to our Polished Concrete page. 
High-Quality Flooring Guaranteed
If you have experienced poorly laid concrete in the past, you will know how costly it is to rectify. Choosing a company with experience will eliminate the likelihood of costly errors.  All our designs are in accordance with The Concrete Society's Technical Report 34 which has become the industry standard for concrete industrial ground floors.