Concrete Flooring in Kent
With over 30 years' experience in the industrial concrete flooring industry, our team of craftsmen, surveyors and designers are equipped to handle any project.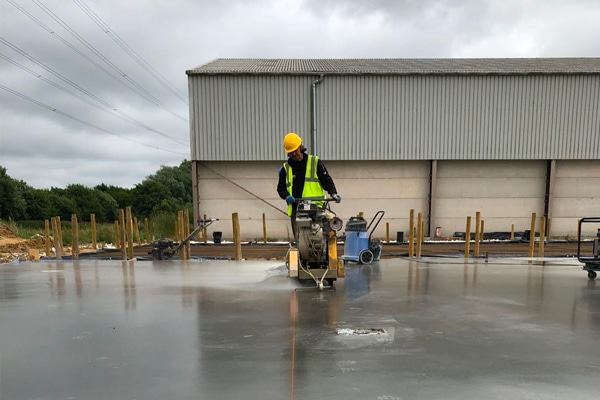 Get an Instant Quote
Get an easy quote with our price calculator:
Kent's Premier Flooring Contractor
Concrete Flooring Solutions prioritises exceptional results and outstanding customer service. This mindset has seen us achieve great success and growth over the 30 years we have been serving and we're still growing and developing.
Our combined experience and state of the art technology allow our team to design and install concrete to the highest flatness tolerance in Kent. Below are the areas where our work takes place:
Industrial Concrete Flooring
Commercial Concrete Flooring
Residential & Domestic Concrete Flooring
We know better than anyone that everyone requires something different when it comes to concrete flooring. That's why we guarantee that our concrete flooring finishes will fit the style you require.
Call or contact us through our Contact Page.
Industrial Concrete Flooring
Industrial concrete is commonly seen in car parks, city pavements and areas that typically see constant, heavy traffic. It can also be built on grade or suspended, depending on the structure of the building. For more information, please visit our Industrial Concrete Flooring page.
Commercial Concrete Flooring
Commercial concrete is that this finish is thought to offer a more 'professional' finish. It is commonly used in restaurants, retail spaces and universities. For more information, visit our Commercial Concrete Flooring Page.
Residential & Domestic Concrete Flooring
Residential and domestic concrete flooring is an option that is becoming increasingly popular. Polished concrete in particular has become popular in residential properties thanks to its durability and smart finish. For more information, visit our Residential and Domestic Concrete Flooring page.
You can also browse our concrete finishes below:
---
Polished Concrete
Polished concrete is now our most popular service. Customers are always opting for this finish because of its smart, professional appearance. The most common areas where this concrete finish is found are art galleries, corporate buildings and universities. Polished concrete floors are also easy to clean and incredibly durable, offering a lifelong finish.
For more on our polished concrete floors in Kent, visit our Polished Concrete page.
Composite Metal Decking
Composite metal decking is one of the easier concrete finishes to install. As the concrete comes in slabs, the process simply requires careful placement. This technique almost halves the installation time, meaning it's both cost-effective and swift! For more information, visit our Composite Metal Decking page.
Design Services
As we stated before, we're always looking to add more creativity to our designs. Additionally, we are able to offer unique design solutions to our clients. These are for both ground bearing slabs and ground slabs supported on piles (using wire mesh reinforcement).
Our designs are in accordance with The Concrete Society's Technical Report 34 which has become the industry standard for concrete industrial ground floors.
---
Our Approach
Our number one priority here at Concrete Flooring Solutions is to ensure both our staff and customers are treated with the respect they deserve – it's that simple. If you'd like to learn more about what it is we do here at Concrete Flooring Solutions, you can reach us through our Contact Page, or call us today.
Other Areas We Cover
We can cover every major city and county in the UK, if required. Our team are dedicated to ensuring that our customers receive the service they need. You can expect that once we have agreed on your project, work will start immediately and in the least invasive manner possible.
Our two primary offices are based in Hampshire and West Sussex.
---
Contact Us Today for Concrete Flooring Services in Kent
We like to think that our approach is simple and easy. So, if you have any questions, or would like a quote on your commercial property, why not give our team a quick call?
We can offer concrete solutions to any client within the UK – so call today or get in touch via our contact form to see what we can offer you!