Concrete Flooring Contractors in Coventry
Concrete Flooring Solutions is the biggest concrete flooring company in the UK and we're proud to be able to serve the people of Coventry. We have one simple core ethos at CFS, and that's delivering high-quality concrete flooring across the country, as well as ensuring our customers are happy with our service. Customer satisfaction sits at the top of our priorities because we know there's nothing worse than marrying poor service with poor customer interaction.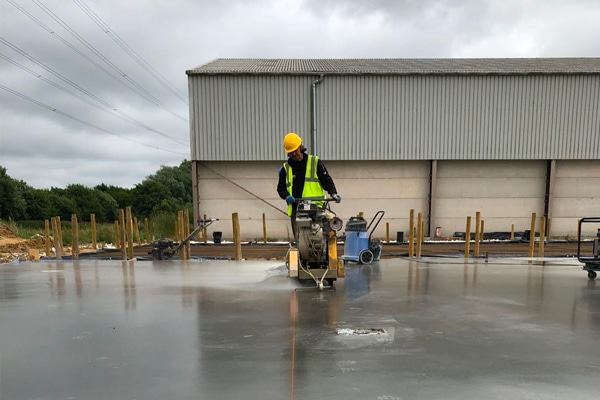 Get an Instant Quote
Get an easy quote with our price calculator:
Top Flooring Contractor in Coventry
Our services are sought-after throughout the UK, as our concrete flooring services are among the best. For more information on how we can transform your flooring into something you can be proud of, read below.
The Services We Provide in Coventry
As we've already stated; here at CFS, we're proud of our work and we hope our customers feel the same way after opting for our services. Our dedicated team works tirelessly to ensure that our customers' high expectations are met. If you're looking for the UK's best-trusted concrete flooring company in Coventry, you're in the right place!
We have four primary concrete flooring options to offer our customers across Coventry. Please see below:
Industrial Concrete Flooring
Commercial Concrete Flooring
Residential and Domestic Concrete Flooring
Polished Concrete
Arguably our most popular concrete flooring product is our polished concrete flooring. The reason? It's slick, durable and is now commonly being used in homes in addition to commercial properties. If you'd like to know more about how our concrete flooring can transform your property, why not get in touch today? Our team are always on-hand to deliver expert advice.
Call our team today on 0845 517 9193 or fill out our contact form here.
We Provide a Variety of Options in Coventry
We pride ourselves on delivering quality concrete flooring solutions to the people of Coventry. We understand the importance of customer satisfaction and that's why our team are constantly striving to form new relationships with customers. Alongside customer service, we offer a wide variety of concrete flooring options. We work closely with our customers to help them come to a concrete flooring solution that fits their requirements. Below is a list of the concrete flooring options we provide:
Industrial Concrete Flooring Available in Coventry
Still one of the most popular concrete flooring options throughout the UK, industrial concrete flooring is a flooring solution you can trust. It's commonly used in industrialised areas, such as car parks, garages and city pavements. This is flooring which has been trusted by concrete flooring professionals for many years and is still used today. Additionally, it can be built on grade, or suspended, depending on the structure of the building.
If you would like to know more about our industrial flooring and the services we are proud to provide, click here.
Commercial Concrete Flooring Services Available in Coventry
Commercial concrete flooring is slightly more 'smart' than industrial concrete flooring. It's commonly used in large retail buildings and restaurants because it's both durable and offers a more professional appearance than industrial concrete.
To find out more about our concrete flooring solutions, click here or call our team today.
Residential and Domestic Concrete Flooring Available in Coventry
If you're looking to add some creative flare to your concrete flooring, then residential and domestic concrete flooring is likely to be your preferred option. This is the preferred option for those seeking concrete flooring but who aren't too keen on a restricted design.
If you would like to find out more about our residential and domestic concrete flooring services in Coventry, call our team today or click here.
Polished Concrete Flooring in Coventry
Polished concrete is rapidly growing in popularity, thanks to its smart finish and durability. Polished concrete is usually seen in areas such as art galleries and even flats and houses. Its unique finish means it can be used almost anywhere, giving a clean finish that emphasises quality.
If you've been looking for the best concrete flooring solution available in Coventry, why not get in touch with us and find out more by clicking here?
Composite Metal Decking Available in Coventry
Our easiest concrete flooring solution is composite metal decking. Why? Because unlike other concrete flooring options (which are usually poured), composite metal decking is easily slotted into position. This is ideal for those looking for a swift transition.
To find out about our composite metal decking and why it is so popular for our customers in Coventry, call our team today or click here for more information.
Our Design Services in Coventry
We understand that when it comes to flooring, many people have a specific idea of how they want their flooring to look. That's why we work with you to create a design you're happy with. Additionally, our design services are for ground-bearing slabs but can also work on ground slabs supported on piles using wire mesh reinforcement.
All the designs we provide here at Concrete Flooring Solutions, are in accordance with The Concrete Society's Technical Report 34 – the industry standard for concrete industrial ground floors.
Call Concrete Flooring Solutions Today for More Information
If you have any questions about how we can help you find the concrete flooring for your property, why not get in touch today? Our staff are always on-hand to help. So, if you'd like to discuss what flooring option is best for you, you can reach us on 0845 592 0083 or get in touch via our contact form.